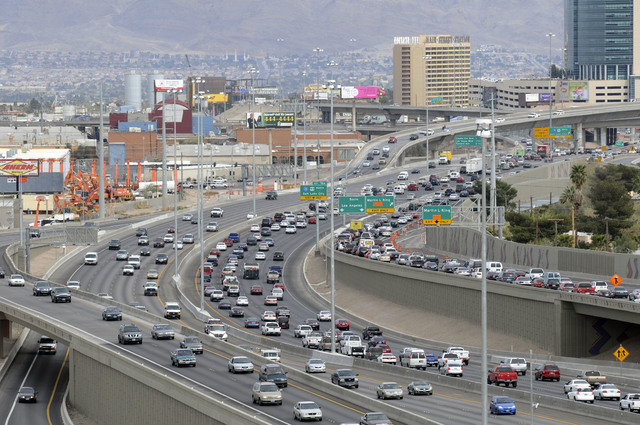 Across the Las Vegas Valley, there are five places where freeways come together in multimillion-dollar interchanges — seven if you count Summerlin Parkway as a freeway, and we probably should.
Interstate 15 and U.S. Highway 95 come together at the Spaghetti Bowl. It's hard to believe that not so long ago this was a traditional cloverleaf interchange with two lanes of traffic in all directions.
In Henderson, the 215 Beltway meets U.S. 95 in an interchange that some wags wanted to call the Fiesta Bowl since it was next door to Station Casinos' Fiesta Henderson.
Where I-15 and the 215 Beltway come together must be A Bowl with No Name.
Summerlin Parkway's tie-in to U.S. 95 is another impressive interchange with its relatively new high-occupancy-vehicle flyover lanes.
Those are the interchanges that are pretty much done — although we're going to see some future Spaghetti Bowl work with HOV flyovers planned to alleviate those daily southbound bottlenecks.
That leaves the Summerlin Parkway link to the 215 Beltway, the I-15 tie to the 215 Beltway near the Las Vegas Motor Speedway, and a project that has gotten the attention of Warrior Reader Francis, who wrote:
"It's been a long wait for a real interchange at U.S. 95 and the 215 Beltway. What's the update on its progress?
"Also, what's with these overly long onramps? People still don't use them to accelerate and merge safely. I know Nevada has a lot of land, but is this the new norm?"
First, the freeway interchange update.
"There is currently no set timetable for the construction of the full system-to-system interchange," said Damon Hodge, a spokesman for the Nevada Department of Transportation. "Securing funding is a key issue; estimated project costs are $210 million-plus."
That's the short answer. You can get a longer answer Wednesday night in a public meeting scheduled at the Centennial Hills Active Adult Center multipurpose room at 6601 N. Buffalo Drive.
The Department of Transportation, the city of Las Vegas and the Regional Transportation Commission will have an open house from 4 to 7 p.m. with a presentation at 5:30 on what's being called Phase 3A of the U.S. 95 Northwest Corridor Improvements Project.
The project is a five-phase effort — and Phase 3 is split into five subphases. Phases 1 and 4 are done, expanding lanes and making improvements on the highway from Washington Avenue to Ann Road and building an interchange and adding aesthetic improvements at Horse Drive.
Phase 3 is the project Francis is asking about — the interchange between the Beltway and U.S. 95. Under the proposal that will be discussed Wednesday, the plan is to break ground on Phase 3A in spring 2015. That phase includes two key components of the interchange, a ramp connecting northbound U.S. 95 with the eastbound Beltway and the westbound Beltway to southbound U.S. 95.
The phase also will include all the outside widening of U.S. 95 in both directions between Ann Road and the ramps, the southbound collector-distributor road and some walls on the Tropical Parkway-Azure Drive bridge.
As for Francis' question about whether the "overly long onramps" are the new norm, I'm going to make an assumption that he's referring to the lanes that double as acceleration lanes to enter the highway and deceleration lanes to exit.
We all feel your pain, Francis.
Many motorists don't understand them — or maybe aggressively refuse to use them properly.
The idea is that the driver getting on the highway is speeding up while the driver getting off is slowing down. So, it doesn't make sense if you're getting off the highway to speed up to try to get ahead of the guy who's speeding up to get on.
When you're exiting, back off and slip behind the accelerating motorist to your right. This is also a great place to use that turn signal to communicate your intentions.
These types of lanes exist along the entire length of the Beltway so it's a good idea to learn how to navigate them properly to avoid a scrape with your freeway friends.
Wanted: Bus Drivers
The Regional Transportation Commission recently awarded a paratransit transportation contract to Veolia Transportation and the company is now looking for drivers.
A job fair for prospective drivers is scheduled Saturday from 9 a.m. to 3 p.m. at the Regional Transportation Commission's facility at 5165 W. Sunset Road.
Applicants must have a high school diploma or GED, be at least 21, have a clean driving record and a Class C or higher commercial driver's license with passenger endorsement.
Check Veolia's website for other details on what to bring.
Questions and comments should be sent to roadwarrior@reviewjournal.com. Please include your phone number. Follow the Road Warrior on Twitter @RJroadwarrior.