Las Vegas team keeps Allegiant Air's planes moving
December 4, 2017 - 12:31 am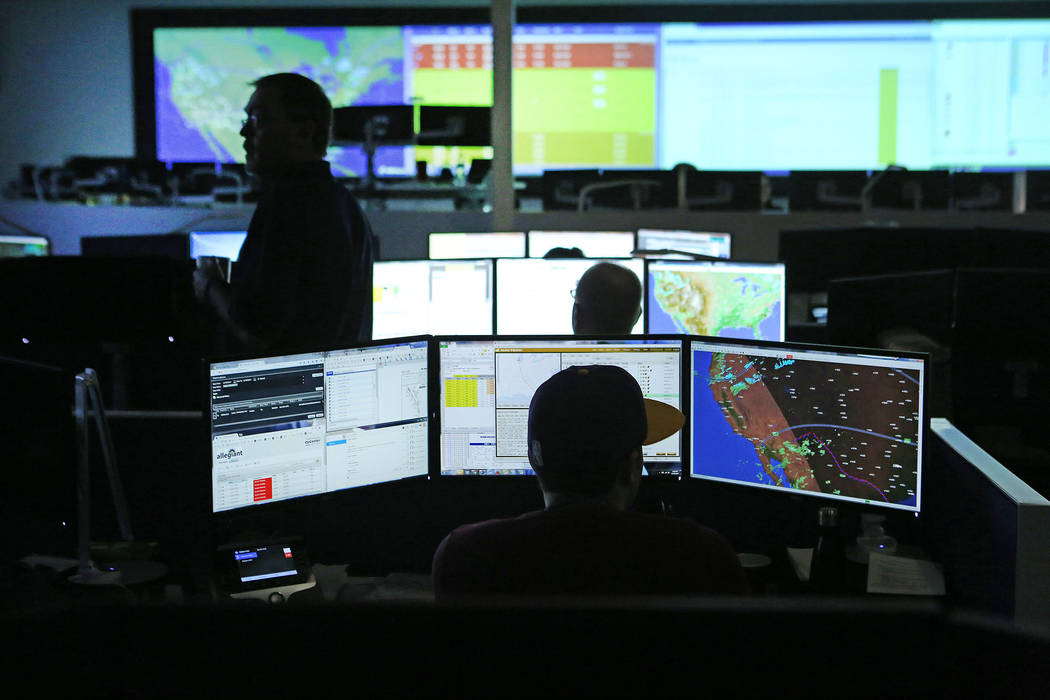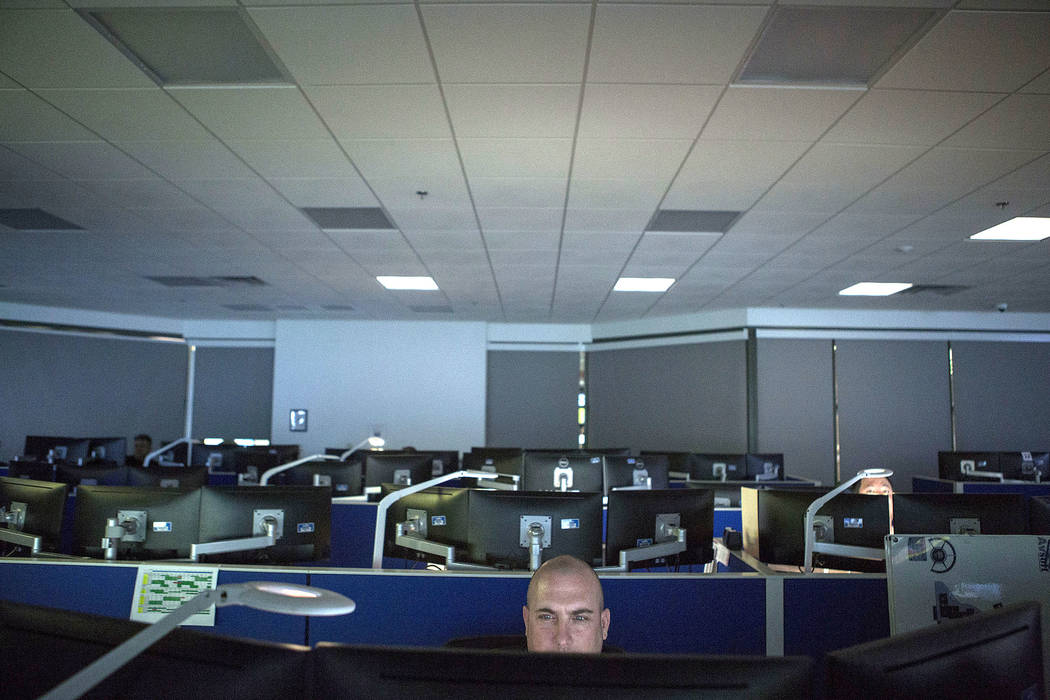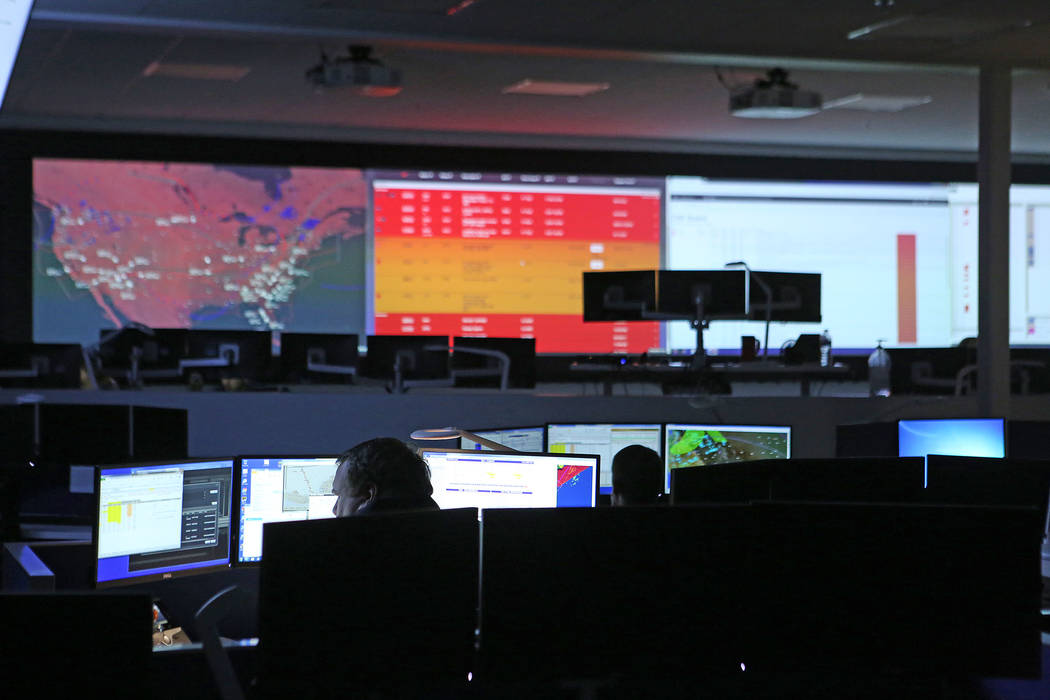 If you're flying with Allegiant Air, there's a good chance someone is tracking your jetliner from a darkened room in suburbia.
Within the airline's nerve center in Summerlin, a team of 150 employees keeps a watchful eye on an oversized television screen that displays the flight path of every airborne plane.
If a storm hits, an aircraft breaks down or a pilot calls in sick, it's this team's job to figure out how to keep things moving within Allegiant's system of more than 350 routes nationwide.
"We're always looking for ways to increasing efficiency and striving for better performance," said Mike Wuerger, vice president of Allegiant's operations control center. "We also want to make sure we get our passengers back home to their loved ones during the holidays to eat some turkey."
Previously housed in a 3,000-square foot room with 40 workstations, the command center was moved six weeks ago to a spacious 13,295-square-foot building with 130 workstations, meeting rooms and a cafeteria.
Before designing the new operations center, Allegiant executives had toured similar facilities operated by United, KLM and others to get a feel for what might be the best fit for workers.
They settled on a design similar to NASA, where desks are arranged in a slight semicircle, with employees grouped by crew services, flight dispatch, maintenance and customer operations. Those workers all face managers who are seated at "the bridge," where final decisions are made.
"We were getting cramped in the last room and now we finally have some space," said Robin Trujillo, a manager for crew scheduling at Allegiant. "The communication flow is a lot better for us, too."
Moving day came a little late for the crew at the operations control center. Just as they were preparing to switch desks in September, workers had to shift focus as Hurricane Irma swept through Florida, where more than half of Allegiant's planes and passengers fly as a vacation destination.
The hurricane had prompted the Las Vegas-based budget airline to cancel 425 flights over five days, affecting about 50,000 passengers. Afterward, the operations crew oversaw the return of roughly 40 planes that were repositioned to other airports during the hurricane.
"Teamwork keeps this airline going and moving on time," said Blake Kline, a senior manager at the operations control center.
"I like the updated technology that the new room brought us. The visual boards are easier to see and the communication flow is better," Kline said. "We all depend on everyone in here."
Left with more time
Catherine from North Las Vegas noted that the left-turn signal from eastbound Craig Road to northbound Interstate 15 was timed so poorly "that a semi with three trailers can't get all the way through before the light turns red."
Catherine's concern prompted a recent adjustment to increase the "green time" by 50 percent for drivers making that left turn, said Catherine Lu, a spokeswoman for the Regional Transportation Commission of Southern Nevada.
"This should provide enough time for large trucks and other vehicles to safely complete this turn on most occasions," she said.
Pay to park
Jane from Las Vegas wanted to know why the city of Las Vegas charges motorists to park in a lot just west of The Smith Center, while parking remains free in surrounding lots that aren't owned by the city.
"It just seems off that they charge, especially after 6 p.m.," Jane said in an email.
The lot located west of The Smith Center was built to accommodate the Cleveland Clinic, Discovery Children's Museum, World Market Center and other nearby businesses, said Margaret Kurtz, a city of Las Vegas spokeswoman.
The city charges for parking to help recover the cost of construction. The Smith Center pays the city to use the lots on the venue's east side.
No repaving needed
Jim from Las Vegas believes Jones Boulevard needs to be repaved between Craig and Long Mountain roads in the northwest valley.
This particular area was already repaved this year as part of the city's arterial reconstruction program, Kurtz said.
Questions and comments should be sent to roadwarrior@reviewjournal.com. Please include your phone number. Follow @RJroadwarrior on Twitter.
Road work ahead
Downtown
— Main Street is restricted between Fremont Street and Ogden Avenue through Dec. 20. Crews are demolishing a building.
— Ninth Street is closed between Carson and Main streets through Dec. 31. Crews are installing water and sewer lines.
— U.S. Highway 95 is restricted between Rancho Road and just east of Interstate 15 through January 2018. Crews are building a new flyover ramp for high-occupancy vehicles as part of Project Neon.
— The Martin Luther King Boulevard onramp to northbound Interstate 15 is closed through January 2018. Crews are building a carpool ramp.
— The ramp connecting southbound U.S. Highway 95 to northbound Interstate 15 is closed through January 2018. Crews are building a carpool ramp.
— Main Street is restricted between Bonneville Avenue and Las Vegas Boulevard through May 2018. Crews are working on a storm drain.
— Sections of Bonneville Avenue, Charleston Boulevard, Grand Central Parkway and Martin Luther King Boulevard will have closed or disrupted lanes surrounding the Spaghetti Bowl as crews work on Project Neon through July 2018.
Northwest
— Grand Teton Drive is restricted between El Capitan Way and Buffalo Drive from 7 a.m. to 4 p.m. weekdays through early January. Crews are making road improvements.
Henderson
— Wigwam Parkway will be intermittently closed in both directions at Gibson Road through the end of December. Crews are installing a new traffic signal and making sidewalk improvements.
— Center Street is restricted between Burkholder Boulevard and Lake Mead Parkway through June 2018. Crews are making various road improvements.
North Las Vegas
— Nellis Boulevard is restricted between Cheyenne Avenue and Las Vegas Boulevard from 6 a.m. to 3:30 p.m. weekdays through July 2018. Crews are installing sewer pipes.
Gasoline prices
The average gasoline price Friday in the Las Vegas Valley was $2.66 per gallon. It was $2.69 in Nevada. The national average of $2.48 is down 2 cents from a week ago, down 2 cents from a month ago and up 32 cents from a year ago.