Las Vegas Valley drivers should prepare for heavy downpours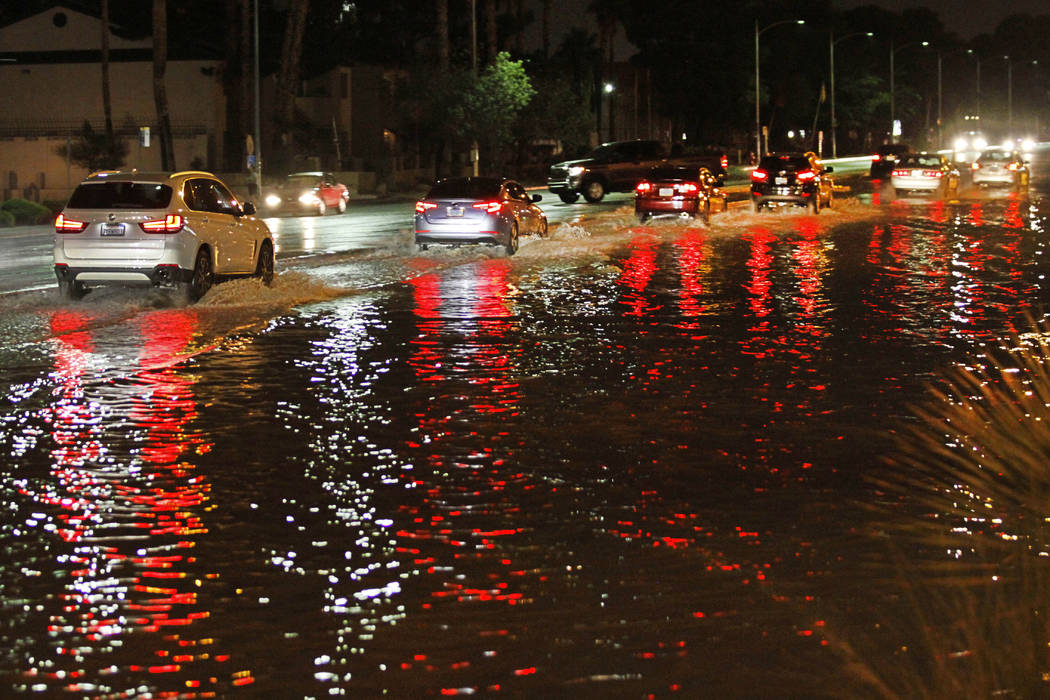 Monsoons swept into Las Vegas on July 9, bringing torrential rains that caused more than 40 crashes and left several vehicles stuck in flooded intersections.
The heavy downpours make it nearly impossible for drivers to see in front of them, which is why it's usually best to simply pull over and wait for the storm to pass. Even then, the flash-flood conditions can leave cars and trucks stranded along waterlogged roads.
With the National Weather Service predicting that the monsoons will be up to 40 percent heavier than normal through mid-September, motorists should prepare themselves by making sure their vehicles are equipped with functioning brakes, headlights, tires with good tread and a new set of windshield wipers.
Cars can get carried away in just 1 foot of fast-moving floodwater, while trucks and SUVs could be swept up in 2 feet of rushing water, said Tony Illia, a spokesman for the Nevada Department of Transportation.
"If you do get stuck in floodwater, it's usually best to wait in the car and call for help rather than trying to get out, because floodwater can be contaminated and carry disease," Illia said.
Illia listed some tips for drivers who find themselves caught in the rain:
Don't blindly follow other cars, and do your best to estimate the depth of the water if you must cross.
Double the braking distance between you and the vehicle in front of you.
Drive slowly and steadily to avoid making a bow wave.
Do not ignore road barricades.
Be especially cautious at night, when flood dangers are more difficult to spot.
Watch for roadway debris, manhole covers and other items that can be lifted and moved in fast-moving water.
Illia also said drivers should be prepared with an emergency kit stocked with water, nonperishable food, medications, a charged cellphone, blankets, sturdy shoes and a first-aid kit.
Downtown intersection
Cassandra from downtown Las Vegas wanted to know whether a four-way stop sign could be installed near her home at Eighth Street and Stewart Avenue, which she calls "a hotbed for accidents" that happen "on almost a daily basis."
For now, drivers on Eighth have to stop for traffic along Stewart.
The short answer is no, a four-way stop sign wouldn't work for this intersection, Las Vegas city spokeswoman Margaret Kurtz said.
"An all-way stop intersection is most effective when traffic volumes are approximately equal on all approaches, or when geometric deficiencies create a sight-distance problem," the spokeswoman said.
Since north-south traffic along Eighth is "significantly lower" than traffic on Stewart, and there aren't visibility issues at this intersection, the city doesn't see a need for an all-way stop, Kurtz said.
However, a work order was recently submitted for repaiting of the crosswalk markings and stop bars, Kurtz said. Additionally, city staffers will make sure that "cross traffic does not stop" signs are still posted for drivers who must stop at Eighth.
North Las Vegas roadwork
Carlos from North Las Vegas said he's noticed some pretty heavy construction activity at the Interstate 15 interchange with the 215 Beltway and Tropical Parkway, and he wanted to know what's going on.
Street and sewer infrastructure projects underway at this location and near Nellis Air Force Base are being completed to support warehouses and distribution centers coming to North Las Vegas.
Some of the work calls for construction of a sewer line leading to an industrial center spanning 1,100 acres near the Las Vegas Motor Speedway, where Amazon and Sephora already have announced plans to move in, said North Las Vegas city spokeswoman Delen Goldberg.
As for the roads, crews are building a direct route from the freeway interchange to the surface streets for better access, Goldberg said. The first phase of the project is nearly complete, with a ribbon-cutting ceremony expected by August.
Questions and comments should be sent to roadwarrior@reviewjournal.com. Please include your phone number. Follow @RJroadwarrior on Twitter.
Road work ahead
Downtown
■ Ogden Avenue will be restricted between Main Street and City Parkway through mid-October. Crews are making street, sidewalk and lighting improvements.
■ The Charleston Boulevard onramps to southbound Interstate 15 are closed until mid-October. Crews are rebuilding the intersection.
■ The D Street offramp from northbound I-15 is closed through mid-November. Crews are widening the freeway.
■ I-15 will be narrowed in both directions between Sahara Avenue and D Street until Nov. 20. Crews are widening the freeway.
■ The ramp connecting southbound U.S. Highway 95 to southbound I-15 will be reduced to one lane and detoured through Nov. 20. Crews are widening I-15.
■ The ramp linking southbound U.S. 95 to northbound I-15 is closed through Nov. 20. Crews are widening I-15.
■ The Martin Luther King Boulevard onramp to southbound U.S. 95 is closed until early 2019. Crews are building a high-occupancy flyover ramp.
■ Gass Avenue will be restricted between Las Vegas and Charleston boulevards through March 2019. Crews are making pedestrian and bicycle improvements.
Northwest
■ Buffalo Drive is restricted between Gowan Road and Cheyenne Avenue through July. Crews are upgrading a gas line.
■ Tenaya Way and Torrey Pines Drive are restricted between Gowan and Craig roads through July. Crews are upgrading a gas line.
■ Gowan Road is restricted between Buffalo and Torrey Pines drives through July. Crews are upgrading a gas line.
■ Craig Road is restricted between Torrey Pines Drive and Decatur Boulevard through July. Crews are upgrading a gas line.
■ Both directions of U.S. 95 will be narrowed to two lanes at Elkhorn Road through December. Crews are building a new carpool ramp.
Summerlin
■ Summerlin Parkway is restricted between Durango Drive and the 215 Beltway through the end of July. Crews are paving the road.
East valley
■ Both directions of Charleston Boulevard will be restricted between U.S. 95 and Marion Drive through Aug. 3. Crews are rehabilitating a sewer line and manholes.
North Las Vegas
■ Nellis Boulevard is restricted between Cheyenne Avenue and Las Vegas Boulevard from 6 a.m. to 3:30 p.m. weekdays through July. Crews are installing sewer pipes.
Henderson
■ Stephanie Street will be restricted between the 215 Beltway and Cielo Abierto Way through October. Crews are repaving the road and making other improvements.
Gasoline prices
The average gasoline price Friday in the Las Vegas Valley was $3.16 per gallon. It was $3.22 in Nevada. The national average of $2.88 is up 2 cents from a week ago, down 2 cents from a month ago and up 63 cents from a year ago.
Las Vegas Review-Journal