Las Vegas Valley's left-turning drivers often blind to pedestrians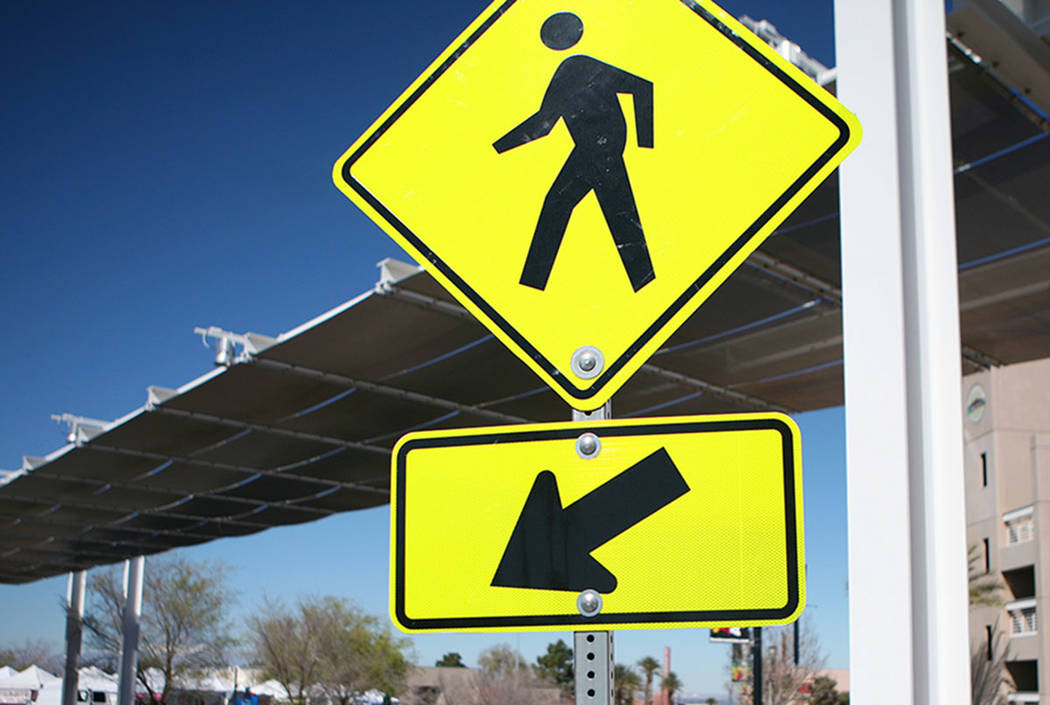 A traffic safety advocate alerted the Road Warrior to the disturbing frequency of pedestrians and motorcyclists who are struck by vehicles turning left at Las Vegas Valley intersections.
Motorists often turn left into the paths of oncoming pedestrians and motorcyclists rather than stopping for them as required by law, said Erin Breen, head of the Vulnerable Road Users Project at UNLV.
"Drivers fail to look all the way left and make their turn, only to find themselves faced with a pedestrian who is legally using the crosswalk," Breen said. "At that point, there's no time to stop for them."
Sometimes, the collisions are fatal.
A motorcyclist was fatally struck by the driver of a 2017 Honda Civic that was turning left onto Spring Mountain Road near Spring Shower Drive around 7:35 p.m. on Feb. 12. Las Vegas police said neither driver appeared to be impaired.
On June 18, a 60-year-old woman was walking in a crosswalk on Tropicana Avenue when she was hit by a Dodge truck that was turning from Mojave Road. Police said that the 82-year-old driver of the truck stopped and called for help.
More recently, a man was struck by a 2014 Toyota Corolla that was turning left onto Flamingo Road from southbound Maryland Parkway. The pedestrian was taken to Sunrise Hospital and Medical Center but later died. Police said the driver stayed at the scene and did not show signs of impairment.
When stopped at traffic signals with a solid green ball or flashing yellow left-turn arrows, drivers waiting to make a left turn are required to yield to oncoming traffic, including motorcycles, while also watching for pedestrians, Breen said.
Last year was the deadliest on record for pedestrians in Clark County, where 78 people were fatally struck by vehicles on public roads. However, those numbers appear to be trending downward, according to figures released Friday by Nevada's Office of Traffic Safety.
Clark County reported 26 pedestrian deaths between Jan. 1 and June 30 in Clark County, down from 37 during the same time in 2017.
Additionally, there were 17 motorcyclist deaths countywide as of June 30, down from 22. State figures show there were three bicyclist deaths in Clark County, down from four at this time last year.
Statewide, there were 153 total traffic fatalities during the first half of 2018, on pace with the same time last year, state traffic safety officials reported.
Watch for flying debris
During her travels across Nevada, Terry from Carson City said she regularly sees commercial trucks with signs warning drivers: "Keep back 200 feet, not responsible for windshield damage."
"I was under the impression that it is the responsibility of the driver to make sure his vehicle is properly loaded and covered so if rocks, gravel or other items fall out and hit my vehicle, then they are liable for damages," Terry wrote in an email to the Road Warrior. "What is the case here?"
Despite those warning signs, the driver and the company are "100 percent responsible for every inch of that truck to include its contents," said trooper Jason Buratczuk of the Nevada Highway Patrol.
That means if the truck is dropping rocks or debris on the roadway, then they are responsible for it, even if warning signs are posted on their vehicles, Buratczuk said. That's because the drivers are responsible for hauling a safe and secure load.
"If a vehicle got struck with debris from a truck, they should try to get the license plate and see if a company logo is on the vehicle," Buratczuk said. "They can then pull over and call NHP and we will do a crash report so the responsible party's insurance information can be exchanged with the victim vehicle."
Confusing sign
Ellen from Henderson said she was confused by a set of traffic signs displaying a stick figure, a downward-pointing arrow and the words "Here To" on Santiago Drive, Windmill Parkway and Arroyo Grande Boulevard in the area surrounding the Arroyo Grande Sports Complex.
Kathleen Richards, a spokeswoman for the city of Henderson, said the signs are meant to provide direction to motorists to "yield here to pedestrians."
While the design is unusual, Richards said that "recognizing an image is often easier than reading text."
Wider road wanted
Pamela from the east valley wanted to know whether Clark County officials plan to widen Broadbent Boulevard between Russell Road and Boulder Highway.
County spokesman Dan Kulin said there are no plans to widen this section of road.
Questions and comments should be sent to roadwarrior@reviewjournal.com. Please include your phone number. Follow @RJroadwarrior on Twitter.
Road work ahead
Downtown
— Both directions of Interstate 15 will be reduced to one lane from 11 p.m. Monday to 6 a.m. Tuesday, and again from 11 p.m. Tuesday to 6 a.m. Wednesday. Crews are paving the road.
— Alta Drive/Bonneville Avenue will be closed beneath I-15 from 7 p.m. Monday to 6 a.m. Tuesday. Crews are installing deck panels.
— The D Street offramp from northbound I-15 will close from 11 p.m. Tuesday to mid-November. Crews are widening the freeway.
— Ogden Avenue will be restricted between Main Street and City Parkway through mid-October. Crews are making street, sidewalk and lighting improvements.
— The Charleston Boulevard onramps to southbound I-15 are closed until mid-October. Crews are rebuilding the intersection.
— I-15 will be narrowed in both directions between Sahara Avenue and D Street until Nov. 20. Crews are widening the freeway.
— The ramp connecting southbound U.S. Highway 95 to southbound I-15 will be reduced to one lane and detoured through Nov. 20. Crews are widening I-15.
— The ramp linking southbound U.S. 95 to northbound I-15 is closed through Nov. 20. Crews are widening I-15.
— The Martin Luther King Boulevard onramp to southbound U.S. 95 is closed until early 2019. Crews are building a high-occupancy flyover ramp.
— Gass Avenue will be restricted between Las Vegas and Charleston Boulevards through March 2019. Crews are making pedestrians and bicycle improvements.
Northwest
— Both directions of the 215 Beltway will be intermittently reduced to one lane between Craig Road and Hualapai Way from 8 p.m. to 5 a.m. nightly through mid-July. Crews are building freeway lanes.
— Both directions of U.S. 95 are narrowed to a single lane between Skye Canyon Park and Paiute drives through July 12. Crews are building a new interchange bridge.
— Buffalo Drive is restricted between Gowan Road and Cheyenne Avenue through July. Crews are upgrading a gas line.
— Tenaya Way and Torrey Pines Drive are restricted between Gowan and Craig roads through July. Crews are upgrading a gas line.
— Gowan Road is restricted between Buffalo and Torrey Pines drives through July. Crews are upgrading a gas line.
— Craig Road is restricted between Torrey Pines Drive and Decatur Boulevard through July. Crews are upgrading a gas line.
— Both directions of U.S. 95 will be narrowed to two lanes at Elkhorn Road through December. Crews are building a new carpool ramp.
Summerlin
— Summerlin Parkway is restricted between Durango Drive and the 215 Beltway through the end of July. Crews are paving the road.
East valley
— Both directions of Charleston Boulevard will be restricted between U.S. 95 and Marion Drive through Aug. 3. Crews are rehabilitating a sewer line and manholes.
North Las Vegas
— Las Vegas Boulevard will be restricted at Nellis Boulevard from Monday to Wednesday. Crews are working on a sewer line.
— Nellis Boulevard is restricted between Cheyenne Avenue and Las Vegas Boulevard from 6 a.m. to 3:30 p.m. weekdays through July. Crews are installing sewer pipes.
Henderson
— Stephanie Street will be restricted between the 215 Beltway and Cielo Abierto Way through October. Crews are repaving the road and making other improvements.
Gasoline prices
The average gasoline price Friday in the Las Vegas Valley was $3.18 per gallon. It was $3.22 in Nevada. The national average of $2.86 is up 1 cent from a week ago, down 8 cents from a month ago and up 60 cents from a year ago.