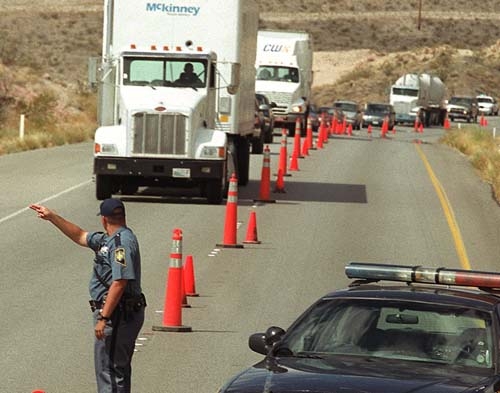 Jack Hakim and Roger Tobler are tussling over trucks.
It's not your typical school-boy argument with the loser walking away from the sandbox with hurt feelings. It's a little more serious, with consequences that could trigger economic problems or perhaps political backlash.
We're not talking Tonkas. We're talking real tractor-trailers, the ones that Boulder City Mayor Tobler is tired of seeing tying up traffic, spewing emissions and blocking access to businesses in his small town. The kind Mayor Hakim of Bullhead City, Ariz., was relieved to rid his town of thanks to the opening of the Hoover Dam bypass bridge.
Boulder City wants those trucks gone. Bullhead City doesn't want them back.
It's the latest chapter in traffic problems that popped up in Tobler's town in October when trucks were allowed back on U.S. Highway 93. They had been absent since the 2001 terrorist attacks, when big rigs were banned from Hoover Dam and diverted through Laughlin and Bullhead City.
In anticipation of the opening of the four-lane O'Callaghan-Tillman Memorial Bridge and the return of the trucks, Arizona did its part in improving the highway on its side of the border. Nevada, on the other hand, left a crucial link untouched. That section, between Boulder City and the bridge, includes stretches where the road narrows to two lanes, causing bottlenecks and backups.
Tobler has called the congestion an emergency situation and is lobbying the feds to force trucks to return to the Bullhead City route until Nevada fixes its side of the bridge.
Hakim's state appears to be the superior planner when it comes to roads, which gives the mayor license to respond to Tobler's concerns with a thumb to the nose and a neener-neener-neener. But this isn't a sandbox and, apparently, that's not what happened when the mayors met Wednesday.
"What we talked about is doing a joint effort to move forward with a real solution, which is Interstate 11," Tobler said. "We might disagree on the truck traffic, but we're not to the point where we need to fight."
The back-and-forth over who is to blame for the failure to widen U.S. Highway 93 and the subsequent traffic problems will likely be carried north to Carson City in the next legislative session and presented as evidence that Interstate 11 is needed pronto.
That project would follow the same footprint as the oft-discussed and oft-rejected Boulder City bypass, a 12-mile alignment that dips south of town.
I know what you are thinking, and so does Tobler. He has heard it before: When the bypass was first proposed a decade or so ago, Boulder City business owners balked at the idea, fearing their town would evaporate. Opposition and lack of funding stalled discussions. But Tobler insists that, as a whole, the city wholeheartedly supported it.
Boulder City pitched making the bypass a toll road, but the state doesn't allow those, Tobler said. They provided the right of way to build it long ago, but still, nothing.
As plans for the bridge moved forward, Tobler repeatedly pointed to maps showing that one stretch of roadway and predicted it would be a huge problem if it wasn't widened.
"We're made out to be the whiners in all this. We're the victims," Tobler said. "We haven't just been sitting here waiting for this to happen to us."
Even more frustrating to Tobler is that the first phase of the bypass, or interstate, or whatever it ends up being, if anything at all, will connect the main highway from Las Vegas to U.S. Highway 95 toward Laughlin. An interchange would be built at Railroad Pass, and the phase would cost $180 million, about half the price of the total bypass.
The thing is, that won't help the town's traffic woes.
"Why are we throwing all the money to the first phase when it's the bridge connection we need to focus on?" Tobler said.
Tobler doesn't want the trucks. Hakim doesn't like the trucks. But Paul Enos understands how necessary they are.
In 2008, 91.6 percent of manufactured goods delivered to Nevada arrived by truck. Eighty percent of the state's communities are served solely by trucks, according to Enos, chief executive officer of the Nevada Motor Transport Association.
Enos and Allen Puliz, who owns a trucking company in Las Vegas, drove to Boulder City on Tuesday to check out the road. They aren't sure the backup is caused by the trucks. In fact, they suggested that few anticipated what a tourist draw the bridge would become.
The parking lot at the bridge is often full, and cars sit idle on the old road to Hoover Dam waiting to get in.
The bridge was designed so tall concrete walls block drivers' views of the dam and canyon from the deck, but apparently that hasn't stopped interested motorists from slowing down or even stopping. Readers have reported witnessing vehicles actually pulling over on the bridge and motorists jumping across the wall to the walkway to take in the view of the dam.
Enos said his association will protest any ban or legislation that singles out truckers. The route through Laughlin wasn't convenient, but his members understood why it had to be after the 9/11 attacks.
"Everybody accepted that because it was about the terrorists," he said.
That detour was financially brutal on companies, Puliz said. He figures it costs a trucking outfit $1.25 per mile and the circuitous Laughlin route added 26 miles to trips to Phoenix. A typical company might have three trucks a day headed to Arizona and back. It adds up.
"Laughlin was tough; it hurt us a lot," he said. "It's a ton of money a year for a company like ours."
And understandably, they don't feel like they should be sent back to Laughlin and Bullhead City. After all, the heavy trucks make up nearly 40 percent of the state's fuel tax revenue, which is spent to do things like, well, widen U.S. Highway 93.
It seems as though Tobler realizes he is stuck with the trucks and Hakim is off the hook. No sense in fighting over it. The only pushing and shoving that Tobler will be doing is pushing the state to get U.S. Highway 93 widened and shoving anybody who gets in the way of Interstate 11.
If you have a question, tip or tirade, call Adrienne Packer at 702-387-2904, or send an e-mail to roadwarrior@reviewjournal
.com. Please include your phone number.
• The northbound Interstate 15 ramp onto Blue Diamond Road will be closed Monday through Thursday between 9 p.m. and 5 a.m. for bridge work.
• Eastbound Blue Diamond Road will be closed between Dean Martin Drive and Interstate 15 Monday through Thursday between 9 p.m. and 5 a.m. Westbound Blue Diamond Road will be closed between Las Vegas Boulevard and Interstate 15 Monday through Thursday between 9 p.m. and 5 a.m.
• Southbound I-15 to eastbound Interstate 215 will be closed Tuesday beginning at 9 p.m. until 5 a.m. Wednesday.
• The right auxiliary lane on northbound Interstate 15 between the Sunset Road bridge and Russell Road will be closed for an unknown period of time. For six months, traffic on Russell at Interstate 15 will be routed to the north side of the bridge with two lanes in each direction. For the next several weeks, watch for lane restrictions on the Russell Road bridge over Interstate 15.
• Expect lane restrictions through June on Cheyenne Avenue between Durango Drive and Hualapai Way as crews install ramps that meet the requirements of the Americans with Disabilities Act. During some phases of the work, westbound Cheyenne will be reduced to one lane between 7 a.m. and 3 p.m. and one lane eastbound from 9 a.m. to 6 p.m.
• Racel Street between Cimarron Road and Coke Street will be closed through March for installation of a storm drain.
• Fort Apache Road also will be reduced to one lane in each direction between Cheyenne and Alexander Road.
LAS VEGAS REVIEW-JOURNAL