MLK onramp to northbound US 95 closed for 2 months
September 5, 2016 - 7:38 am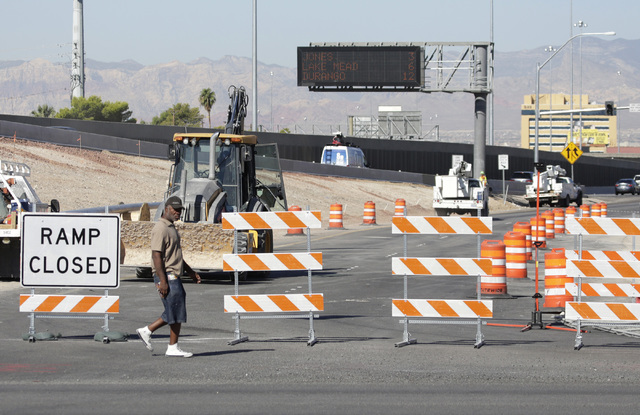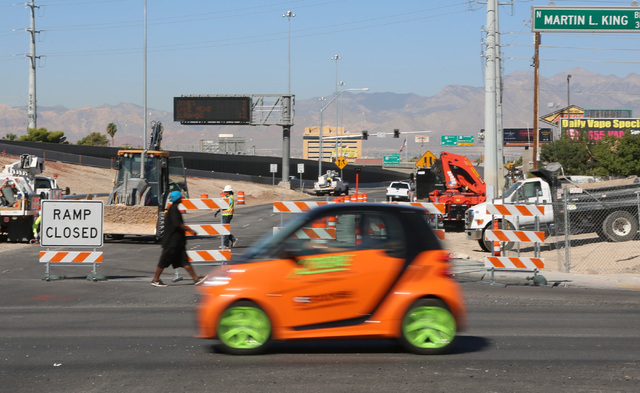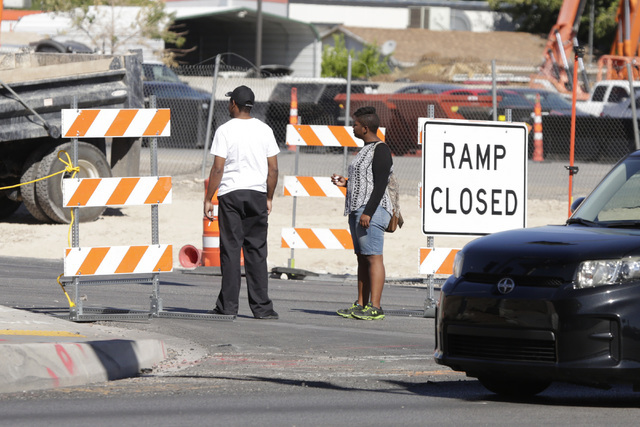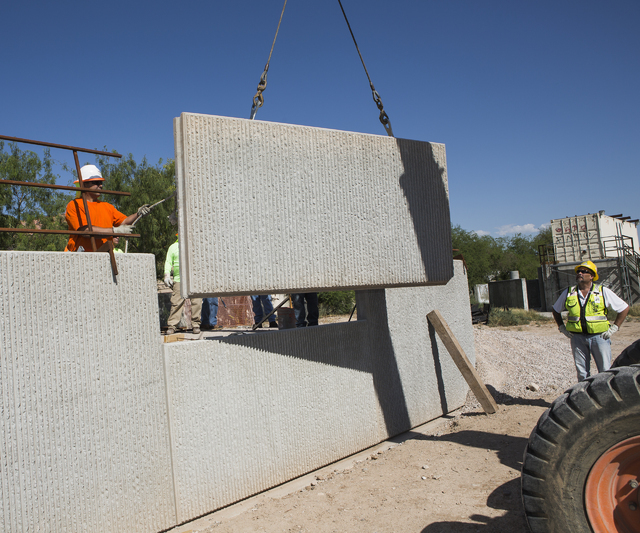 Project Neon is finally going vertical this week.
The Martin Luther King Boulevard onramp to northbound U.S. Highway 95 will close for the next two months beginning on Tuesday, when a crew of about 60 construction workers will start erecting several retaining walls around the Spaghetti Bowl interchange in downtown Las Vegas.
A series of concrete slabs — measuring up to 10 feet wide and weighing up to 2 ½ tons each — will be slowly connected, piece-by-piece, to build walls that will secure soil on unstable and steep slopes surrounding Nevada's busiest freeway interchange.
"We're excited to start building the project and give everyone something visual to see," said Jay Proskovec, a spokesman for Kiewit Infrastructure West Co., the contractor hired last fall by the Nevada Department of Transportation to complete Project Neon.
The workers got some hands-on training last month offered by the Laborers International Union of North America Local 872.
A crane-like vehicle known as a telehandler lifted a 50-square-foot piece of concrete off the ground. In groups of three, the laborers took turns with guiding the giant, 2-ton block into place at the union's training yard, about four miles east of the Spaghetti Bowl.
"We do these training sessions to instill a measure of safety across the project," NDOT spokesman Tony Illia said.
"It really is a cultural approach to how we view the construction, and it's that safety comes before anything else," Illia said. "For something with Project Neon's size and magnitude, this is something you definitely want to do."
A groundbreaking event was held in April, followed by some pre-construction work for Project Neon. The $1 billion improvement plan calls for widening four miles of Interstate 15 between Sahara Avenue and the "Spaghetti Bowl" interchange, which is used by 300,000 vehicles daily.
Traffic will be especially snarled for eight months beginning in March 2018, when construction crews are expected to build an 81-foot-tall flyover carpool lane spanning 2,606 feet that will connect I-15 and U.S. 95.
About 600,000 square feet of retaining walls will be built by the time Project Neon wraps up in July 2019, Illia said. Designs of rabbits, squirrels and other wildlife will be embedded into the decorative walls as a tribute to Southern Nevada's wildlife.
"The walls are going to look pretty spiffy," Illia said.
FLAMINGO FLAP
Steve from Las Vegas wanted to know when motorists and nearby residents can get some relief from the construction along Flamingo Road, between Eastern Avenue and Boulder Highway.
Steve was also irked by the fact that he doesn't always see workers at the site, even though orange cones are present.
The work is part of a larger, ongoing project that calls for installing more than 100 new transit shelters, dedicated bus and bicycle lanes, landscaped medians and street paving along a 14-mile stretch of Flamingo, between Grand Canyon Drive on the far west side of Las Vegas to Boulder Highway on the east end, according to the Regional Transportation Commission of Southern Nevada.
The overall $44 million beautification project started in April 2015 and is being completed in phases, aimed at improving traffic flow and safety for drivers, bicyclists and pedestrians along the busy corridor, RTC spokeswoman Angela Castro said.
On your end of town, Steve, Southwest Gas was also completing utility work up until a few weeks ago, Castro said.
The good news is that the work is almost completed in your neighborhood, with a new pedestrian signal at Mountain Vista Street. Street paving is expected to start in September, with work scheduled to wrap up by the end of October, Castro said.
As for seeing orange cones when workers aren't around, Castro said that "cones remain in place for night work and safety reasons, such as protecting drivers from hazards like open trenches." For more information about this project, visit rtcsnv.com/flamingo.
Questions and comments should be sent to roadwarrior@reviewjournal.com. Please include your phone number. Follow the Road Warrior on Twitter @RJroadwarrior
ROAD WORK AHEAD
■ Aerojet Way will be closed between Losee Road and Arcata Way from 6 a.m. Saturday to midnight Sunday for the Cannery Casino's End of Summer Bash.
■ Fremont Street will be closed between Eighth and Eleventh streets, along with several other surrounding downtown intersections, from 2 to 8 p.m. Saturday for the National Beer Mile.
■ Third Street will be closed between Stewart and Ogden avenues from 5 p.m. Sept. 25 to 5 p.m. Oct. 3 for the Hogs and Heifers Anniversary Party and Rally in the Alley.
■ Decatur Boulevard will be restricted between Bonanza Road and Vegas Drive through Sept. 16. Crews are building a new median island.
■ Bridgeport Drive will restricted at Spokane Drive until Sept. 30 as crews work on sewer lines.
■ Interstate 15 will be restricted about 300 feet in each direction of Exit 118 in Mesquite until Thursday. Crews are installing a barrier rail along the median.
■ The Rancho Drive exit from southbound U.S. Highway 95 will be closed through mid-September as crews work on Project Neon.
■ Buffalo Drive will be restricted between Sky Pointe and Grand Teton Drive from 7 a.m. to 4 p.m. weekdays through Oct. 15 as crews improve pedestrian crossings.
■ Cimarron Road will be restricted between Sky Pointe and Grand Teton Drive from 7 a.m. to 4 p.m. weekdays through Oct. 15 as crews improve pedestrian crossings.
■ Elkhorn Road will be restricted between U.S. Highway 95 and Tenaya Way from 7 a.m. to 4 p.m. weekdays through Oct. 15 as crews work on road improvements.
■ Sections of Bonneville Avenue, Charleston Boulevard, Grand Central Parkway and Martin Luther King Boulevard will have closed or disrupted lanes surrounding the Spaghetti Bowl as crews work on Project Neon through July 2018.
■ Traffic will be redirected and reduced to one lane in each direction of U.S. Highway 95 for about a mile in Boulder City through March. Crews are building a bridge over the highway for the future Interstate 11 corridor.
■ Valley Drive is being widened between Tropical Parkway and Cheyenne Avenue in North Las Vegas, with completion expected in March.
■ Sahara Avenue is restricted between Las Vegas Boulevard and Tam Drive until Sept. 22 due to construction of the new Lucky Dragon Hotel and Casino.
GASOLINE PRICES
The average gasoline price Friday in the Las Vegas Valley was $2.40 per gallon. It was $2.44 in Nevada. The national average of $2.21 is the same as a week ago, up 10 cents from a month ago and down 23 cents from a year ago.