NDOT studies 'I-15 gap' between Flamingo, Sahara in Las Vegas
August 20, 2018 - 12:39 am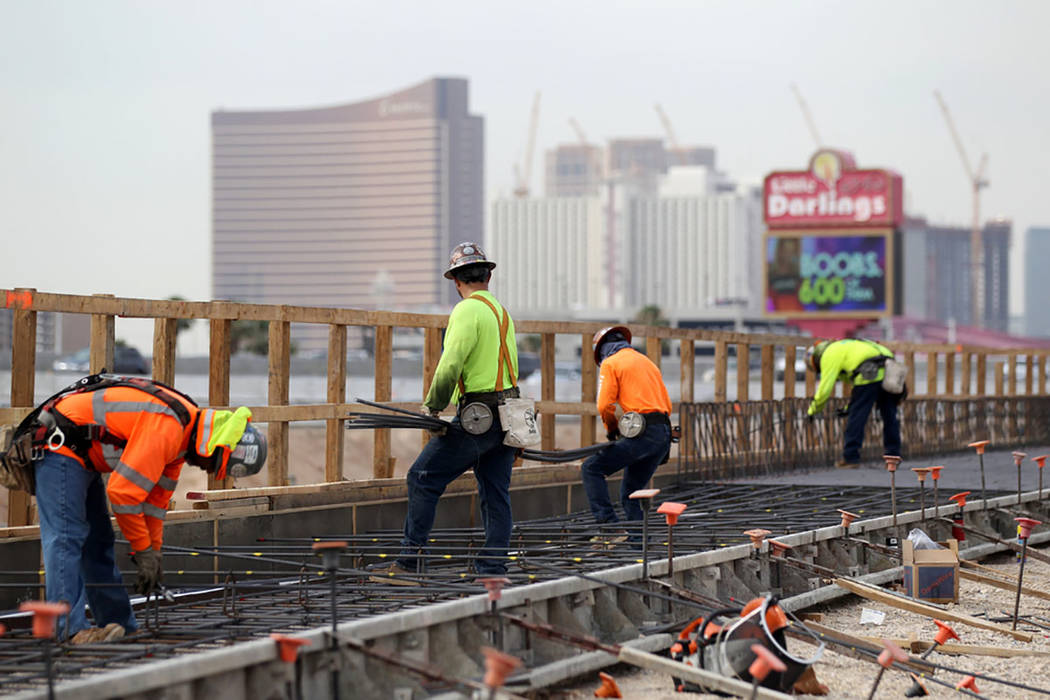 As the number of residents and visitors continues to swell in Las Vegas, the roads are going through some growing pains — particularly along Interstate 15.
The massive $1 billion widening of the Spaghetti Bowl freeway interchange known as Project Neon is expected to wrap up next summer after three years of construction and traffic jams through downtown Las Vegas.
Then, the focus will turn south when the $200 million reconfiguration of the Tropicana Avenue interchange starts as soon as 2021, after the Raiders are expected to kick off their first season at a nearby stadium on Russell Road.
But what about that in-between section of I-15, running from Flamingo Road to Sahara Avenue?
The Nevada Department of Transportation is in the very early stages of studying whether that area of the freeway — dubbed the "I-15 gap" — should also be widened as a way to relieve traffic.
Las Vegas officials have also suggested potentially extending Martin Luther King Boulevard south to Desert Inn Road, NDOT officials said.
"It's not going to be a soon-as-possible type of thing to widen I-15 in that section," NDOT Director Rudy Malfabon said last week during the agency's board meeting.
"We want to give people a breather from Project Neon," Malfabon said. "It's wise to look at the alternatives there, and what are some of the pinch-points that are affecting I-15."
NDOT spokesman Tony Illia said it's too early to determine construction costs and schedules to fill that "I-15 gap, but cautioned that planning could take several years.
After all, NDOT spent the better part of two decades drawing up concepts for Project Neon, while revamping the Tropicana interchange has been discussed since 2007.
"It takes a long time to have these projects come together, especially when you're altering or changing a federally designated interstate," Illia said. "There's a certain protocol for design and construction that NDOT needs to adhere to in order to qualify for funding."
Bypassing Boulder City
Jerry from Las Vegas said he's spotted "quite a few trucks" continuing to use U.S. Highway 93 through downtown Boulder City, despite the opening of Interstate 11 earlier this month.
The $318 million freeway segment, known as the Boulder City Bypass, is supposed to help relieve congestion and keep big rigs out of the city's downtown area.
"I have actually had a few conversations with some truck drivers, and surprisingly they are unaware that there even is a bypass," Jerry said. "One thing each of the drivers seemed to say that impressed me is that the signage does not point them to the bypass, so they take the route that they're used to driving through Boulder City."
The issue prompted NDOT officials to place a dynamic message board as motorists approach the new freeway, agency spokesman Tony Illia said. In the meantime, NDOT is keeping an eye on traffic patterns around I-11 and will make additional adjustments if needed.
"The newly opened freeway meets all current Interstate Highway Design criteria, as outlined by the U.S. Department of Transportation," Illia said. "This is a federally designated interstate with very specific design criteria for materials, construction, access and signage, among other things."
Elkhorn mysteries revealed
Lou from Las Vegas wanted to know why diagonal lines were painted along a stretch of Elkhorn Road, making it a one-way street between Hualapai Way and Grand Canyon Drive in the northwest valley. He also wanted to know why Elkhorn loses a traffic lane near Hualapai, and why the street has a 25 mph speed limit.
Margaret Kurtz, a spokeswoman for the city of Las Vegas, said the diagonal lines were painted by the Clark County Public Works Department as a traffic calming measure that "visually narrows" the road and slows drivers down.
"Many residents in the area want to maintain the rural nature and do not want to see more than one lane in each direction on Elkhorn," Kurtz said.
Additionally, several factors determine a street's speed limit, but Kurtz said that "we like to post 25 mph on roads with residential frontage."
When to yield
Henry from Las Vegas said he needed some clarification on when it's appropriate to make a left turn when a pedestrian is crossing a street with a raised median.
Trooper Jason Buratczuk of the Nevada Highway Patrol said that a driver may proceed if the pedestrian passes the median while he or she is walking away from the vehicle. When a pedestrian is approaching the vehicle, then the driver doesn't have to yield until the pedestrian reaches the median.
Questions and comments should be sent to roadwarrior@reviewjournal.com. Please include your phone number. Follow @RJroadwarrior on Twitter.
Road work ahead
Downtown
— Ogden Avenue will be restricted between Main Street and City Parkway through mid-October. Crews are making street, sidewalk and lighting improvements.
— The Charleston Boulevard onramps to southbound Interstate 15 are closed until mid-October. Crews are rebuilding the intersection.
— The D Street offramp from northbound Interstate 15 is closed through mid-November. Crews are widening the freeway.
— Interstate 15 will be narrowed in both directions between Sahara Avenue and D Street until Nov. 20. Crews are widening the freeway.
— The ramp connecting southbound U.S. Highway 95 to southbound I-15 will be reduced to one lane and detoured through Nov. 20. Crews are widening I-15.
— The ramp linking southbound U.S. 95 to northbound I-15 is closed through Nov. 20. Crews are widening I-15.
— The Martin Luther King Boulevard onramp to southbound U.S. Highway 95 is closed until early 2019. Crews are building a high-occupancy flyover ramp.
— Gass Avenue will be restricted between Las Vegas and Charleston Boulevards through March 2019. Crews are making pedestrians and bicycle improvements.
Northwest
— Both directions of U.S. Highway 95 will be narrowed to two lanes at Elkhorn Road through December. Crews are building a new carpool ramp.
— El Capitan will be restricted between Lone Mountain and Ann roads from Monday to the beginning of August 2019. Crews are installing a storm drain system.
North Las Vegas
— Pecos Road will be closed at the 215 Beltway through the end of October. Crews are building a freeway bridge.
Henderson
— Stephanie Street will be restricted between the 215 Beltway and Cielo Abierto Way through October. Crews are repaving the road and making other improvements.
Gasoline prices
The average gasoline price Friday in the Las Vegas Valley was $3.10 per gallon. It was $3.17 in Nevada. The national average of $2.84 is down 2 cents from a week ago, down 2 cents from a month ago and up 51 cents from a year ago.