Nearly $4B grant sought for Vegas-to-So Cal high-speed rail system
Updated April 24, 2023 - 7:56 pm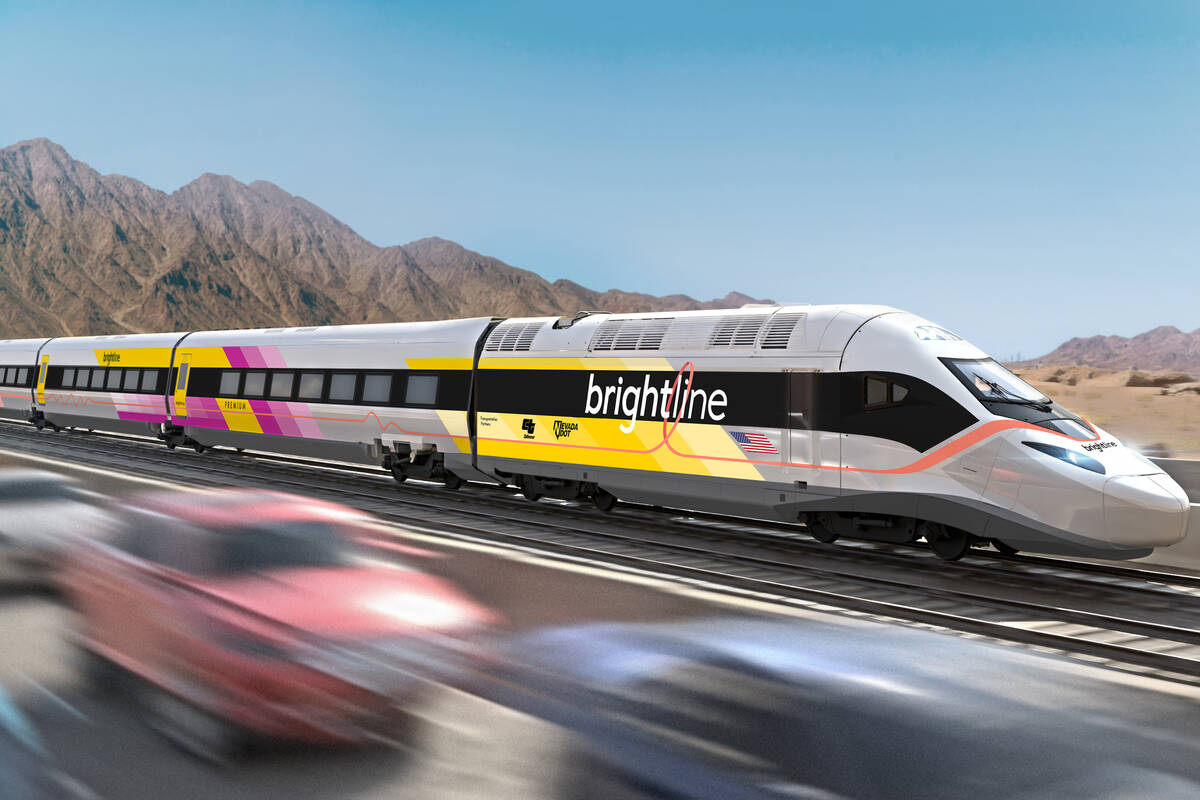 The $12 billion Brightline West high-speed rail system is on track to break ground later this year, according to a company spokesman.
Over the better part of the last decade Southern Nevadans have heard that groundbreaking is coming "soon" on various iterations of the Las Vegas-to-Southern California high-speed rail project.
Last week, Brightline and the Nevada Department of Transportation applied to acquire up to $3.75 billion in Federal-State Partnership Program grant money to go toward construction of the system, Brightline spokesman Ben Porritt said. The money is part of the U.S. infrastructure bill.
The remaining cost would be paid by tax-exempt private activity bond allocations from Nevada and California , and private capital.
"Private activity bonds are not backed by government bodies, at the federal, state or local level," Porritt said. "They're backed by the assets of the project and sold to private investors and large banking institutions. We're the largest user of those in the country. We've sold more than $4 billion of those in the state of Florida to help finance Florida (high-speed rail system)."
Brightline also recently announced multiple agreements between the company and unions that will help construct and run the system.
With all the recent activity, it seems to be more real than in years past that the project will finally come to fruition, according to Clark County Commissioner Michael Naft.
"We've been talking about high-speed rail to Southern California for my entire life," Naft said. "The California-Nevada High Speed Rail Commission was formed well over 30 years ago and it's been a work in progress. Until the last couple of years it hasn't gotten really exciting like where we are now."
The 218-mile rail line would connect passengers between Las Vegas and Rancho Cucamonga in about two hours, according to Brightline. From Rancho Cucamonga, travelers can continue into downtown Los Angeles via the Metrolink, which would take about 40 minutes, according to Porritt.
Other stations are planned to be built in Hesperia and Apple Valley in California.
The railway would travel in the median of Interstate 15 for 96 percent of the track. Some portions in Nevada will run to the side of the northbound lanes of the interstate, as it approaches the Las Vegas station.
"We have rights-of-way agreements with the Nevada Department of Transportation and Caltrans for access to the I-15," Porritt said. "That section of the corridor would have never been used for anything. Not both of those states will generate revenue off our lease. And as part of the $12 billion project costs, we're going to improve the I-15 highway, with about $800 million of investment. That's dollars that the state otherwise would have had to pay themselves."
Porritt estimates Brightline has already spent in the neighborhood of $600 million to get the project construction ready, which includes the environmental assessments that were conducted.
"We have done the design and engineering work needed to put a shovel into the ground," Porritt.
The project would break ground later this year, depending on the Federal Railroad Administration's decision on the project's environmental assessment. That is expected to come this summer.
"I think it could work because you're going to have one significant private investment and you have a partner that has actually done this successfully before," Naft said. "They're operating in Florida all the way up to Orlando now."
Contact Mick Akers at makers@reviewjournal.com or 702-387-2920. Follow @mickakers on Twitter. Send questions and comments to roadwarrior@reviewjournal.com.