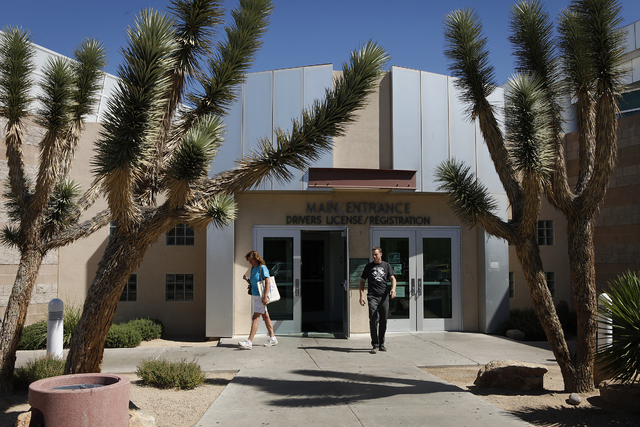 At least once a year — more frequently, the more vehicles you own — each of us has to endure that root-canal-level-of-pain experience known as the Nevada Department of Motor Vehicles renewal.
Words can't describe how people loathe the thought of having to find a parking space within a half-mile of the nearest DMV office, sneaking past the clipboard-clutching petition people, wading through the sea of humanity trying to figure out whether they're there to renew their license or their license plate, tripping over kids playing some kind of game they just invented, only to find the hardest plastic chairs on the planet where you'll park yourself for a couple of hours, listening to a mechanical voice calling out places in line, bingo-style.
First-time DMV arrivals hear the rapid-fire calling of numbers, notice that they have E492 and say, "Oh, this won't be so bad … they're on E420. It won't take that long to make it through 72 numbers."
Then, you realize that there aren't just E-numbers being called. There are G-numbers and H-numbers and an alphabet soup of letters that are going to get called before your E-number.
You notice that just when it appears your number is about to be called, the clerk you expect will be handling your business goes on a break and you're committed to another 10 minutes of waiting.
You begin wondering: Should I have gone to the DMV office on North Decatur Boulevard, even though I live in Henderson? Should I have gone to the Henderson office at Stephanie Street and American Pacific Drive, even though I live in North Las Vegas?
Should I arrive just as the office opens (even though lines already have formed outside hours earlier) or should I get there late in the day because everybody who's coming already would have been there (and you realize that the number of clerks diminishes with the lateness of the day).
Just for the record, the busiest office in June was the one at West Flamingo Road, followed by offices on East Sahara Avenue, North Decatur Boulevard and in Henderson. On average, there were 1,437 customers per day in DMV offices in June, waiting an average 68 minutes each.
Several years ago, the DMV introduced the kiosk. They greatly reduced the wait time for those who were comfortable enough with the technology to use them.
It took me a couple of times to realize that users pay $3 for the privilege of using the kiosk, but it was a pretty sweet time-saver — until some of the machines broke down and lines started to form to use the ones that still worked.
Still, it was better than sitting in line for an hour or two.
It turned out that my best strategy ultimately was to go to the kiosk at the tiny Donovan Way DMV office in North Las Vegas late in the afternoon. That office doesn't do all the traditional DMV services, so it's not too crowded. But it does license plate sticker renewals. And it does have a kiosk.
As the calendar turned to September and I stared at the "9" decal on my license plate, I knew my number was up again.
But the DMV, which had experimented with a system called "Dash Pass" in Northern Nevada since March, announced in August that it was going to install it here.
I decided to give it a test drive.
Dash Pass was developed by Pasadena, Calif.-based QLess Inc. and has been used by DMVs in Texas, Michigan, Kansas and Missouri. It also is used to manage lines in theme park, retail, health care and education venues.
QLess calls itself "the global leader in mobile wait management," which is a scary claim in itself.
But it's actually pretty slick, and if you don't have an aversion to a cellphone, you'll like it.
It isn't perfect, but once some of the bugs — and they're very tiny bugs — are worked out, it should make the annual DMV visit much less painful than it has been.
To use Dash Pass, go to the Nevada DMV website. There are no downloads or apps to worry about. There are links in several locations on the cover page. A click through gives a list of offices where Dash Pass is available. In Southern Nevada, it's at the offices on East Sahara and on West Flamingo in Las Vegas, on Decatur in North Las Vegas, at Stephanie and American Pacific in Henderson and in Pahrump.
Click the link to check in online. The next screen you'll get is a telephone keypad. Click in your smartphone number and you'll go to a screen with service options: new driver's licenses or vehicle registrations renewals, written testing, commercial driver's licenses, reinstatements or vehicle permit and plate turn-ins. You'll get a text telling you where you stand in line and how long your wait is going to be.
Then, all you do is wait. But at least you can be productive while you wait. Work in the office. Run errands. Watch television.
My first text message said, "Nevada DMV: Your est. wait is 192 min. We'll send you updates &let you know when you reach the front. Cmds you can send: 'S' Status update, 'L' Leave, 'H' Help."
Just to try the status update, I waited a few minutes and sent an S message.
"Update: There are 93 people ahead of you. Your estimated wait is 188 min. Need more time than that? Reply with 'M.' You must be in office by posted closing."
Throughout my 192-minute wait (Would I really have sat at the DMV for three hours and 12 minutes?) I received occasional updates.
I received my first message at noon; I received my "You've reached the front of the line" message at 4:25 p.m., so system managers still haven't gotten the estimated wait time down.
At the DMV office, the last four digits of your phone number appear on digital screens, directing you to the proper window. The last text message also tells you what window to go to.
Dash Pass should be around for awhile. QLess has a four-year contract with the state valued at $520,348.
Cleaning up a few bugs in the system will make it an even better experience than it is.
Now if only they can do something about that parking problem.
Questions and comments should be sent to roadwarrior@reviewjournal.com. Please include your phone number. Follow the Road Warrior on Twitter @RJroadwarrior.
ROAD WORK AHEAD
■ The D Street onramp to southbound Interstate 15 opens Sept. 30.
■ Nightly lane restrictions are planned from 8 p.m. to 5 a.m., tonight through Sept. 28 on Interstate 15 between U.S. Highway 95 and Washington Avenue. The southbound I-15 ramps to U.S. 95 and to Washington will close tonight from 8 p.m. to 5 a.m. The southbound U.S. 95 ramp to northbound I-15 and the northbound I-15 ramp to D Street will close from 8 p.m. to 5 a.m. on Wednesday.
■ Street, sidewalk, lighting and landscaping improvements are scheduled on Bridger Avenue between Main and Sixth streets Monday through April. Traffic will be restricted to a single lane each direction.
■ A sewer collection line and two manholes will be installed on southbound Dean Martin Drive between Post and Sunset roads Mondays through Fridays through Sept. 30 between 9 p.m. and 5 a.m. Southbound traffic will be shifted to northbound lanes with one lane open in each direction.
■ Lane restrictions for a paving project scheduled on Eastern Avenue between St. Rose Parkway and Silverado Ranch Boulevard and the intersection of Coronado Center Drive, Sundays through Thursdays from 7 p.m. to 6 a.m., tonight through the end of 2014.
■ Lane restrictions for a pipeline installation project scheduled on Sahara Avenue between Teddy and Highland drives, daily from 9 p.m. to 6 a.m., Tuesday through November.
■ The northbound U.S. 95 ramp to northbound I-15 will be restricted with reduced speeds affecting wide loads through mid-October.
■ The northbound and southbound on- and offramps of Interstate 15 at Flamingo Road will be closed nightly through Monday, as will the ramps for Cheyenne Avenue Sept. 26 through Oct. 19. Lanes on eastbound and westbound Cheyenne also will be restricted.
■ A sewer line installation on Rampart Boulevard from Lake Mead Boulevard to Alta Drive will occur Monday through Friday, 7 a.m. to 3:30 p.m. through Monday. Once the intersection is completed, lane restrictions will occur on Rampart from Lake Mead to Hillpointe Road through mid-October.
■ One-lane closures on Kyle Canyon Road from mile marker 15 to mile marker 21 through summer.
■ Traffic diverted to a single lane on Fort Apache Road between Elkhorn Road and the 215 Beltway. The 1-mile project will continue a block at a time from 7 a.m. to 4 p.m. through mid-November
■ Intermittent lane closures on Rancho Drive between Sahara Avenue and Rainbow Boulevard through November.
GASOLINE PRICES
The average gasoline price Friday in the Las Vegas Valley was $3.55 per gallon. It was $3.60 in Nevada. The national average of $3.36 is down 5 cents from a week ago, down 8 cents from a month ago and down 16 cents from a year ago.
Las Vegas Review-Journal