Nevada DMV may change gender policy for driver's licenses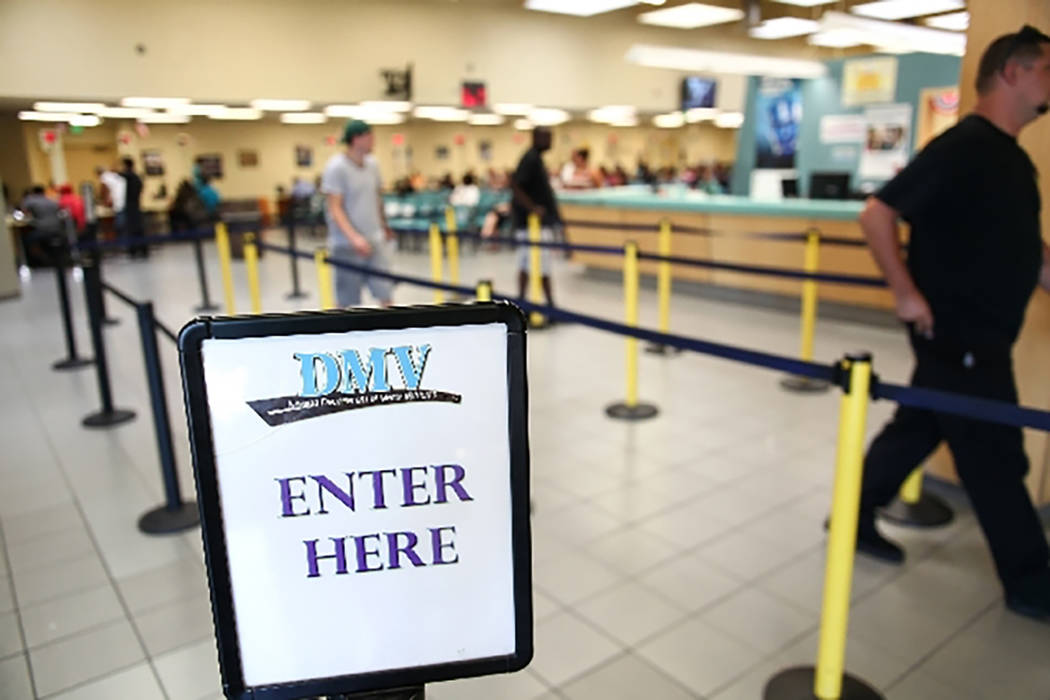 Transgender men and women could find it easier to change their gender identification on Nevada driver's licenses.
During a public hearing this month, the Nevada Department of Motor Vehicles signaled a move toward allowing individuals to self-declare a gender when obtaining a license, rather than provide proof from a physician.
Those who attended the DMV hearing said there was no opposition, but it's unclear when the proposal might go into effect. Final approval must come from the state Legislative Commission's subcommittee to review regulations, which has not yet scheduled a hearing.
Similar rules are effect in Massachusetts, Oregon and the District of Columbia, while work is underway to update policies in California, Minnesota and Washington, Nevada DMV spokesman Kevin Malone said.
"After extensive research of this topic, we have learned there is a national trend toward a simplified process for gender designation," Malone said.
Currently, driver's license applicants wanting to select a gender differing from what is indicated on their birth certificate must provide a physician's certification.
The DMV's proposed rule would eliminate the need for a doctor's note. Drivers would simply be able to check the box they identify with more: male or female.
"I know who I am, and I don't need a doctor to be in a position of deciding whether I am legitimate," said Jane Heenan, director of Gender Justice Nevada. "Nevada is a leader in these issues, so this is definitely a step in the right direction."
The new policy would align with an administrative code adopted in 2016 by the Nevada Division of Public and Behavioral Health that allows individuals to self-declare gender changes on Nevada birth certificates, rather than obtain a court order.
Cutting out the need for a doctor's order would save time and money for transgender people wanting to designate their preferred sex while renewing a license, said Brooke Maylath, president of the Transgender Allies Group in Reno.
"Everyone knows what gender they are intrinsically," Maylath said. "There is no need to have a medical gatekeeper to define who and what we are."
The DMV's proposal is also supported by the American Civil Liberties Union of Nevada, which noted that having an identification card that does not match with a person's gender identity could expose them to harassment when cashing checks at the bank, applying for jobs or getting stopped by law enforcement.
"Having an ID card that misrepresents one's lived gender 'outs' a transgender person in any situation in which he or she needs to show the document," Holly Wellborn, policy director for ACLU of Nevada, said in a statement posted on the agency's website. "That can violate the person's privacy and expose them to the risk of discrimination based on transgender status or gender identity."
Better interchange coming
Anyone who's tried to merge from the 215 Beltway to Interstate 15 in the southern part of the valley is familiar with the traffic jams, particularly during the morning and evening commutes.
Nathan from Las Vegas wanted to know whether the Nevada Department of Transportation was planning to fix the poorly designed interchange.
NDOT spokesman Tony Illia said the upcoming reconfiguration of Tropicana Avenue at I-15 is expected to improve traffic flows from the Beltway by adding capacity that will "reduce backups for a smoother and safer" connection.
The $200 million project is also expected to help relieve traffic on game days and during special events held at the Raiders stadium under construction. However, work on the freeway interchange won't start until 2020 — the same year the Raiders are expected to kick off in Las Vegas.
No permanent signal in plans
Sally from North Las Vegas wanted to know whether a traffic signal could be installed at Pecos Road and Centennial Parkway. For now, the poorly lit intersection is equipped only with stop signs that are difficult to see.
North Las Vegas city spokeswoman Delen Goldberg said a temporary traffic signal is expected to appear sometime in the future, when Clark County crews continue work on the 215 Beltway extension.
After construction is completed, Goldberg said, the temporary signals will be replaced by stop signs with lighted edges. A permanent traffic signal is not currently planned, but Goldberg said it will "likely" be warranted in the future due to continued development and population growth in the area.
Questions and comments should be sent to roadwarrior@reviewjournal.com. Please include your phone number. Follow @RJroadwarrior on Twitter.
Road work ahead
Downtown
— The ramp linking northbound Interstate 15 to southbound U.S. Highway 95 will close from 9 p.m. Monday to 6 a.m. Tuesday. Crews are restriping traffic lanes.
— The outside lane of northbound Interstate 15 is closed between Desert Inn Road and Sahara Avenue through late February. Crews are erecting traffic management signs.
— The Charleston Boulevard offramp from southbound Interstate 15 is closed through March 6. Crews are building a new offramp.
— The eastbound Charleston Boulevard offramp from northbound Interstate 15 is closed through March 8. Crews are widening the freeway.
— The Charleston Boulevard onramps to southbound Interstate 15 is closed until mid-October. Crews are rebuilding the intersection.
— The right lane on northbound Interstate 15 at Flamingo Road is closed until 6 a.m. April 6. Crews are restriping the road and installing signs.
— The outside lane of southbound Interstate 15 is closed between Sahara Avenue and Flamingo Road through late April. Crews are erecting traffic management signs.
— The outside lane of northbound Interstate 15 will close between Flamingo and Desert Inn roads from March to late April. Crews are erecting traffic management signs.
— Main Street is restricted between Bonneville Avenue and Las Vegas Boulevard through May. Crews are working on a storm drain.
— Sections of Bonneville Avenue, Charleston Boulevard, Grand Central Parkway and Martin Luther King Boulevard will have closed or disrupted lanes surrounding the Spaghetti Bowl as crews work on Project Neon through July.
— Gass Avenue will be restricted between Las Vegas and Charleston Boulevards through March 2019. Crews are making pedestrians and bicycle improvements.
Southwest
— Tropicana Avenue will be restricted between Decatur Boulevard and Lindell Road from 9 a.m. to 5 p.m. weekdays through Wednesday. Crews are doing sewer work.
— State Route 159 will be restricted between Blue Diamond Road and the Red Rock National Recreation Area from 7 a.m. to 3 p.m. on Tuesdays, Wednesdays and Thursdays through March 1. Crews are filling road cracks.
Northwest
— Both directions of U.S. Highway 95 are narrowed to a single lane between Skye Canyon Park and Paiute drives through July 12. Crews are building a new interchange bridge.
Henderson
— Center Street is restricted between Burkholder Boulevard and Lake Mead Parkway through June. Crews are making various road improvements.
North Las Vegas
— Las Vegas Boulevard will be reduced to one lane in each direction between Nellis Boulevard and Range Road from Tuesday to March 30. Crews are installing a sewer pipeline.
— U.S. Highway 93 is restricted between Interstate 15 and Apex Power Parkway through June. Crews are widening the highway and upgrading an interchange.
— Nellis Boulevard is restricted between Cheyenne Avenue and Las Vegas Boulevard from 6 a.m. to 3:30 p.m. weekdays through July. Crews are installing sewer pipes.
Gasoline prices
The average gasoline price Friday in the Las Vegas Valley was $2.74 per gallon. It was $2.77 in Nevada. The national average of $2.52 is down 1 cent from a week ago, down 3 cents from a month ago and up 24 cents from a year ago.