North Las Vegas city workers to get electric bikes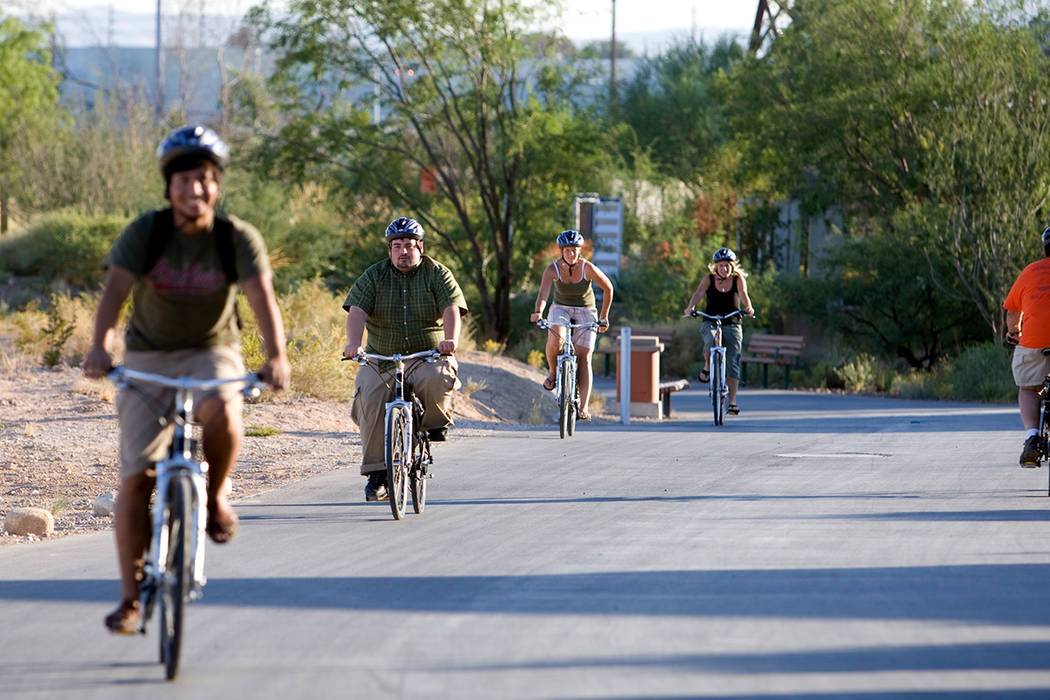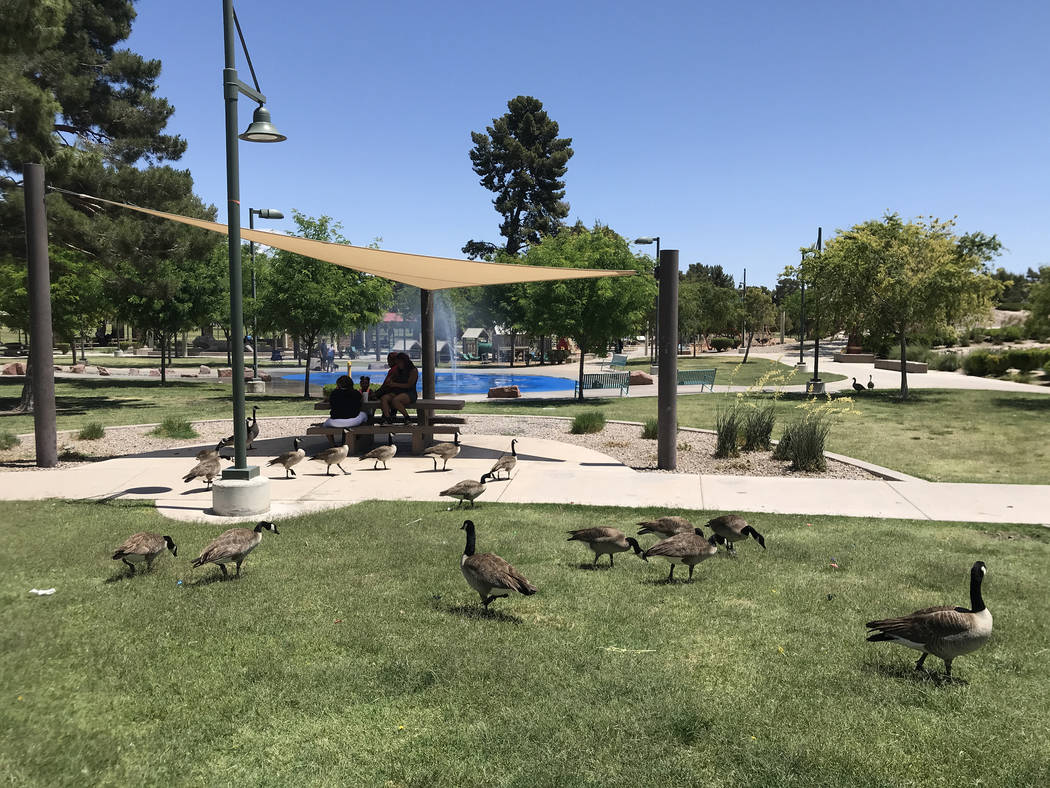 North Las Vegas employees will soon have another option to get their work done around town.
Electric bicycles have undergone a series of tests over the past week. The bikes are aimed at promoting the health of city workers while reducing vehicle emissions during brief, local trips.
"Vehicles, even new models, pollute significantly more during the first mile of a trip than during any other driving period because of cold starts," said Delen Goldberg, a spokeswoman for the city of North Las Vegas.
"The emissions equipment in a vehicle needs to heat up before it is fully functional, so that first few minutes of driving is the worst for the environment," Goldberg said. "If we can reduce the number of those short, quick trips that our employees make by vehicle, we can prevent a significant amount of greenhouse gases from entering the atmosphere."
City officials are still gauging employee interest in the electric bicycle program, which will be formally considered Aug. 15 by the City Council, Goldberg said. By the time it rolls out in September, four of the e-bikes will be stationed at City Hall, while two will be available at Craig Ranch Regional Park.
The bicycles will be funded and maintained by the Regional Transportation Commission of Southern Nevada through a $110,000 grant from Congestion Mitigation and Air Quality funds, RTC spokeswoman Monika Bertaki said.
Similar e-bike partnerships have been struck since 2012 with Clark County and the cities of Las Vegas and Henderson, allowing municipal employees to pedal short distances for work, Bertaki said.
Washed-out lines
John from Henderson noticed that the lane markings are pretty washed out along Sunset Road between U.S. Highway 95 and Marks Street, and he wanted to know whether city officials plan to repaint the road.
Blame it on the local weather, said Kathleen Richards, a spokeswoman for the city of Henderson.
"The Southern Nevada climate presents unique challenges for pavement markings," Richards said. "There is no film or paint product currently on the market that can hold up to the extreme heat, so lane markings can easily fade and are difficult to clean."
The city usually touches up the street lanes when needed and during major road rehabilitation projects, Richards said.
Crews recently repainted the street markings along eastbound Sunset between U.S. 95 and Marks, Richards said. Soon, the city will add new striping along Horizon Drive between U.S. 95 and Boulder Highway.
Caring for Karen
Paul from Las Vegas wanted to know when Clark County crews plan to fix the broken pavement and potholes along eastbound Karen Avenue near Joe Brown Drive, just east of the Strip. Paul said he never received a response after filing a complaint with the county's Public Works Department.
County spokesman Dan Kulin said crews completed pothole repairs in May. Meanwhile, county officials are designing a project that calls for the reconstruction of Karen between Paradise Road and Maryland Parkway.
Flashing yellow arrow
Sue from Las Vegas wanted to know why the traffic signal at Sahara and Burnham avenues no longer offers a flashing yellow arrow that allows drivers to yield while making a left turn. The flashing arrow had existed before city officials completed an improvement project, she said.
"Ever since the improvements, drivers on Sahara have to sit through two or more signal cycles before a green arrow ever shows up," Sue said. "I've noticed many motorists drive past the intersection, make a U-turn and then turn onto Burnham."
Margaret Kurtz, a spokeswoman for the city of Las Vegas, said traffic engineers had determined that the flashing yellow arrows were no longer "appropriate" after the intersection upgrade was completed. As a result, the signals were switched to protected-only left turns.
The city's traffic engineers will take another look at this intersection to determine whether the signal detection equipment is properly working, Kurtz said.
Questions and comments should be sent to roadwarrior@reviewjournal.com. Please include your phone number. Find @RJroadwarrior on Twitter.
Road work ahead
Downtown
■ Ogden Avenue will be restricted between Main Street and City Parkway through mid-October. Crews are making street, sidewalk and lighting improvements.
■ The Charleston Boulevard onramps to southbound Interstate 15 are closed until mid-October. Crews are rebuilding the intersection.
■ The D Street offramp from northbound Interstate 15 is closed through mid-November. Crews are widening the freeway.
■ Interstate 15 will be narrowed in both directions between Sahara Avenue and D Street until Nov. 20. Crews are widening the freeway.
■ The ramp connecting southbound U.S. Highway 95 to southbound I-15 will be reduced to one lane and detoured through Nov. 20. Crews are widening I-15.
■ The ramp linking southbound U.S. 95 to northbound I-15 is closed through Nov. 20. Crews are widening I-15.
■ The Martin Luther King Boulevard onramp to southbound U.S. Highway 95 is closed until early 2019. Crews are building a high-occupancy flyover ramp.
■ Gass Avenue will be restricted between Las Vegas and Charleston Boulevards through March 2019. Crews are making pedestrians and bicycle improvements.
Northwest
■ Durango Drive onramp to southbound U.S. Highway 95 is closed through 5 a.m. Friday. Crews are installing drainage equipment.
■ Both directions of U.S. Highway 95 will be narrowed to two lanes at Elkhorn Road through December. Crews are building a new carpool ramp.
East valley
■ U.S. Highway 95 will be narrowed at Boulder Highway from 9 p.m. Monday to to 4 a.m. Tuesday. Crews are making bridge joint repairs.
■ Both directions of Charleston Boulevard will be restricted between U.S. Highway 95 and Marion Drive through Friday. Crews are rehabilitating a sewer line and manholes.
North Las Vegas
■ U.S. Highway 93 will be closed at Interstate 15 from 9 p.m. Tuesday to 6 a.m. Wednesday, but all ramps leading to I-15 will remain open. Crews are building a freeway interchange.
■ Northbound Interstate 15 will be restricted at U.S. Highway 93 from 7 p.m. Friday to 7 a.m. Saturday. Crews are building a freeway bridge.
■ Pecos Road will be closed at the 215 Beltway through the end of October. Crews are building a freeway bridge.
Henderson
■ Stephanie Street will be restricted between the 215 Beltway and Cielo Abierto Way through October. Crews are repaving the road and making other improvements.
Gasoline prices
The average gasoline price Friday in the Las Vegas Valley was $3.12 per gallon. It was $3.18 in Nevada. The national average of $2.85 is up 1 cent from a week ago, the same as a month ago and up 55 cents from a year ago.