North Las Vegas wants better parking areas for truckers
Updated June 4, 2018 - 6:48 am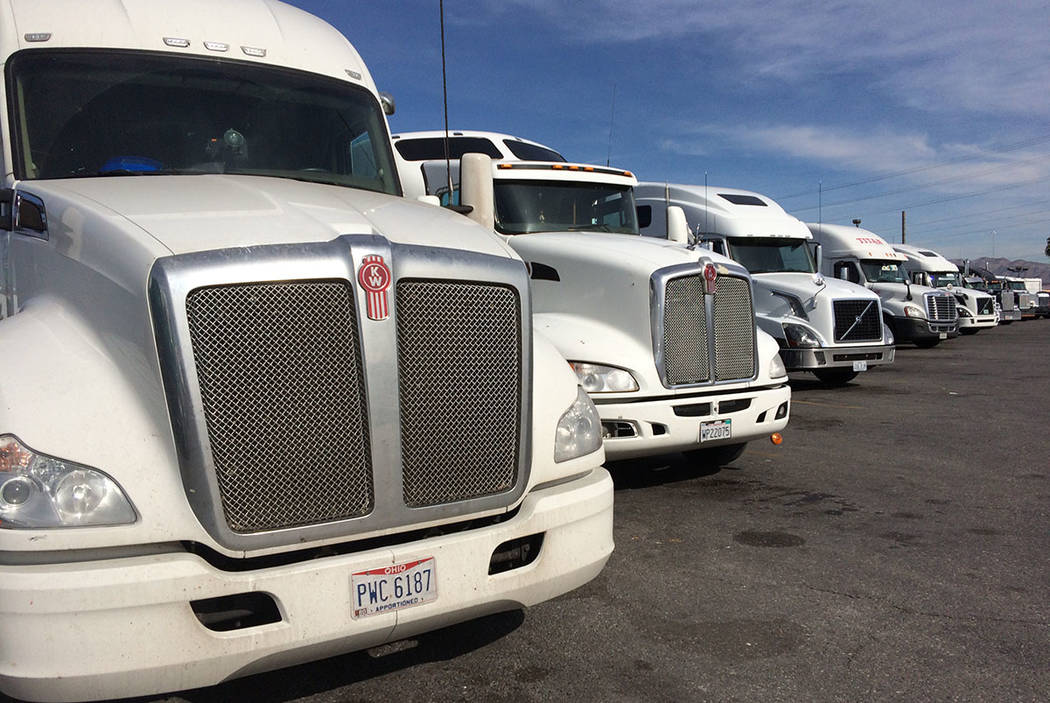 As North Las Vegas evolves into a hub of massive distribution centers aimed at jump-starting the city's fragile economy, Mayor John Lee wants to make sure truck deliveries show up on time and have a place to park.
Amazon and Sephora announced plans over the past two months to move into warehouses at an industrial park under construction near Las Vegas Motor Speedway, and Lee said deals are being negotiated with other high-profile companies.
However, Lee is already noticing that nearby truck stops tend to fill up quickly, prompting drivers to illegally park their big rigs just off Interstate 15 or meander into nearby residential neighborhoods.
"We need to find a place for these big trucks to go while they are waiting their turn to drop off a delivery," Lee said, "Sometimes they end up in places where they shouldn't be, and we need to figure out these challenges before they become too big."
Lee is working with the Nevada Truckers Association, the Nevada Highway Patrol and the North Las Vegas Police Department to craft a plan aimed at finding a designated waiting area for those big rigs.
A couple of proposals are under consideration. One idea calls for working with new and existing warehouse operators to ensure there are enough bays for their own trucks, but to set aside some space for trucks bound for a nearby facility with limited parking spaces.
Another calls for purchasing some land from the federal Bureau of Land Management located near the Speedway, then building a massive lot to provide free parking for truckers.
"I believe the area on Interstate 15 between Cheyenne Avenue and the 215 Beltway will one day be as busy as what you're seeing now between Sahara Avenue and Charleston Boulevard," Lee said. "If you don't get in front of growth issues now, then you will lose an opportunity."
Paul Enos, CEO of the Nevada Trucking Association, said that his members have a tough time finding a place to park and have to wait for spaces to open up at warehouses across the Las Vegas Valley.
About 92 percent of the freight moving through Nevada is hauled by truck, accounting for 69,196 tons daily, Enos said. That number is expected to exponentially increase, he said, as additional warehouses spring up across North Las Vegas.
"Truck parking conditions are tough all over the country, so finding a place to park is every trucker's nightmare," Enos said. "I think we're going to see some movement on this issue soon in North Las Vegas, because no one wants our truckers to get in trouble."
Curbing a right turn
Jeffrey from Las Vegas wanted to know why there was an abutment that prohibits drivers headed east on Charleston Boulevard from turning right onto Burnham Avenue in the east valley.
"If I have to make a turn, then I have to stop in the right lane instead of the turn lane that used to be there a year ago, impeding the traffic behind me," Jeffrey said in an email to the Road Warrior.
What you thought was a right-turn lane was actually a shoulder that drivers had previously used for making illegal right turns, said Tony Illia, a spokesman for the Nevada Department of Transportation.
Before the improvement project on Charleston, buses had used the lane only for passenger loading and unloading but never for transit, Illia said.
NDOT built curb extensions at this intersection as a way to deter drivers from illegally using the shoulder to make a right turn.
"It simultaneously provides additional pedestrian safety by shortening the crossing distance, slowing turning vehicles and visually narrowing the roadway," Illia said. "Studies show that curb extensions also increase pedestrian visibility at intersections through improved sight lines."
Bicycle lanes on the way
Arnold from Summerlin wanted to know why there aren't any bicycle lanes on West Lake Mead Boulevard, between Anasazi Drive and Rampart Boulevard.
"There are bike lanes on West Lake Mead, but there's a gap between these points," Arnold said.
There are bicycle lanes on part of this stretch of West Lake Mead, between Rampart and Hills Center Drive, Las Vegas city spokeswoman Margaret Kurtz said. The segment between Hills Center and Anasazi will get bicycle lanes by early next year after a road improvement project.
Questions and comments should be sent to roadwarrior@reviewjournal.com. Please include your phone number. Follow @RJroadwarrior on Twitter.
Road work ahead
Downtown
— Both directions of U.S. Highway 95 will close in the area just below Interstate 15 from 10 p.m. Wednesday to 5 a.m. Thursday. Crews are pouring a bridge deck.
— The D Street onramp to southbound Interstate 15 is closed through mid-July. Crews are working on Project Neon.
— Sections of Bonneville Avenue, Charleston Boulevard, Grand Central Parkway and Martin Luther King Boulevard will have closed or disrupted lanes surrounding the Spaghetti Bowl as crews work on Project Neon through July.
— Ogden Avenue will be restricted between Main Street and City Parkway through mid-October. Crews are making street, sidewalk and lighting improvements.
— The Charleston Boulevard onramps to southbound Interstate 15 are closed until mid-October. Crews are rebuilding the intersection.
— Interstate 15 will be narrowed in both directions between Sahara Avenue and D Street until Nov. 20. Crews are widening the freeway.
— The ramp connecting southbound U.S. Highway 95 to southbound I-15 will be reduced to one lane and detoured through Nov. 20. Crews are widening I-15.
— The ramp linking southbound U.S. 95 to northbound I-15 is closed through Nov. 20. Crews are widening I-15.
— The Martin Luther King Boulevard onramp to southbound U.S. Highway 95 is closed until early 2019. Crews are building a high-occupancy flyover ramp.
— Gass Avenue will be restricted between Las Vegas and Charleston Boulevards through March 2019. Crews are making pedestrians and bicycle improvements.
Northwest
— Both directions of U.S. Highway 95 are narrowed to a single lane between Skye Canyon Park and Paiute drives through July 12. Crews are building a new interchange bridge.
— Buffalo Drive is restricted between Gowan Road and Cheyenne Avenue through July. Crews are upgrading a gas line.
— Tenaya Way and Torrey Pines Drive are restricted between Gowan and Craig roads through July. Crews are upgrading a gas line.
— Gowan Road is restricted between Buffalo and Torrey Pines drives through July. Crews are upgrading a gas line.
— Craig Road is restricted between Torrey Pines Drive and Decatur Boulevard through July. Crews are upgrading a gas line.
— Both directions of U.S. Highway 95 will be narrowed to two lanes at Elkhorn Road through December. Crews are building a new carpool ramp.
Southwest
— Jones Boulevard will be restricted between Tropicana and University avenues through June 29. Crews are doing sewer work.
East valley
— Eastern Avenue is restricted between Flamingo Road and Tompkins Avenue through June 11. Crews are restoring the street.
North Las Vegas
— The northbound Interstate 15 ramp to the 215 Beltway is closed from 9 p.m. to 5 a.m. nightly through Wednesday. Crews are replacing freeway bridge joints at Range Road.
— U.S. Highway 93 will be closed at Interstate 15 from 10 a.m. June 10 to 8 a.m. June 11. Crews will be moving bridge girders as part of an interchange reconstruction project.
— U.S. Highway 93 is restricted between Interstate 15 and Apex Power Parkway through June. Crews are widening the highway and upgrading an interchange.
— Nellis Boulevard is restricted between Cheyenne Avenue and Las Vegas Boulevard from 6 a.m. to 3:30 p.m. weekdays through July. Crews are installing sewer pipes.
Henderson
— Stephanie Street will be restricted between the 215 Beltway and Cielo Abierto Way from Tuesday to October. Crews are repaving the road and making other improvements.
— Center Street is restricted between Burkholder Boulevard and Lake Mead Parkway through June. Crews are making various road improvements.
Gasoline prices
The average gasoline price Friday in the Las Vegas Valley was $3.29 per gallon. It was $3.31 in Nevada. The national average of $2.96 is down 1 cent from a week ago, up 15 cents from a month ago and up 58 cents from a year ago.