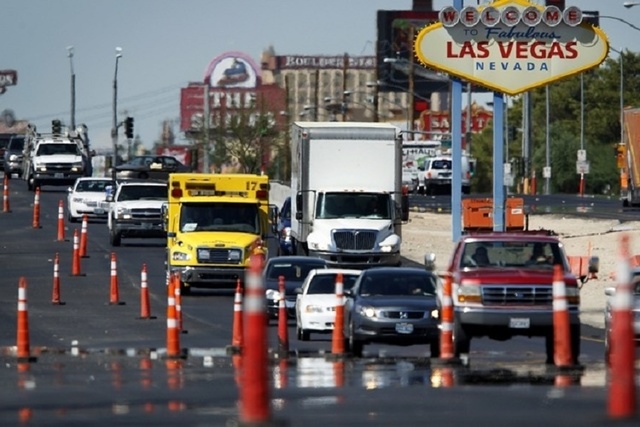 Oh, those annoying orange cones.
They're a sign of progress.
They're symbols of a healthy economy and the promise of new jobs.
They're an indication that a bad road might soon get better.
But are they ever so annoying when they're spotted on a commute.
Sporting a color that only a Denver Broncos or Syracuse University fan could love, road construction work-zone markers can be a headache for drivers who don't know they're on the travel route.
But thanks to a new Regional Transportation Commission program that starts today, motorists will be armed with information that might ease the pain of a cone-filled commute.
The commission, in a collaboration with local governments and associations, has initiated its "Seeing Orange" program to answer questions and take comments about work zones.
Want to know what kind of project is occurring where the orange cones play? The Seeing Orange team can answer that.
Want to know how long the cones will be there? Ask away.
Looking for an alternative route to take? They might be able to show you the way.
There are two ways to access help. Inquiries can be made through a form at www.seeingorangenv.com, or they can be phoned in to 702-928-CONE (how clever!)
The Seeing Orange team, which includes Clark County; the cities of Las Vegas, North Las Vegas and Henderson; the Nevada Department of Transportation; the American Traffic Safety Services Association; the Associated General Contractors; and the Regional Transportation Commission promises to deliver an answer to your query by the next business day. Be aware that few of these entities work Fridays.
The commission decided to launch the Seeing Orange program because work zones will multiply thanks to the Fuel Revenue Indexing program, which has collected additional fuel tax revenue to be applied to needed projects that in the past have missed the funding cut.
Thanks to Fuel Revenue Indexing, 97 design and construction projects totalling $208 million have been awarded as of March 31. Of those, 61 went to local small businesses and 2,962 jobs were created.
The Fuel Revenue Indexing mention also is a not-so-subtle reminder to the public that government officials will want to continue the program in the future.
Knowing that additional construction jobs are on the way, the commission also is collaborating on a job fair Wednesday.
The Mega Work Expo is scheduled from 10 a.m. to 1 p.m. at the Dallas Ballroom at Texas Station.
Hopefully, those seeing orange will soon see some green.
METERED RAMPS
What's better, having a meter that regulates the frequency of traffic entering the freeway or no meters?
Warrior reader Jeff thinks it might be better to keep the meter on at certain times on one of the city's busiest merge points, Sahara Avenue onto northbound Interstate 15:
"I would like to know why it is a bad idea to keep the traffic meter on at the entrance ramp of Sahara and the I-15. I travel the I-15 north every night on my way home from work around 8 to 8:30 p.m., and the first lane where drivers merge on to the I-15 is bumper-to-bumper with speed of traffic at about 15 mph. The first lane to the left has traffic traveling about 45 mph and the next lane over, the traffic is going about 60 mph. This is unsafe, and I have seen dozens of accidents. Am I wrong thinking it would ease congestion by keeping the meter on and have vehicles merge at more appropriate intervals?"
The problem with keeping a meter on all the time is that the ramps would get clogged and back up traffic on Sahara, Nevada Department of Transportation spokesman Tony Illia said.
"On-ramp meters are stop-and-go signals used to better manage the volume of merging freeway traffic," Illia said. "They are only utilized during heavy travel periods when mainline freeway traffic is moving at a reduced speed. We don't keep ramp meters on full-time because it would cause traffic backups onto intersections and arterial streets. Also, it's extremely dangerous having the meters operating when freeway traffic is moving at normal speed; it forces cars to stop at the throat of the freeway and then accelerate to full speed within a very short distance, which can be unsafe.
"Ramps meters are continuously monitored by the Freeway and Arterial System of Transportation. As a result, light meters are activated as needed when speeds drop past a certain limit or traffic volumes exceeds a threshold."
A LONG WAIT
Warrior reader Nancy is tired of waiting to make a left turn:
"What are the chances of a flashing yellow left-turn arrow being installed at southbound South Jones Boulevard at West Twain Avenue? The left-turn arrow takes an extremely long time to appear, and many times there is zero northbound traffic. I have often waited through two light cycles facing no opposing traffic at all, especially in the evenings. This is very frustrating."
It is frustrating, Nancy, and it occurs at intersections all over the valley. Most of us like the flashing-yellow-arrow option (which in reality, operates the same way as a standard green — all you do is yield to oncoming traffic before making a left turn) that I call "smart lights."
Unfortunately, there are far too many intersections that have "stupid lights" that block left turns with a red arrow even though the intersection might have no oncoming traffic.
The best Clark County is willing to do at Jones and Twain is check the light to make sure it's cycling correctly.
A county official said there are no plans to install a flashing yellow arrow.
Questions and comments should be sent to roadwarrior@reviewjournal.com. Please include your phone number. Follow the Road Warrior on Twitter @RJroadwarrior.
ROAD WORK AHEAD
■ Losee Road closed at North Fifth Street in North Las Vegas through Thursday and from May 17-21, 8:30 p.m. to 5:30 a.m. daily. Business access and detours planned.
■ Southbound U.S. Highway 95 on-ramp from eastbound Durango Drive closed 9 p.m. to 5 a.m. through Wednesday for a drainage and lane-widening project.
■ Northbound off-ramp of Durango Drive on U.S. Highway 95 closed from 9 p.m. to 5 a.m. Thursday through Sunday for a drainage and lane-widening project.
■ Simmons Street restricted to one lane southbound between Lone Mountain and Craig roads for local access only through mid-May. No northbound access.
■ Roads in Lake Mead National Recreation Area are being repaired with smooth surfaces to accommodate bicycles from Lake Mead Boulevard to Milepost 20.6 on Northshore Road. Roads in the Echo Bay area, including campgrounds, will be resealed. Expect 15-minute delays weekdays through May 22.
■ Northbound sections of Rancho Drive and Decatur Boulevard are part of a street-widening project. Two lanes will be open in each direction. Work continues through May.
■ Lane restrictions on Grand Teton Drive between Durango Drive and Rainbow Boulevard through May.
■ Eastern Avenue restricted to one lane in each direction between Sunset and Warm Springs roads through May 31 from 7 p.m. to 6 a.m. for a water-reclamation-line project.
■ Westbound lanes of Warm Springs Road from the Warm Springs-Eastern Avenue intersection to the Warm Springs-Spencer Street intersection restricted through June 9. Lanes in both directions will be shifted to the south half of Warm Springs during construction.
GASOLINE PRICES
The average gasoline price Friday in the Las Vegas Valley was $3.21 per gallon. It was $3.21 in Nevada. The national average of $2.67 is up 6 cents from a week ago, up 28 cents from a month ago and down $1 from a year ago.