Project Neon results starting to show up around Spaghetti Bowl
January 29, 2018 - 12:43 am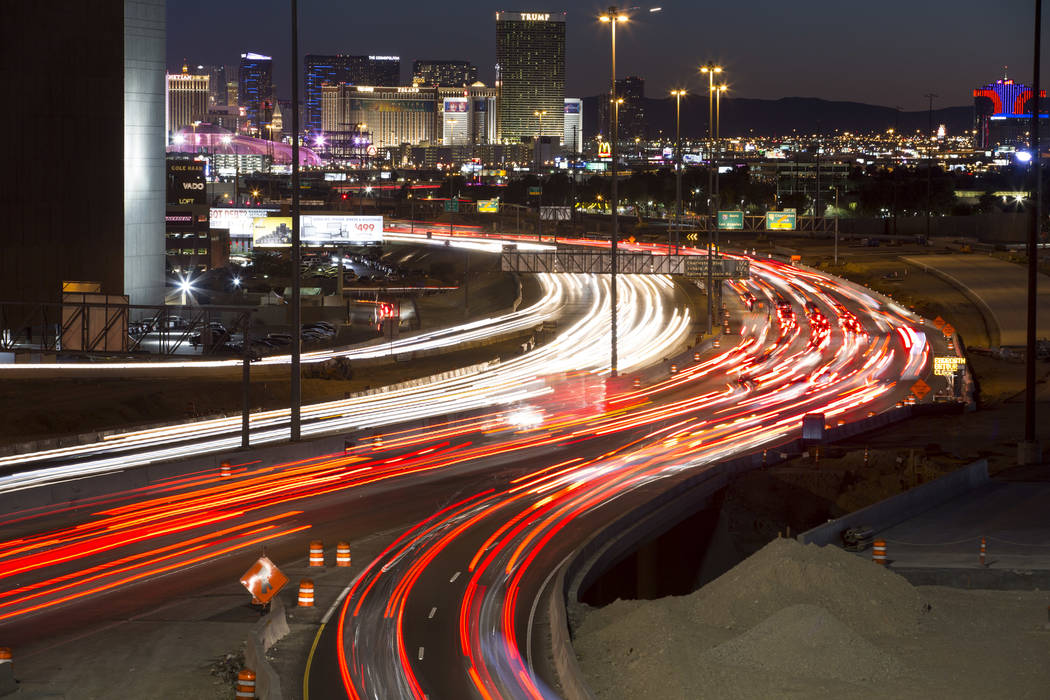 Looking past the traffic jams and fields of orange cones, tangible results are finally springing up from Project Neon.
Thirteen of the 28 planned bridges along Interstate 15 and U.S. Highway 95 were completed last year, with the remainder scheduled for construction through 2018.
And 14 of the 42 planned Active Traffic Management signs were installed around the Spaghetti Bowl interchange, with the first six digital displays expected to be switched on next month.
From all appearances, several people who live and work near Nevada's busiest freeway interchange appear pleased with what they're seeing so far.
"We live right in the epicenter, and I'm impressed with how it's progressing very smoothly and very respectfully for the neighborhood," Keith Resnick of Las Vegas said. "It could have been a real mess, but they've done a great job coordinating their work and getting it done well."
About 60 people gathered on Wednesday at the Historic Fifth Street School in downtown Las Vegas to attend the Nevada Department of Transportation's final public meeting to discuss the ongoing work along I-15 and U.S. 95.
Dale Keller, NDOT's senior manager for the project, seized the moment to explain what's coming next for the state's largest infrastructure project.
The final round of major closures, known as the "Main Event," will allow for the most significant amount of work for Project Neon, while also affecting the most drivers for nine months.
NDOT crews will close several traffic lanes and freeway ramps around March 6. Here's a rundown:
— Both directions of I-15 will be narrowed to three lanes between Sahara Avenue and Washington Avenue, then further reduced to two lanes each way in the area immediately surrounding the Spaghetti Bowl interchange.
— The ramp connecting southbound U.S. 95 to southbound I-15 will be reduced to one lane.
— The ramp linking southbound U.S. 95 to northbound I-15 will remain closed.
— I-15 offramps at Charleston Boulevard, Martin Luther King Boulevard and D Street will have "long-term" closures.
The centerpiece of Project Neon is an 81-foot-tall flyover ramp for high-occupancy vehicles, which is about 60 percent complete, Keller said.
By the time it opens in 2019, the new carpool ramp will have one lane for drivers headed from southbound U.S. 95 to southbound I-15 and another connecting northbound I-15 to northbound U.S. 95. The two-way concrete ramp will be accessible from the center lane of both freeways.
Keller said that commuters can expect further closures when Project Neon heads into the final stretch in 2019, when crews will reconfigure the area around Grand Central Parkway and Charleston Boulevard to create a new "Neon Gateway" with a walking path and public artwork.
A series of steel posts in varying heights and colors will give the impression of an undulating pattern with a 35-foot-tall sculpture known as "Hot Dip." A second sculpture, known as "Found Font," will appear to emerge from the ground, stretching about 60 feet long and rising about 25 feet high.
"I feel like some some of these illustrations are misrepresentative of the area because I'm seeing pictures of people taking a stroll, and most people don't do that because it's not a safe area," said Brittaney Pearson of Las Vegas, who works near the construction zone.
"To me, this implies there's going to be a shift, maybe some gentrification that will drive some people out," Pearson said. "It looks nice, but I believe there's a hidden agenda."
NDOT spokesman Tony Illia said he wasn't aware of any plans to redevelop the neighborhoods surrounding the Spaghetti Bowl interchange, but he said new transportation infrastructure usually leads to new development and investments.
Implied crosswalk
Patrick from Las Vegas said he lives in a senior citizen community near Sandhill Road and Briarwood Avenue in the east valley, which has an unmarked implied crosswalk.
With many of his neighbors using canes, walkers and wheelchairs to get around, Patrick wanted to know whether Clark County officials could reduce the speed limit in this area.
County spokesman Dan Kulin said the intersection was studied in 2015, and traffic engineers found that "the number of pedestrians in this area was not enough to warrant changes" at that time. County officials will take another look to determine whether the 35 mph speed limit is appropriate.
In the meantime, Kulin suggested crossing at a signal when possible.
Illegal turning
Susan from Henderson said she spotted several drivers traveling down the middle lane of eastbound Ione Road, then turning left onto Eastern Avenue rather than driving straight through the intersection.
"I think it's because there are no markings on the road indicating that the lane is for straight-ahead traffic only, and turns are not allowed," Susan said.
Henderson city spokeswoman Kathleen Richards said Ione is already striped correctly, noting that arrows are usually painted in turn lanes.
"A reasonable and prudent driver should be aware that a lane without marking at a signalized intersection is a through lane," Richards said. In the meantime, the Henderson Police Department was asked to keep an eye on illegal turns at this intersection.
Questions and comments should be sent to roadwarrior@reviewjournal.com. Please include your phone number. Follow @RJroadwarrior on Twitter.
Road work ahead
Downtown
■ The ramp linking northbound Interstate 15 to southbound U.S. Highway 95 will close from 9 p.m. to 6 a.m. Monday and Tuesday. Crews will pave the road and remove overhead signs.
■ The outside lane of northbound Interstate 15 is closed between Desert Inn Road and Sahara Avenue through late February. Crews are erecting traffic management signs.
■ The Charleston Boulevard offramp from southbound Interstate 15 is closed through March 6. Crews are building a new offramp.
■ The outside lane of southbound Interstate 15 is closed between Sahara Avenue and Flamingo Road through late April. Crews are erecting traffic management signs.
■ The outside lane of northbound Interstate 15 will close between Flamingo and Desert Inn roads from March to late April. Crews are erecting traffic management signs.
■ Main Street is restricted between Bonneville Avenue and Las Vegas Boulevard through May. Crews are working on a storm drain.
■ Sections of Bonneville Avenue, Charleston Boulevard, Grand Central Parkway and Martin Luther King Boulevard will have closed or disrupted lanes surrounding the Spaghetti Bowl as crews work on Project Neon through July.
Southwest
■ State Route 159 will be restricted between Blue Diamond Road and the Red Rock National Recreation Area from 7 a.m. to 3 p.m. on Tuesdays, Wednesdays and Thursdays through March 1. Crews are filling road cracks.
Northwest
■ Both directions of U.S. Highway 95 are narrowed to a single lane between Skye Canyon Park and Paiute drives through July 12. Crews are building a new interchange bridge.
Henderson
■ Center Street is restricted between Burkholder Boulevard and Lake Mead Parkway through June. Crews are making various road improvements.
North Las Vegas
■ Nellis Boulevard is restricted between Cheyenne Avenue and Las Vegas Boulevard from 6 a.m. to 3:30 p.m. weekdays through July. Crews are installing sewer pipes.
Gasoline prices
The average gasoline price Friday in the Las Vegas Valley was $2.65 per gallon. It was $2.69 in Nevada. The national average of $2.57 is up 4 cents from a week ago, up 13 cents from a month ago and up 29 cents from a year ago.
Las Vegas Review-Journal