Russell Road upgrade finally about to start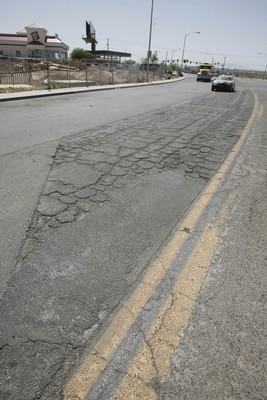 This week, readers want to know when an east valley road will get smoother and a south valley road will get wider. And the Road Warrior is told what he needs to know about driving around these parts.
Anne Kaforey asks: I've been reading about the work on the west end of Russell Road and am wondering if everyone has forgotten there is an east end of that road. We've been tearing our cars apart for eight years on the section of road between Boulder Highway and Sam Boyd Stadium, and it never gets any work done. Is it going to get a repaving at any time in the future?
Yes, it finally will. This project, long held up by right-of-way issues, appears to be ready to roll.
A $3.6 million plan to rebuild Russell between Boulder and Broadbent Boulevard, near the stadium, is expected to start later this spring or early this summer and take about eight months to complete, according to Bobby Shelton, a spokesman for Clark County's Public Works Department.
Once done, the road will have six lanes (three in each direction). That stretch of Russell has long been an annoyance for local drivers, who have frequently complained to me and the powers-that-be about the increasingly decrepit conditions of the pavement there.
Let's hope this fix does the trick.
Vince Matthews asks: Are you aware of any plans to repair or widen Rainbow Boulevard from Windmill Lane south to Mountain's Edge Parkway? This stretch is only two lanes wide and the traffic is overwhelming. The current conditions, along with construction traffic, makes this road very dangerous in its current condition.
Good news for you, Vince. The county is getting ready to start widening work on Rainbow from Windmill to Blue Diamond Road, also known as state Route 160, which is just north of Mountain's Edge Parkway.
The $8.7 million project is scheduled to get under way April 30, with completion expected by the end of January 2008. When done, the road will be four lanes wide in that area, according to Shelton.
The Rainbow project is aimed at providing traffic relief in the fast-growing southwestern valley, where Route 160 has been overwhelmed with traffic. The widened road will allow easier access for commuters to use the Las Vegas Beltway as an alternative to Route 160.
Hit 'n Run: From time to time, an Internet troller finds some new list with titles such as "Vegas Driving Rules" or something like that detailing the peculiar particulars of venturing into the valley. Recently, Road Warrior unindicted coconspirator Marlene Bogdavovich came across one such list, called "How To Drive in Las Vegas," that had a few rules I hadn't heard before.
So, in the interest of filling space to make my workday go by faster, here's some of those insider tips (edited for brevity and libel; to delete old stuff we've already heard; and just because I'm a cranky so-and-so):
1. On Interstate 215, your speed is expected to match the highway number. Anything less is considered wussy.
2. Cars or trucks with the loudest muffler go first at a four-way stop; the trucks with the biggest tires go second. However, in Summerlin, SUV-driving, cell phone-talking moms ALWAYS have the right of way.
3. If you actually stop at a yellow light, you will be rear-ended, cussed out and possibly shot.
4. Detour barrels are moved around for your entertainment pleasure during the middle of the night to make the next day's driving a bit more exciting.
5. Internet mapping services do not work here. None of the roads are where they say they are or go where they say they do. And all the freeway offramps and onramps are moved each night.
6. If someone actually has their turn signal on, wave them to the shoulder immediately to let them know it has been accidentally activated.
7. If you are in the left lane and only driving 70 mph in a 55 mph zone, you are considered a road hazard and will be flipped off accordingly. If you return the flip, you will be shot.
8. Do not try to estimate travel time. Just leave Monday afternoon for Tuesday appointments, by noon Thursday for Friday, and right after church on Sunday for anything on Monday morning.
True dat, I say.
If you have a question, tip or tirade, call the Road Warrior at 387-2904, or e-mail him at roadwarrior@reviewjournal.com or OSofradzija@reviewjournal.com. Please include your phone number.
ROAD WARRIORMORE COLUMNSDiscuss this column in the eForums!
Starting today, daytime road work will take place on Red Rock Road (state Route 159) roughly from Blue Diamond Road (state Route 160) through the Red Rock Canyon National Conservation Area west of Las Vegas from 7 a.m. to 4:30 p.m. weekdays through April 19. During those times, traffic will be stopped and escorted through the work zone. Bicyclists are asked to avoid the area during project hours. Also starting today, eastbound Fremont Street will open and westbound Fremont Street will close between Las Vegas Boulevard and Eighth Street as part of the Fremont East District Streetscape project. During construction, only eastbound traffic will be allowed on Fremont. Drivers can expect sporadic lane reductions on various downtown Las Vegas streets, including parts of Main Street, Grand Central Parkway, Bonneville Avenue, Fourth Street and Ogden Avenue over the next two weeks to allow removal of barricades used during the Vegas Grand Prix. Traffic delays are possible. Drivers can expect lane restrictions on northbound and southbound Interstate 15 between the California-Nevada state line and the Cajon Pass near Devore, Calif., in San Bernardino County, Calif. Drivers should expect delays and watch for updates on specific closures. To sign up for e-mail alerts on I-15 road work in California or for more project information, go online to www.caltrans8.info. For phone updates on Southern California road work, call (916) 445-7623 or (909) 383-7960.