Same old rules keep truckers on road
November 30, 2008 - 10:00 pm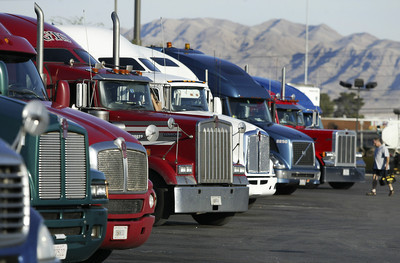 Truck drivers better get used to driving longer hours.
And since Interstate 15 is the gateway for truck drivers between the shipping ports in California and much of the Northwest, valley drivers should know about the rules governing the truckers alongside them.
The Federal Motor Carrier Safety Administration, or FMCSA, has finalized the regulation of how long the nation's approximate 3.5 million truck drivers can drive in a day.
The new hours of service rule states truckers can drive up to 11 hours and work no more than 14 hours each day. (In case you're wondering, the extra three hours could be used to load and unload cargo.)
The rule also requires truck drivers to spend at least 10 hours resting before getting back on the road. Drivers also cannot operate a truck if they have worked more than 60 hours in a given week.
Also, drivers who are off the roads for at least 34 hours can reset their weekly work schedule, which by my count is a full 14 hours less than the 48 hours off that most full-time employees receive.
The trucking industry has operated under those rules on an interim basis since 2004. Before that, truckers were not allowed to drive more than 10 hours and work 15 hours total in a day.
Opponents, which include public safety advocates and unions, have criticized the FMCSA for kowtowing to corporate interests and making safety secondary.
Joan Claybrook, president of the consumer and safety advocacy group Public Citizen, said the rule "will continue to force truck drivers to continue enduring sweatshoplike working conditions. This puts the health and safety of drivers at risk, along with the public who must share the road with tired truckers."
But John Hill, head of the FMCSA, believes another hour of driving for truckers isn't a safety concern.
He said it will lead to "more alert and efficient drivers, safer roads, and even fewer fatalities.
"These rules are crafted to match what we know about drivers' circadian rhythms and the real world work environment truckers face every day," Hill added.
Hill points to a reduction of large truck fatalities, from 5,240 in 2005 to 4,808 in 2007 as proof that the 11 hours of driving is safe.
What Hill didn't point out was that when the rule was first put into place, large truck fatalities increased from about 5,000 in 2003 to nearly 5,200 in 2004 and again in 2005.
Public Citizen, along with Parents Against Tired Truckers and Citizens for Reliable and Safe Highways, have twice challenged this rule in court.
In 2004, a federal court said FMCSA had failed to consider the health of truck drivers when increasing the allowable driving time and it ordered the agency to revise its regulation.
Still, the FMCSA reinstituted the same rules in 2005.
Again, the federal agency was taken to court. The FMCSA was then ordered to better explain its justifications for adopting the new driving regulations. In the meantime, the regulations were kept in place.
An appeal to invalidate the interim rule was denied, and now the FMCSA has made the regulation permanent.
By finalizing the rule, the next administration will have a far more difficult time reversing it.
The regulation will take effect on Jan. 19, a day before the new administration takes office.
In the meantime, lets hope we don't see a whole bunch of yawning truckers on I-15.
If you have a question, tip or tirade, call the Road Warrior at 387-2904, or e-mail him at roadwarrior@reviewjournal.com or fmccabe@reviewjournal.com. Please include your phone number.
The Nevada Department of Transportation announced the following updates on the ongoing $240 million Interstate 15 north widening project:
D Street under Interstate 15 and the D Street onramp to I-15 southbound will be closed to traffic from 9 p.m. today to 5 a.m. Tuesday for girder placement.
The Washington Avenue onramp to Interstate 15 northbound will be closed starting at 9 p.m. today through February. Motorists should use Las Vegas Boulevard northbound to Cheyenne Avenue, Craig Road or Lamb Boulevard to access I-15 northbound.
Washington Avenue will be closed to through traffic under Interstate 15, from 9 p.m. Wednesday to 5 a.m. Thursday for a deck pour.
Bonanza Road under Interstate 15 will be closed to traffic from 9 p.m. Dec. 7 to 5 a.m. Dec. 14 for girder placement.
Workers will be installing an overhead vehicle warning system at D Street and Interstate 15 from Dec. 8 through March 2009. Trucks over the height of 14 feet, 8 inches will not be able to pass under I-15 there.
Bonanza Road under Interstate 15 will be reduced to one lane with various lane shifts from Dec. 15 to Dec. 23 for bridge work.
Traffic on Interstate 15 will be switched to the northbound lanes with two lanes of travel in each direction between Cheyenne Avenue and Lake Mead Boulevard beginning Dec. 15.
D Street will be closed to traffic under Interstate 15, from 9 p.m. Dec. 22 to 5 a.m. Dec. 23 for a deck pour.
Motorists should watch for lane shifts and posted detours and use extreme caution in work zones.