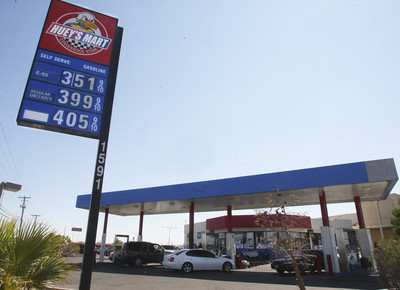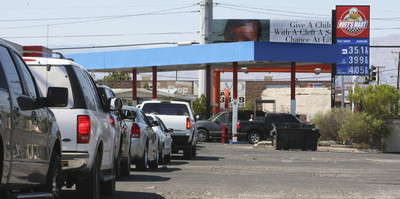 Vita Grasmick didn't mind waiting 15 minutes to fill up her Mitsubishi's gasoline tank on Wednesday.
That's because she paid $3.99 a gallon for regular unleaded.
With the average price hovering around $4.24 a gallon in Las Vegas, one gas station owner is refusing to charge more than $4 a gallon.
Hugh Canady, who owns Huey's Mart, at Decatur Boulevard and Vegas Drive, has become a bit of a local hero for keeping his price for regular below $4.
The line of vehicles, mostly SUVs and pickups, has become the stuff of folklore; and Canady has become something of a modern Robin Hood, seemingly sacrificing himself and defying money hungry gasoline companies.
Grasmick said she's been disgusted with gasoline prices and doesn't trust other station owners.
"I feel like they (other gas stations) are cheating their customers," she said. "I'm getting sick of them."
Grasmick said she plans on coming back to Huey's as long as the price stays low.
Other customers like Manuel Hernandez, 47, who was driving a Toyota Tacoma pickup when I caught up with him waiting in line, said the money he saves is worth the time he waits in line.
"I can pump at least one more gallon of gas," he said. "It's $80 here and it might be $90 somewhere else."
Hernandez said he would like to thank Canady for keeping the price low.
The general perception I found was that many of Canady's customers speculated that Canady must have raised prices inside the station's market.
But when I checked out the prices inside, I found them to be competitive with other convenience markets. It was $1.39 for a liter of Aquafina water, $1.79 for a liter of Coca-Cola, and $2.69 for a 40-ounce bottle of Mickey's malt liquor.
Inside Canady's store, most customers are pretty happy, said employee Eric Gotchy.
Part of the reason is that barricades were put up to help the line move more efficiently and fairly, Gotchy said.
Two weeks ago, things were a little different.
"There would be accidents. And people would cut in line and the customers would start fighting," Gotchy said.
Since the barricades were erected, everything's been running smoothly, Gotchy said.
According to the Metropolitan Police Department's Web site, police had been called to the intersection of Vegas and Decatur more than 20 times over the last 60 days for a myriad of accidents, assaults and disturbances. The report shows police were last called on June 25.
Meanwhile, Gotchy noticeably sighed as a customer paid for $30 of gasoline.
"Your tank needs to be on 'E' when you show up here," Gotchy said.
He views it as a waste of time to wait in the long line for only $30 of fuel.
Gotchy said cars start lining up for gasoline beginning at 4 a.m. and it doesn't slow down until 1 a.m.
While I was in the store, one woman came in and said she hit the plus-unleaded button by accident, instead of regular and was mad at herself because it was more expensive.
I don't think she realized that Canady's price of $4.05 a gallon for plus-unleaded gasoline was still 4 cents cheaper than regular gasoline at the next cheapest station in the area, according to www.vegasprices.com, which tracks the cheapest and most expensive fuel prices in Las Vegas.
Gotchy said most customers I spoke with believed Canady was losing money for charging $3.99 for regular.
Not true, Canady said. He makes a profit.
Canady is able to keep the price low, because he spends about four or five hours a day — or two cell phone battery charges — to find the cheapest prices all over the nation.
And instead of using the fuel pipeline from California, which provides gasoline to almost every station in the valley, Canady has it trucked in or brought in by rail.
Canady said he gets the gasoline from three states: Arizona, Utah and New Mexico. And he may try to bring some in from Gulf Coast states, where gasoline is cheapest.
Which leads some customers to wonder if the gasoline is good.
Canady said he's been checked out by the state's weights and measures officials several times over the past few months and passed their tests.
"I'm doing well," Canady, 66, said with a smile. "I'm doing this because it makes the customers happy. It makes me happy to help people. It's a good feeling. It's made me feel energized … extremely younger."
Other gas station owners could do the same thing he's doing, Canady said. But he doesn't expect that they will. "They won't go through the trouble," he said.
And that seems to be paying off in loyalty.
If you have a question, tip or tirade, call the Road Warrior at 387-2904, or e-mail him at roadwarrior@reviewjournal.com or fmccabe@reviewjournal.com. Please include your phone number.
Jones Boulevard, from Paseo Montana to Sheila Avenue, will be closed beginning at 7 p.m. Friday through the weekend, the Las Vegas Public Works Department announced. Jones is expected to reopen by 5 a.m. on July 14. The closure is part of the $4 million flood control project.
Further widening of Blue Diamond Road, also known as state Route 160, between Rainbow Boulevard and Durango Drive is set to begin, the Nevada Department of Transportation announced. One lane will be added in each direction, making Blue Diamond a four-lane highway on that stretch.
The development group behind the Mountain Edge properties, Focus Property Group, will fund the work. Work hours for the project are weekdays from 7 a.m. to 3:30 p.m.
Repairs to the Laughlin-Bullhead City Bridge will begin Monday, the Nevada Department of Transportation announced. During the 15-day project, the eastbound lane closest to the pedestrian access will be closed. Work will be done Sundays through Thursdays from 7 p.m. to 6 a.m. the following day.
REVIEW-JOURNAL