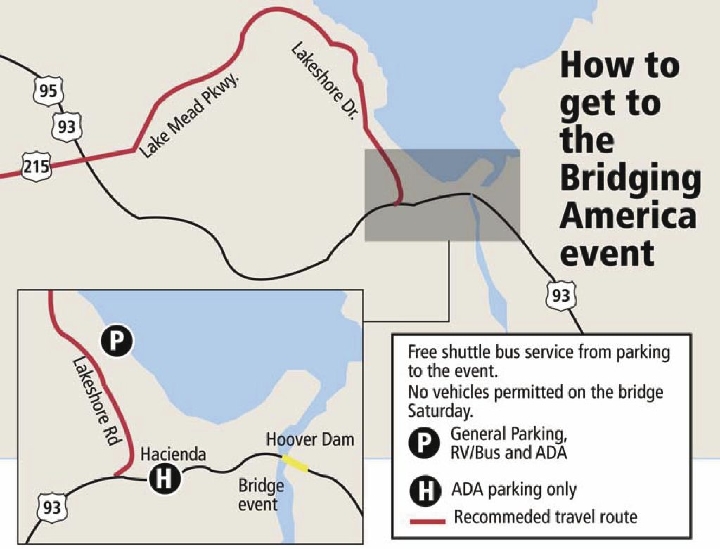 Don't you just hate it when you ask guests to RSVP to a shindig you're throwing, and 14,000 people respond in the affirmative.
Well, it's never happened to me either.
But that is precisely how excited residents and visitors are to wander atop the Mike O'Callaghan-Pat Tillman Memorial Bridge before traffic begins flowing across the spectacular $240 million span later this month. On Saturday , the Federal Highway Administration is having a party to give the public a chance to do just that.
Public relations specialist Kenna Smith said she wasn't shocked at the response, but apparently it was more than the RSVP website could handle. Even if you failed to sign up and haven't been receiving e-mails about the event, it is unlikely anybody will be turned away.
The event dubbed Bridging America will run from 8 a.m. until 2 p.m. and features a variety of activities including a Kid Zone for young families. The kids' area will offer educational question-and-answer sessions and a book about the bridge. When asked when the bungee jumping will begin, Smith fell silent, then chuckled, then said she doesn't want to talk about that potential problem, which always could occur down the road.
One thing the event will not offer is food or beverages other than bottled water.
Huh? What kind of party is this?
Well, this isn't some fraternity house bash. This soiree is 900 feet above the deep-green waters of the Colorado River and 1,500 feet away from the majestic Hoover Dam. It is an environmentally sensitive area and a historic site. So, basically, organizers are asking guests to eat beforehand and refrain from smoking or drinking alcoholic beverages at the event.
But, hey, guess what? There will be designated drivers.
Attendees should follow signs to designated parking areas in the Lake Mead National Recreation Area — entry fees will be waived — and hop on complimentary shuttle buses that will take about a half hour to ferry passengers to the deck of the bridge. Be sure to wear comfortable shoes because you might find yourself trekking through dirt areas. This is still, after all, a construction zone.
Buses not associated with the event, like school and tour buses as well as recreational vehicles, must park in the designated area at Boulder Harbor.
All guests will be subject to searches, which would probably be a wise policy for any given party in Las Vegas in case, say, an overrated celebrity personality tries to smuggle in some magical white powdery substance in her purse. Leave your backpacks and large bags at home.
"This is really about the bridge," Smith said. "There won't be any marching bands, it's about the bridge and being able to be up on the bridge."
That in itself is fairly spectacular. Guests will catch a view of Hoover Dam that previously was only doable by helicopter. And, honestly, the view from the downstream side isn't bad either. Watching Colorado River waters churning away from the dam and down a narrow, rugged gorge is pretty breathtaking.
The span has the capacity to hold the guests, but you might not have the patience to wait in long shuttle lines. Organizers anticipate that the busiest visiting hours will be between 10 a.m. and noon. The first shuttle bus will leave the Lake Mead National Recreation Area at 7:30 a.m. and the last bus will depart the bridge at 2 p.m.
Portable restrooms, first aid tents and emergency services will be available. Now this is starting to sound like a party.
Anybody who can't make the event shouldn't fret. Officials now say the span might open to the public — and traffic — by next week . At that point, visitors can park at a marked lot and walk up an interpretive path to the bridge. The walkway is Americans with Disabilities Act-friendly. A sidewalk stretches the length of the bridge on the Hoover Dam side, so you can still walk to Arizona if you so choose.
The bottom line is you don't have to attend the party to experience the fun.
If you have a question, tip or tirade, call Adrienne Packer at 702-387-2904, or send an e-mail to roadwarrior@reviewjournal
.com. Please include your phone number.
More information
• The Tropicana Avenue onramp to Interstate 15 south will be closed Tuesday from 9 p.m. to 5 a.m.
• Dean Martin Drive will be closed at Sunset Road from 9 p.m. to 5 a.m. Monday through Friday.
• The left lane on Interstate 15 at Russell Road will be closed through October.
• The southbound exit to Blue Diamond Road eastbound and westbound is reconfigured to two separate exits through December.
• Tonight and Monday, from 9 p.m. to 5 a.m., the westbound Las Vegas Beltway (Interstate 215) will be closed at Interstate 15, the ramp from the westbound Beltway to southbound I-15 will be closed and Las Vegas Boulevard will be closed at the Beltway interchange.
• Tuesday through Thursday, from 9 p.m. to 5 a.m., the eastbound Las Vegas Beltway will be closed at Interstate 15, the ramp from the eastbound Beltway to northbound I-15 will be closed and Las Vegas Boulevard will be closed at the Beltway interchange.
• LAS VEGAS REVIEW-JOURNAL