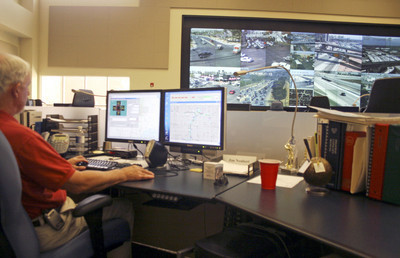 I got the text message at 8:33 a.m. Friday.
I had just finished tying my shoelaces and was about to begin my 10-mile daily commute to the Review-Journal.
I grabbed my cell phone, flicked it open and prayed the news wasn't bad.
"RTC FAST Freeway Traffic Alert," was the subject line.
This message followed: "I-15 NB at Washington. Accident blocking left lane. March 13 8:30 a.m."
I breathed a sigh of relief and wiped the sweat from my brow. That crash wasn't going to affect my commute one iota.
OK, maybe I'm being a bit melodramatic.
After all, getting text messages on your cell phone or sent to your e-mail account with up-to-date news information isn't new to the valley.
But what is new is getting text messages and e-mails that give you timely traffic information.
Daily commuters have often griped to me about the inaccuracies of some television and radio traffic updates.
We can all now get that information right from the source, sent directly to us.
On Thursday, the Regional Transportation Commission of Southern Nevada unveiled it's new Freeway Incident Information System.
Basically, the folks at the Freeway and Arterial System of Transportation, or FAST, will now send updated traffic information to your cell phone and e-mail accounts. These are the same folks who monitor all the traffic cameras and traffic flow in the valley.
This update system will send motorists basically the same information that is sent out to the message boards on Interstate 15 and U.S. Highway 95.
As I write this, it's 11 a.m. and I am safely nestled in my cubicle at the R-J on Bonanza Road. My phone beeps.
"On I-15 NB @ Charleston, crash blocking right #3 lane. March 13 10:45 a.m."
I thought to myself, "I guess I'll be avoiding I-15 on the way back from my lunch at In n' Out" on Sahara Avenue.
I received the next message at 12:36 p.m. It helped me figure out that a Double-Double just wasn't in the cards. "On I-15 SB @ Charleston, crash blocking center lanes. March 13 12:35 p.m.," the message read.
So I never made it to In n' Out. But if I had decided to go, I would have known to avoid I-15 and take surface streets.
And that's really the whole point of this new system. It's meant to let motorists know what's happening on the road before they get stuck in traffic.
FAST officials won't be sending out messages for every love tap between vehicles or slowdowns caused by merging lanes.
These messages will be sent for major incidents, such as a crash that causes the closure of a lane or the entire freeway, said Jacob Snow, general manager of the Transportation Commission, which oversees FAST.
FAST officials will verify the accuracy of the information regarding the lane or road closure before sending out the message, Snow said.
For now, the messages will mostly cover incidents on I-15, from the Las Vegas Beltway in the southern valley north to the Spaghetti Bowl; and U.S. 95, from the Spaghetti Bowl south to the Charleston curve. That is where most of FAST's traffic cameras are up and running. As more cameras come online, the system will expand to cover I-15 north, U.S. 95 north and the Las Vegas Beltway.
Messages will only be sent when FAST is staffed, from 5 a.m. to 11 p.m. on weekdays and from 8 a.m. to 11 p.m. on weekends.
The service is offered for free, at least from the FAST side. Spokeswoman Allison Blankenship explained that if a driver's phone service charges for text messages received, that person may wish to sign up only for e-mail updates.
There really aren't any significant additional costs for the Transportation Commission either, Blankenship said. No additional staff is required because the messages were already being gathered and sent to the message boards. This is just one more step in that process, she said.
"We're just utilizing the technology we already have in place to our advantage."
You can sign up for the system by visiting the Transportation Commission's Web site at www.rtcsnv.com. Click on the link for Freeway Traffic Alerts, type in your e-mail address and your cell phone number, if you wish, and you'll be in the know.
Meanwhile, Snow pointed out that this is not meant to encourage motorists to check their text messages or e-mails while driving.
"We don't think that's a good idea," he said.
That's good advice. Otherwise you could be the one causing the next alert to be sent out.
If you have a question, tip or tirade, call the Road Warrior at 702-387-2904, or e-mail him at roadwarrior@reviewjournal.com. Please include your phone number.
Motorists can expect delays and lane restrictions beginning Monday through September on Tropicana Avenue, from Paradise Road to Interstate 15, as underground utility lines are installed as part of the construction of Terminal 3 at McCarran International Airport. At least two lanes will remain open in each direction. Drivers are encouraged to avoid Tropicana, between McCarran and Las Vegas Boulevard.
The Nevada Department of Transportation announced the following updates for the $240 million Interstate 15 north widening project:
The Interstate 15 northbound offramp to westbound Lake Mead Boulevard will close beginning at 9 tonight. Use posted detours.
Lake Mead Boulevard at Interstate 15 will be reduced to one lane in each direction beginning today through November.
The Interstate 15 southbound offramp to Lake Mead Boulevard will be closed from 9 p.m. Tuesday through the summer. Use Cheyenne Avenue or Washington Boulevard as an alternative.
The Interstate 15 northbound onramp and offramp at Cheyenne Avenue will be closed beginning Wednesday. The offramp will be closed through mid-May, and the onramp will be closed through late July. Use Lake Mead Boulevard or Craig Road for access to I-15 northbound.
Lake Mead Boulevard will be closed under Interstate 15 from 9 p.m. Friday to 6 p.m. Saturday. Use posted detours.
The D Street/Washington Boulevard onramp to Interstate 15 southbound will be closed beginning 9 p.m. April 6 through January. Use posted detours.
The Interstate 15 southbound offramp to Cheyenne Avenue is expected to reopen Tuesday.
Lake Mead Boulevard will be closed under Interstate 15 from 9 p.m. March 20 to 5 a.m. March 21.
The Transportation Department announced the following updates to the $34 million Craig Road bridge project over the Union Pacific Railroad tracks:
Interstate 15 northbound will be closed at Craig Road from 8 p.m. to 5 a.m. tonight through Thursday morning for bridge painting. Motorists will exit at Craig and detour heading east on Craig and north on Lamb Boulevard back to I-15 north. The northbound onramp from east and west Craig will remain open.
Interstate 15 southbound at Craig Road will be closed from 8 p.m. to 5 a.m. today through Thursday morning for bridge painting. Motorists will exit at Craig and be directed to the southbound onramp. The southbound I-15 onramp from east Craig will remain open. The southbound I-15 onramp from west Craig will be closed during those times. Detour west on Craig, south on Losee Road and east on Cheyenne Avenue, before heading south on I-15.
Las Vegas Review-Journal