Transit bosses betting ACE will draw crowd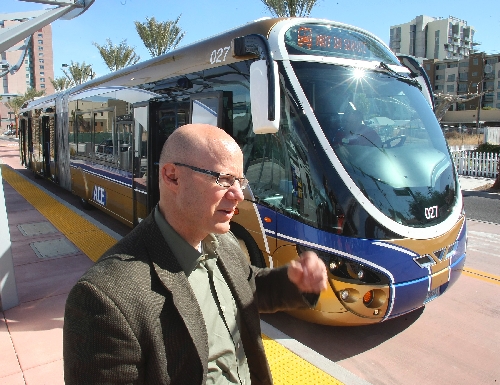 What is sleek, quiet, convenient and will soon zip commuters and tourists in a state-of-the-art sort of way from the northwest to downtown and directly down the gut of the Strip?
No, it's not the light rail system we would all love to see branch out across the Las Vegas Valley. That won't be happening anytime soon. This thing certainly looks like a train, but it has wheels with tires, which means it's a bus.
Regional Transportation Commission officials are hopeful that the unique trainlike looks of the new ACE rapid transit vehicles will appease rail proponents.
"There is a cultural bias against taking the bus in North America," said Jacob Snow, general manager of the RTC. "This train emulation system has the speed benefits of a train and doesn't cost as much money."
To emulate a train, shiny covers that blend in with the body of the vehicle mask the wheels. The buses aren't referred to as such; instead they are called ACE vehicles. Bus stops are described as ticket stations.
We're accustomed to pretty much faux-everything in Las Vegas. When we step into New York-New York, we realize we aren't in Manhattan. When we stroll through The Venetian, it's quite clear we're not in Italy. So when we ride this "train," is it obvious we're not on a rail?
ACE service will begin March 28, so take a spin and see for yourself.
Some aspects of the system have me thinking the RTC might just pull this off. The reddish-colored designated lanes along Grand Central Parkway, Casino Center Drive and a couple other downtown streets allow the ACE to hum along certain routes without too many traffic signals.
The ticket stations at each stop accept cash, debit or credit cards and are adorned with monitors informing passengers of the arrival time for the next vehicle. Advanced ticket purchases expedite the boarding process because the driver, who is cocooned in a Plexiglas cockpit, isn't involved in money transactions.
The combination of the vehicle's three doors and the station platforms being level with ACE also make the boarding process more smooth. Bicyclists don't have to monkey with strapping their bikes to the front of the bus; there is a place to hang the bike onboard.
The vehicles are equipped with a transit signal priority device, meaning they can communicate with traffic signals and maneuver through town a little quicker.
It gets a little trickier on portions of the route where no designated lanes exist and the bus mingles with regular traffic. You might find yourself stopping at traffic signals every block or two, slowing the ride.
Unfortunately, this is the case along the entire Strip corridor. Transportation types decades ago didn't have the foresight to secure rights of way for future transit projects.
"Las Vegas was built in an era of automobiles," Snow said. "We've always had the capacity (for vehicles) until the last decade or so."
Snow hasn't given up hope that if the ACE line succeeds, hotel-casinos along the Strip will surrender a slice of property to extend designated lanes.
The ACE line runs much of the same route as the popular double-deck Deuce, but the ACE — which can carry 106 passengers — will have only six stops along the resort corridor while the Deuce has 26. Snow said additional service is much needed along the Strip route because Deuce drivers often turn away passengers.
On March 29, the ACE line will begin service to the Centennial Hills park and ride, offering an express stop-free ride downtown. It will then continue on to Howard Hughes Parkway and the University of Nevada, Las Vegas, perhaps offering a viable new transportation option to university sporting events.
Another station is planned at Durango and Westcliff drives. That route will hit downtown and then carry on to Henderson where stops are planned at the community college and the Galleria Mall. In April, the RTC will break ground on the green line, which will run along Boulder Highway.
Transportation officials believe in the ACE's success based in part on the 40 percent ridership increase seen along Las Vegas Boulevard north after the similar MAX (Metropolitan Area Express) system was introduced in 2004.
"Image is very important in transit. It's not necessarily whether it's a train or a bus; it's how it's deployed and whether people can save money and time," Snow said. "If people can find something to identify positively with, that's a good thing."
RTC representatives are confident the ACE system is a very close second to light rail. And with this economy, they have more flexibility with ACE than other cities dabbling with light rail. The Phoenix light-rail system cost about $70 million per mile; in Seattle it was $100 million per mile. It cost the RTC about $52 million to build four miles of the new transit route.
"We've hosted people all across the country and all around the world," Snow said. "The feedback has been very, very positive."
Now we'll see if it aces the test for finicky Las Vegas residents.
If you have a question, tip or tirade, call Adrienne Packer at 702-387-2904, or send an e-mail to roadwarrior@reviewjournal
.com. Please include your phone number.
Blasting work is expected to cause delays along U.S. Highway 93 about 3 miles south of Hoover Dam on Tuesday and Thursday as crews continue a highway widening project in Arizona. The work will take place from 11 a.m. to 4 p.m. each day. Motorists can expect delays of up to an hour. Delays of about 30 minutes can be expected during nonconstruction days because of reduced speed limits and flagging stations.
Daytime construction continues in the eastbound lanes of Flamingo Road at the intersection of Audrie Street. During this round-the-clock phase, eastbound left-turn lanes at Audrie will be obstructed. At night — between 9 p.m. and 6 a.m. — construction crews will be in the westbound traffic lanes of Flamingo. Expect delays during these work hours.
Lane restrictions are in place on Village Center Circle, on Hills Center Drive between Village Center and Lake Mead Boulevard, and on Town Center Drive between Village Center and Summerlin Parkway.
Expect lane closures and shifting on Craig Road while Craig Ranch Golf Course is converted into a regional park.
Centennial Parkway between Statz and Palmer streets in North Las Vegas will be closed for the next month as crews work on the construction of the SkyView Multigenerational Center.
Las Vegas Review-Journal