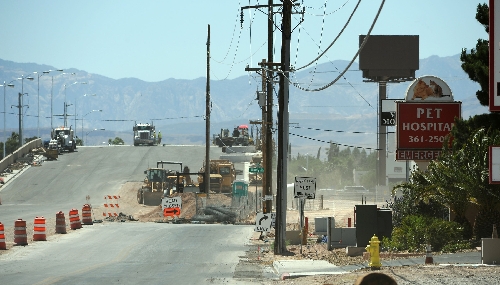 It's probably not textbook financial planning to open a new business when the address is on a road littered with construction equipment topped off with a critical bridge that was destroyed long ago.
Then again, it's not in the engineering manual to knock down a bridge when the planned span's design was flawed and necessary easements hadn't been acquired, leaving residents with a couple dirt Evel Knievel ramps rather than the east-west link they so relied upon.
The combination of those two unfortunate decisions resulted in something like this: The construction of the new bridge over Interstate 15 is more than a year overdue and the bar owners who thought they had timed the opening of their new pub on Warm Springs Road perfectly are struggling to draw customers.
"It's been totally brutal," said George Kypreos, who, along with his parents Geri and Pete, opened RePetes Bar & Grill last month.
And really, the Kypreoses are not alone, except that they have plenty of beer to get them through their anxiety.
Next door is the Warm Springs Animal Hospital, an established clinic whose clientele is split evenly between the east and west sides of Interstate 15. Some pet owners have chosen to take Scruffy to vets closer by, and those who have remained loyal haven't made it a secret that having to use Blue Diamond Road or Sunset Road is a huge inconvenience.
"It's been a long haul," said Beth Palmer-Lynch, a certified veterinary practice manager at the animal hospital. "We have gone to a skeleton crew and kind of limped along."
A parking lot to the west is yet another story.
Rob Robker bought his building two years ago and planned to move his Victory Motorcars store to Warm Springs Road. He has still yet to open. Why bother? Like the Kypreoses have learned, nobody who drives past Warm Springs on Las Vegas Boulevard really knows whether the businesses – or even the road for that matter – are open.
"I didn't even think of opening it with the road gone," said Robker, who sells luxury vehicles. "We will open June 1. With a bridge."
As a business owner, times are tough as it is with the poor economy. Road construction projects make it far worse.
Las Vegas Paving tore down the 40-plus-year-old bridge in February 2010 and planned to have a new six-lane span opened one year later. The design of the bridge was flawed in that it wouldn't safely withstand the weight of a big-rig, so engineers literally returned to the drawing board. Steel girders had to be reordered and the project landed at the end of a long list of orders at a Utah steel mill.
That wasn't the end of the problems. The Department of Transportation needed Nevada Power to move transmission towers and that required the acquisition of private property, a process that never moves along swiftly or smoothly.
Some government entities across the nation offer incentives not only for businesses affected by road work, but also for customers who continue to patronize stores that land in orange cone zones. Grand Rapids, Mich., offers up to $500 for advertising; San Jose, Calif., subsidizes sales; and Green Bay once held a grand-prize raffle for visitors to construction zone businesses, according to the publication Inc.
When the Regional Transportation Commission tore up Sahara Avenue to make room for its designated bus lanes, it sent out weekly emails to affected businesses to inform them of work and road restrictions that should be expected.
The three business owners along Warm Springs said they have been offered zippo.
To get updates on the progress of the bridge, they said they wander out to the street and ask the workers. Traffic controls haven't been helpful; barriers blocked all but two lanes of the six-lane width of Warm Springs and motorists traveling on Las Vegas Boulevard essentially have to come to a stop to determine whether the road is actually open.
Signage hasn't been much assistance either. Geri Kypreos said she had to talk to the project manager after seeing a sign on the boulevard that said, "Warm Springs closed. Businesses ahead open." It made it sound like the stores on Las Vegas Boulevard were open. The new sign says, "Warm Springs Road closed at Windy."
Not even the iPhone's Siri recognizes Windy, a tiny road just short of the freeway.
The Kypreoses could very well be in the worst shape. They bought the old Screwballs bar a year ago, expecting the bridge to open in December. That gave them plenty of time to wrap up the $1.7 million they made converting the dive into a higher-end sports pub.
They weren't even worried about the first delay. Then they received their liquor and gaming license and that meant they couldn't put off the opening any longer because licenses only last so long and they didn't want to start the costly process over again.
They opened in early April. They spend $50,000 a month in payroll even though only a handful of customers are ever at the bar at once.
The bridge is scheduled to open as one lane in each direction by the end of May. The entire six-lane structure should be finished by the end of the summer. Then the paving will begin.
"It will get worse before it gets better," Geri Kypreos said.
The Warm Springs Animal Hospital will turn around, Palmer-Lynch is confident about that. Robker is sure his business will thrive too. The Kypreoses, who owned The Greens on Green Valley Parkway for years, also believe that their bar will take off. Success is about location, that too is in Business 101 textbooks. Right now, it looks like that chapter was skipped. But, wait for it: If, no, when they build it, they will come.
"This will be a perfect location once the bridge opens," Geri Kypreos said.
If you have a question, tip or tirade, call Adrienne Packer at 702-387-2904, or send an email to roadwarrior
@reviewjournal.com. Include your phone number.
• Beginning Monday and lasting up to five days, expect lane closures on westbound Tropicana Avenue and Las Vegas Boulevard south. Expect intermittent overnight closures of all lanes on Las Vegas Boulevard at Tropicana as the MGM Grand erects a 140-foot crane for a renovation project. Work hours are from midnight to 8 a.m.
• Through early Monday, Stewart Avenue will be closed from Las Vegas Boulevard to Seventh Street for Helldorado Days. Portions of Mesquite, Sixth and Seventh streets will remain closed through the week as crews clean up from the event.
• For the next week, expect delays on U.S. Highway 93 between Buchanan Boulevard and Lake Shore Drive in Boulder City as the road is paved. The highway will be reduced to one lane in each direction.
• Elkhorn Road between Bradley Road and Jones Boulevard and between Jones and Torrey Pines Drive will be closed through May for a storm drain project.
GASOLINE PRICES
The average price of gasoline in the Las Vegas Valley on Friday was $3.90 per gallon; the state average was $3.95; the national average was $3.71.
LAS VEGAS REVIEW-JOURNAL