Who's responsible for vehicle damage caused by dump truck debris?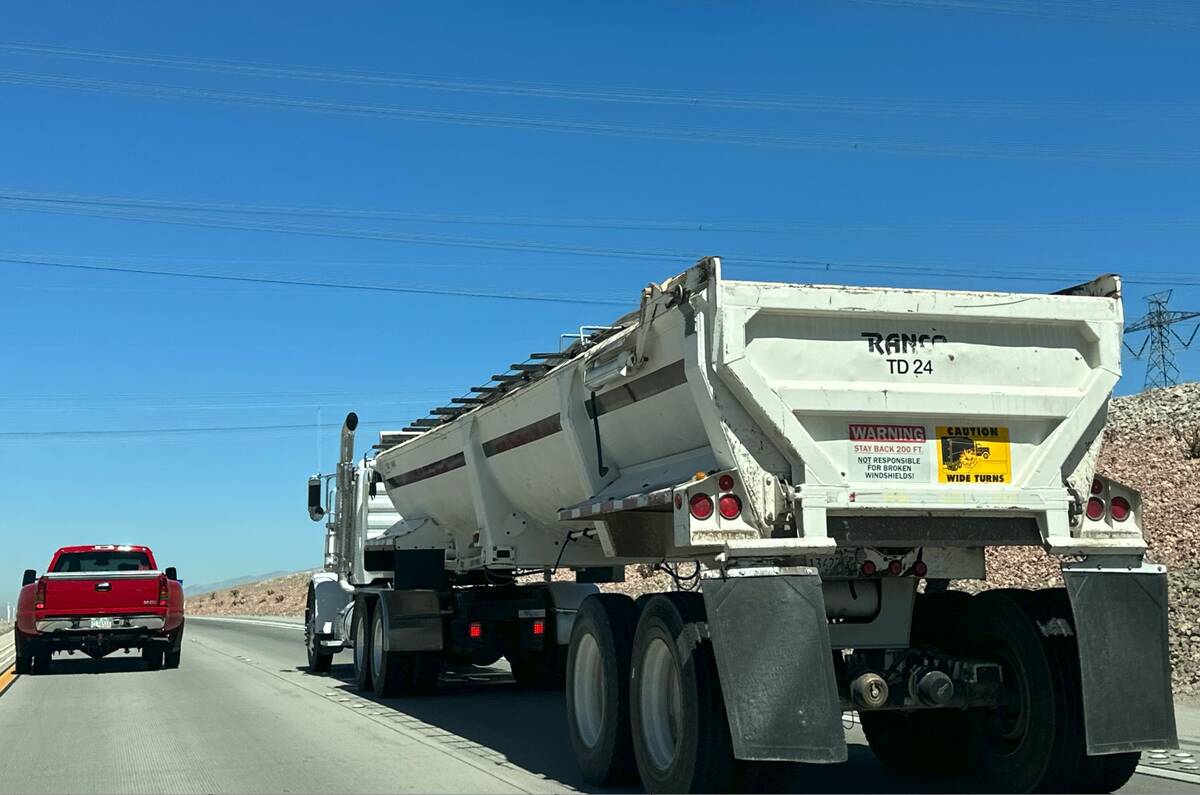 You're driving down the road behind a dump truck and then "Bam!" a rock strikes your vehicle, cracking your windshield.
This scenario is a common occurrence in Las Vegas Valley with the abundance of construction projects taking place.
After the initial shock and a potential four-letter questioning what that was, the next thought is more than likely who is going to pay for the damage?
Many motorists may then see signs on the back of the trucks that say something along the lines of: "Warning, stay back 200 feet. Not responsible for broken windshields," which could make one believe that they themselves are in fact on the hook to pay for the damage.
Despite the claim of the signage posted on many dump trucks across the valley, the company the truck belongs to is actually the party responsible for taking care of a broken windshield.
A state law requires trucks to secure their loads that carry cargo and that includes trucks that carry gravel, according to UNLV Boyd School of Law professor Robert Correales.
"Usually they have a tarping mechanism that prevents some (from) falling, but it doesn't prevent all of it from falling out," Correales said. "Those signs are generally cautionary and also useful for the company because they keep people aware that something may happen. But they aren't shields from liability because if they were to shield a company like that from liability, you could just put up a sign and shield yourself from liability in all kinds of ways."
Correales noted the sign can deter some drivers from pursuing a lawsuit after their vehicle sustains damage, but the law normally leans toward the party having been negligent, which in these cases are the gravel companies.
"If you load your gravel too high and don't tarp it carefully and it comes out, you're liable," Correales said. "It's a violation of statute that causes harm to another person."
It's similar to if a person goes to an amusement park that has a small print disclaimer on the back of their admission ticket that says they are not responsible if you are injured on a ride.
"You see accidents that happen at amusement parks that are actionable notwithstanding the fact that every ticket has a release," Correales said. "Nobody ever reads them (ticket disclaimers), especially kids."
If a motorist takes a company to court, it is relatively easy to prove that the damage was caused by the dump truck, even if there aren't any other witnesses or video evidence available.
"There would be direct evidence because there's at least one witness, the driver,"Correales said. "There will be other things such as if the truck was on the highway at that time and you can ascertain that by looking at the license plate and taking it down and noting the make of the truck and that it carries gravel."
Other factors that could be used to determine fault include the angle the rock struck the window to determine where it originated.
"If you have enough evidence you have a good chance to recover (damages)," Correales said. "The civil threshold for recovery is nearly preponderance of the evidence, which is a little more than 50 percent possible. It's not beyond reasonable doubt where you have to exclude other possibilities. The reason for preponderance in civil cases is that they more simply want to settle cases and not to move on with those claims."
Cases such as these usually don't make it to court, as insurance companies normally step in ahead of that.
"They will call the company and say we have this much evidence and we're going to put a claim against you," Correales said. "Then they settle things."
Contact Mick Akers at makers@reviewjournal.com or 702-387-2920. Follow @mickakers on X. Send questions and comments to roadwarrior@reviewjournal.com.