Teen defendants get important advice in Las Vegas courtroom
August 18, 2017 - 10:42 am
Updated August 18, 2017 - 9:24 pm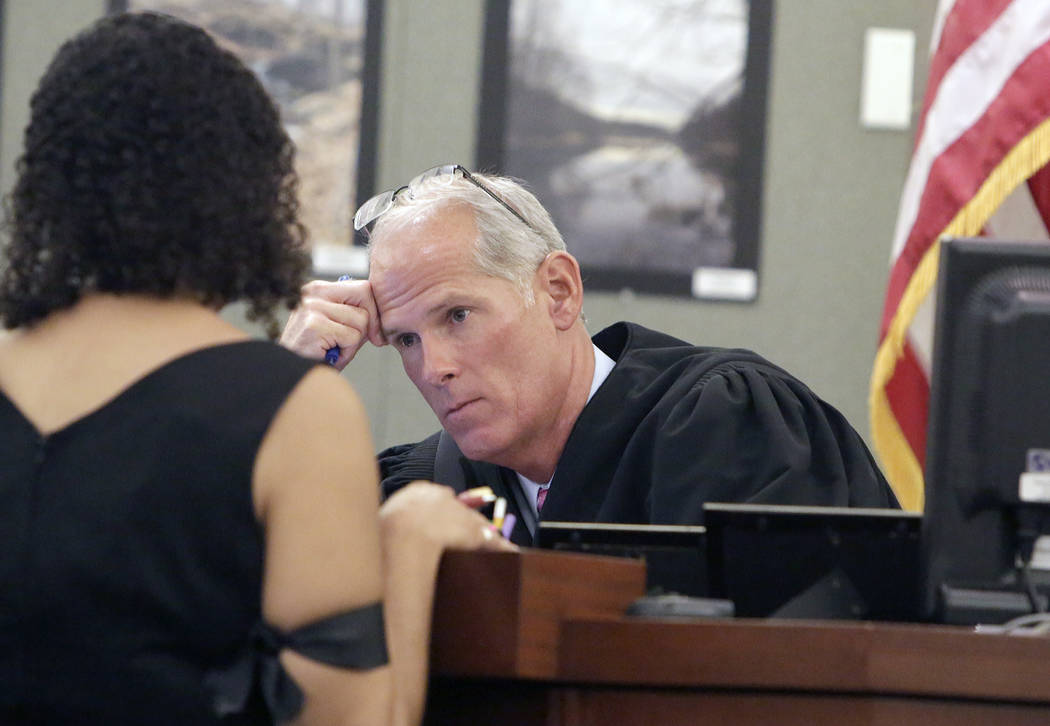 The three young women sat separately, next to their parents, on different sides of the packed courtroom last week.
You wouldn't have guessed their lives were intertwined until District Judge Douglas Herndon reached their case and called their names. Each shuffled out into the main aisle, then forward to the table where their defense attorneys waited.
This particular courtroom was filled with grown men in handcuffs and jail clothes, accused of murder, child abuse, sexual assault. Why were these young women there?
Prosecutors answered that quickly: As a group, they had robbed a 69-year-old woman. It happened near the Linq Promenade in January. They knocked her down and stole her purse in the parking lot, leaving her in tears.
As the story spilled out, the teens stood still, their hands together, their heads bowed. The woman was scuffed up but OK. They were all facing felonies.
The recent graduates had done fairly well in high school. Mostly A's and B's, their attorneys said.
One of them — whom one attorney referred to as the robbery "ringleader" — had played basketball and received a partial scholarship to an out-of-state college. Now, her dreams were on hold.
Another teen had volunteered with "the elderly" since her arrest — the experience humbled her, she said. The attorneys asked for sympathy.
The judge shut them down without hesitation.
"It sounds like you did some great things at school … but you screw your life up with one bad decision," Herndon told the three of them.
It was the start of some important, unsolicited advice. The young women looked up, listening.
"There's not a lot that separates any of us — me, you, anybody sitting over here," Herndon said, pointing at the men in handcuffs. "I mean, it's just decision-making."
At the end of the day, the woman they robbed wasn't critically injured. But it could have been worse, he said.
"In this day and age, when you do something really, really stupid like this," he continued, "you're just as likely to get shot by somebody, right?"
The teens stared, blank-faced.
"So the old lady gets knocked down, her purse gets stolen and thrown out the window, and you get a little cash so for the next three hours you can get something to eat, or go to the movies or something," he said. "All that for this, right?"
There was a pause. The teen defendants looked about the room. Everyone was looking at them.
"The balance seems to be pretty askew," Herndon said.
His voice got a little louder as he emphasized why he cared.
"I mean, it's just — you are — ugh," he said, trying to collect his thoughts. "I mean, you're right in between my two daughters, OK? And I'm telling you, everybody ends up in here not because they're horrible people but because they make bad decisions."
He acknowledged how well the three did in school. He acknowledged the volunteering they had done in recent months. He acknowledged the scholarship one of them would now lose, because even if the felony was dropped, she wouldn't be able to leave the state.
"It doesn't seem fair, but that's the reality of life," he said.
They each got gross misdemeanors, and Herndon sentenced them to probation with the possibility of jail time should they break their conditions or contact each other. The young women were relieved. The judge wasn't done.
"You've gotta be smart, right? You've gotta be smart and take care of yourself and be able to step back and say, 'I'm not doing that. That's stupid. I'm going home. You know what, if you wanna do that, you're on your own. I'm not going to prison for anybody,'" he said. "Understand?"
The men in cuffs listened and looked at them.
"Yes," the three teens said in unison.
Vegas Vice runs every other Saturday. Contact Rachel Crosby at rcrosby@reviewjournal.com or 702-380-8135. Follow @rachelacrosby on Twitter.