NHL ticket drive already halfway to goal
February 12, 2015 - 3:53 pm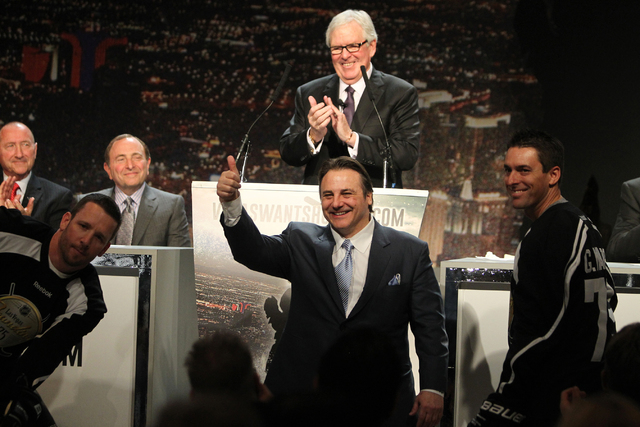 Talk about a blazing start for the National Hockey League ticket deposit campaign in Las Vegas.
The ownership group of a prospective NHL franchise in Las Vegas that launched the ticket drive on Tuesday has exploded out of the box, receiving 5,000 deposits in the first day and a half.
Lead investor Bill Foley, partnering with the Maloof brothers of Las Vegas, was thrilled with the hot start because it's already half of the 10,000 ticket commitment goal set by the Foley-Maloof team.
"All the seats in all the sections are selling really well. They're pretty even distributed," Foley said in a prepared statement.
"We're off to a good start. We hope to see the Las Vegas community rally around this great cause and continue to buy deposits."
Foley-Maloof is seeking at least 10,000 season ticket deposits to show the NHL Board of Governors and Commissioner Gary Bettman that the Las Vegas market is worthy of a major-league hockey franchise.
Foley's Hockey Vision Las Vegas, the name for the ticket drive and expansion team efforts, sent emails Thursday to fans who gave their contact information to the group.
"As you know, Hockey Vision has launched our Season Ticket Deposit Campaign and in case you missed it, we are already more than half-way to our goal of 10,000 season ticket deposits!" sales director Todd Pollock wrote.
The potential NHL team would play at the privately financed $375 million arena being built on 16.5 acres behind New York-New York on the Strip. The partnership of MGM Resorts International and Anschutz Entertainment Group is building the venue, which will hold 17,500 fans for hockey. It's scheduled to open in April 2016. Foley-Maloof is aiming to start its team for the 2016-17 NHL season.
Bettman attended the official start of the ticket launch on Tuesday afternoon, when he told a packed meeting room at MGM Grand that he endorses the Foley ticket campaign to measure the fan interest in Southern Nevada.
Bettman stopped short of saying that Las Vegas will definitely get an NHL club, but wished Foley and Las Vegas good luck in the ticket deposit drive. He said the NHL is intrigued by the "unique" nature of the Las Vegas market, which includes 2.1 million residents and 40 million annual visitors.
Fans can spend as little as $150 — or about 10 percent of the cheapest season ticket plan — to make a deposit. They can also spend as much as $900 for a deposit for the best seats while checking out an arena seat chart at www.vegaswantshockey.com.
If the NHL does not award Las Vegas a team, fans will receive a full refund. If Las Vegas does get a team, then payments will be kept toward season ticket deals.
Foley is chairman of a mortgage and financial services company in Jacksonville, Fla., but he has said he and his wife have already signed paperwork to buy a house in Summerlin.
Gavin and Joe Maloof are the former owners of the NBA Sacramento Kings, from 1998-2013, and developed the Palms hotel in Las Vegas.
Foley-Maloof has created a core group of 75 local Las Vegas business owners, lawyers and leaders to help recruit fans to buy ticket deposits. Each is working on drawing at least 60 ticket deposits, with at least four of the 75 already selling more than 100 deposits each.
Contact reporter Alan Snel at asnel@reviewjournal.com or 702-387-5273. Follow him on Twitter: @BicycleManSnel