Nice exposure for RockCityClub.com
September 25, 2011 - 1:05 am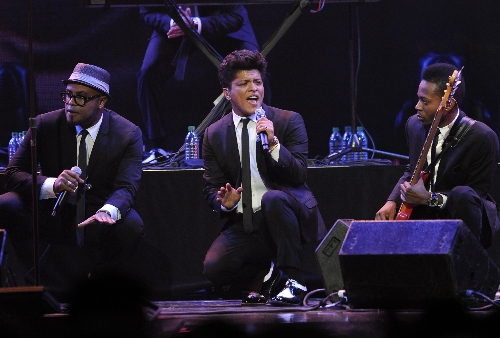 Rockrena founder Jack Wishna took a page from Steve Wynn's playbook this weekend.
To boost the profile of his fledgling global Internet music company, Wishna decided to get the word out on the weekend when Las Vegas was the temporary epicenter of the music industry.
A longtime New Yorker who moved to Las Vegas in 1999, Wishna remembered a billboard strategy Wynn employed in 1988. He surrounded Donald Trump's Taj Mahal in Atlantic City with fixed billboards that read 'The Mirage is coming in 1989 … until then try, try to have a good time.' "
For this weekend, Wishna rented three trucks to create rolling billboards in the form of LED screens.
He had the trucks circle the MGM Grand, site of Clear Channel's iHeartRadio Music Festival, and drive up and down the Strip to deliver the RockCityClub.com video message: There's a new kid on the block.
The video appeared to be a Ryan Seacrest voiceover commercial for iHeartRadio until the end when an older man appears on screen and promises "the rebirth of rock and roll" via Wishna's new social music network.
"That was one of our board members, Nyhl Henson, who helped found Country Music Television, Nickolodeon and MTV," said Wishna, who founded Rockrena and the Rock City Club brand with music mogul Don Kirshner, who died in January.
"(Henson) thinks we're the next generation in the music industry," said Wishna, who plans to launch the ambitious project this fall.
THE SCENE AND HEARD
Elton John is looking for someone to portray him in the upcoming film "Rocketman."
John, who returns to The Colosseum at Caesars Palace this week after a 2½-year absence, is reportedly producing the biopic with his partner, David Furnish.
"We've always thought there was a wonderful cinematic opportunity to tell Elton's life story," Furnish told Entertainment Weekly.
"But we wanted to wait until the time was exactly right. Elton feels very excited about doing it now. He's in a very happy place in life right now and thinks it's a good time to artistically reflect on the past."
John's three-year residency will begin with a 16-show run.
SIGHTINGS
Grammy winner Bruno Mars, performing several of his hits at The Bank (Bellagio) on Friday in front of a crowd that included "Glee" castmates Naya Rivera and Darren Criss. … At a private IHeartRadio party at Gold (Aria): music mogul Jimmy Iovine, Dr. Dre and will.i.am of the Black Eyed Peas. … At the Deuce Lounge (Aria): Coldplay drummer Will Champion. … Eva Longoria, with boyfriend, Eduardo Cruz, at Gallery (Planet Hollywood Resort) on Friday. Also in the club: will.i.am, taking in band mate Apl.de.Ap's DJ set. … At Surrender (Encore) on Friday: Tito Ortiz and Jenna Jameson; "Downtown" Julie Brown, Rome Ramirez and Chumlee of "Pawn Stars." … Comedian Dane Cook, hanging out backstage with Playboy Comedy hosts Cort McCown and Paul Hughes at the Palms on Friday night. … Former 98 Degrees member Jeff Timmons, with new wife Amanda Timmons at their wedding reception at Chateau nightclub (Paris Las Vegas) on Friday.
THE PUNCH LINE
"Scientists from NASA have said that a research satellite the size of a bus will crash into the earth. They have no idea where it will land, although they say it has better odds of landing in the end zone than the Kansas City Chiefs." — Jay Leno
Norm Clarke can be reached at 702-383-0244 or norm@reviewjournal.com. Find additional sightings and more online at www.normclarke.com. Follow Norm on Twitter @Norm_Clarke.