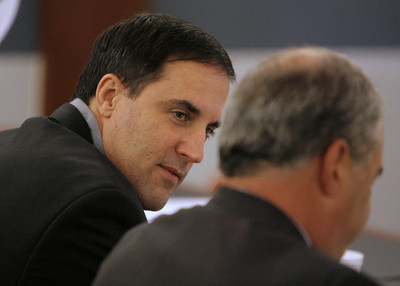 Lawyers on Tuesday slowly sifted through the pool of potential jurors for the murder trial of Darren Mack, accused of killing his estranged wife and shooting the Reno judge who presided over their divorce.
Quizzing people on their travel schedules and favorite TV shows, lawyers for a second day tried to whittle a group of 200 possible jurors to the final 15 who will deliberate the case.
Mack, 46, a wealthy pawn shop owner from Reno, is charged with the June 2006 slaying of his estranged wife Charla, 39, and attempted murder in the wounding of Family Court Judge Chuck Weller.
The case made headlines nationwide when Weller was shot sniper-style from a parking structure across the street from the downtown Reno courthouse. The judge was treated for a chest wound, released and stayed in hiding until Mack was arrested in Mexico.
Jury selection began Monday, just more than a week after Judge Douglas Herndon declared it impossible to find an impartial jury in Reno and moved the case to Las Vegas.
Defense lawyers David Chesnoff and Scott Freeman on Tuesday asked potential jurors about their experiences with divorces and mental illness. They said the case may involve "wife-swapping" and asked potential jurors if they would be biased by such testimony.
One woman, a 23-year-old day care worker, was excused after she told Chesnoff she would prefer that Mack testify in his own defense.
His attorneys have said they have not yet decided if Mack will take the stand. He has pleaded not guilty and not guilty by reason of insanity, but has not identified which plea went with which charge. He could face life in prison if convicted.
Mack is being held at the Clark County jail during the trial, which is expected to take three or four weeks.
By late in the day Tuesday, nine people had been advanced past the initial round of questioning by prosecution and defense attorneys. Among those was a nuclear scientist and a Christian pastor who said he preferred reality TV shows to crime dramas.
Among those excused Tuesday was a man who said he was not a U.S. citizen, and a man with long-standing plans to travel outside of Nevada.