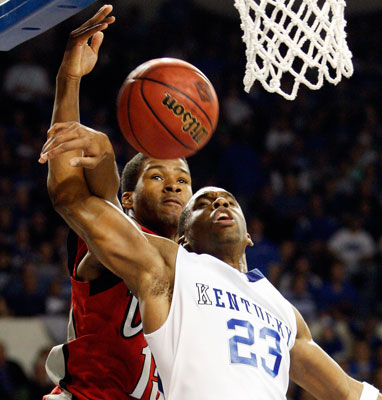 LEXINGTON, Ky. — Jodie Meeks scored 19 points and Kentucky held off a furious UNLV comeback attempt to defeat the Rebels 70-60 tonight in a first-round National Invitation Tournament game at Memorial Coliseum.
UNLV trimmed a 20-point deficit to three with four minutes left, but Meeks made four free throws in the final two minutes as the Wildcats advanced. Senior guard Wink Adams had 14 points to lead the Rebels, who ended their season with a 21-11 record.
Patrick Patterson had 16 points and 11 rebounds for Kentucky (21-13). On the brink of being embarrassed early in the second half, the Rebels pulled together for a major rally. Adams' two free throws cut UNLV's deficit to 60-54 with seven minutes remaining. The Rebels were on a 19-2 run after Joe Darger's 3 made it 60-57 with 4:04 left.
Meeks pulled up and knocked down a 15-foot jumper with three minutes to go. Patterson's rebound dunk just before time expired lifted the Wildcats to a 36-24 halftime lead. Meeks' 3-pointer made the score 42-24, and consecutive dunks by Perry Stevenson and Patterson extended the Wildcats' lead to 50-30 with 16 minutes left.
Adams made two 3-pointers to pull the Rebels within 58-50 with 8:38 left.
View the slide show