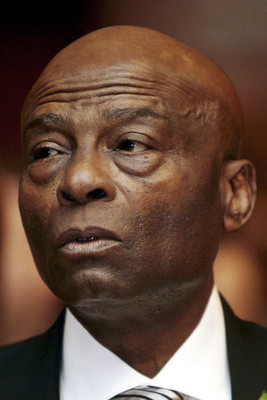 A longtime North Las Vegas City Council member is accused of accepting an "inappropriate" $500 gift from the former owner of the Palomino strip club, a county prosecutor said Monday.
The allegation centers on Councilman William Robinson, who is accused of taking the money in 2004 from murder defendant Luis Hidalgo Jr., prosecutor Marc DiGiacomo said in court.
Robinson, who was first elected as Ward 2 councilman in 1983, is a North Las Vegas mayoral candidate.
The issue of the cash gift was raised to question Hidalgo's character and to suggest similarities to former strip club operator Michael Galardi, who was a key figure in a wide-reaching bribery scandal that ensnared multiple elected officials in San Diego and Las Vegas, including four former Clark County commissioners.
When contacted Monday, Robinson denied ever accepting money from Hidalgo, who he said appeared before the City Council to obtain a business license.
"It is a lie," Robinson said of the allegation. "I don't know anything about that."
The allegation about Robinson was made in the afternoon during Hidalgo's trial when the jury was outside the courtroom. DiGiacomo told District Judge Valerie Adair an accusation had surfaced that Hidalgo gave Robinson a $500 "loan" that the public official wouldn't need to pay back.
Robinson told the Review-Journal that he would only accept a loan from a bank or credit agency.
"I don't know anything about $500," he said.
The witness making the allegation is Anabel Espindola, 36, who is Hidalgo's ex-girlfriend and worked as a general manager for the Palomino. She testified throughout the day during the murder trial. It's not clear how Espindola would have known about the alleged money exchange.
DiGiacomo declined to comment.
Espindola was arrested in 2005 in connection with the slaying of Timothy Hadland, an ex-employee of the Palomino who was bad-mouthing the club to cabdrivers. Espindola was charged in Hadland's slaying and later pleaded guilty to voluntary manslaughter with a deadly weapon in connection with the case. She hasn't been sentenced.
Adair ruled that the jury would not be presented with the allegations against Robinson.
During the hearing, Hidalgo attorney Dominic Gentile said the accusation of an inappropriate cash gift was ridiculous. He equated the allegation to those Galardi made in 2006, when he testified that more than two dozen Las Vegas Valley people, including elected officials, had accepted cash bribes, campaign contributions or sex.
Gentile then represented former Clark County Commissioner Lance Malone, who was indicted in 2003 with Galardi and others in San Diego and Las Vegas.
The Las Vegas case became one of Southern Nevada's most notorious political corruption scandals and resulted in the convictions of Malone, Galardi and former Clark County Commissioners Erin Kenny, Dario Herrera and Mary Kincaid-Chauncey.
Hidalgo is accused of plotting to kill Hadland, 44, who was found with two gunshot wounds to his head on an isolated road near Lake Mead on May 19, 2005.
Hidalgo's son, Luis Hidalgo III, 27, also is on trial in Hadland's slaying.
Contact reporter David Kihara at dkihara@reviewjournal.com or 702-380-1039.