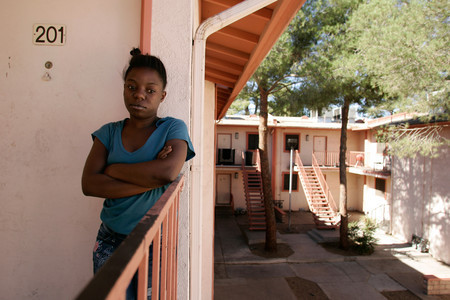 The end finally may be near for the long-troubled, oft-criticized North Las Vegas Housing Authority.
The debt-ridden agency, tasked with providing housing for some of the city's poorest residents, is supposed to soon be absorbed — along with the Las Vegas and Clark County housing authorities — into the new Southern Nevada Regional Housing Authority, which will be among the largest public housing agencies in the nation.
The North Las Vegas agency's end can't come soon enough for many.
"I'll be so glad when it's over," said North Las Vegas City Councilman William Robinson, who has served on the housing authority's board since the mid-1980s. "It's been an albatross."
But the agency first must resolve an expensive issue that threatens its inclusion in the end-of-year merger: $3.2 million in debt stemming from a bad investment and the misuse of federal funds that should have gone to help needy families get housing.
North Las Vegas officials are scrambling to come up with a plan to address that debt by a Jan. 1 deadline.
"We're in negotiations" with the U.S. Department of Housing and Urban Development, said Maryann Ustick, acting city manager. "We're trying to come up with a creative way to address this issue."
Neither HUD nor North Las Vegas officials would discuss debt negotiations in depth while they are ongoing.
"We are still working on the repayment agreement and won't comment on hypotheticals," said Larry Bush, a HUD spokesman.
What is clear is that the North Las Vegas Housing Authority will not be welcome in the new regional "superagency" as long as it brings the debt with it.
"We should not be saddled with debt caused by the improper activities of someone else," said Carl Rowe, the regional housing authority's interim director.
Local officials have for years talked about consolidating the valley's three public housing agencies to save money and more efficiently help poor people put roofs over their heads.
Legislation adopted earlier this year allowed the merger and stipulated that it be completed no later than Jan. 1.
The new agency would have a $113 million budget, employ 250 people, and manage roughly 3,000 public housing units and 10,000 Section 8 vouchers, which can be used to rent housing.
The North Las Vegas Housing Authority, the smallest of the valley's three, has in recent years faced myriad financial and administrative problems.
Its former CEO, Don England, resigned last year amid controversy over his handling of issues at the Casa Rosa public housing complex. Families there had long been living with mold, failing stairways, rotting rafters, wiring problems and other substandard conditions.
England blamed shrinking funding from HUD for the agency's issues.
Housing authority board members also blamed funding shortages for many of the problems, and said England hid the extent of those problems from them.
The city later took over management of the agency, and transferred its Section 8 program to the Las Vegas Housing Authority.
HUD has repeatedly said the agency was inadequately managed.
Rowe said "nobody exercised proper oversight" at the housing authority.
The agency's debt breaks down as follows, according to a HUD audit completed earlier this year:
• $1.9 million lost on the Desert Mesa project, which was planned to be a residential development for low-income families near Carey Avenue and Commerce Street. The project was stymied by construction delays, soil problems and lawsuits from contractors. Construction was halted in 2004.
• $937,691 from the agency's Section 8 program. Some of the money was misspent on administrative costs; the rest was improperly loaned to other agency programs.
• $400,372 meant for the development of affordable housing was instead used to cover expenses in other programs.
While officials remained mum on debt negotiations, plans could include the agency making monthly payments of $3,783 for 20 years as partial reimbursement for the misspent Section 8 monies, according to a proposed settlement agreement between the agency and HUD.
The payments would come from income generated from the agency's 132 non-federally funded, low-income housing units. HUD also may record a lien against those housing units. Most of the rest of the debt "will be resolved at a later date," according to the settlement.
Exactly how it will be resolved and whether a plan to resolve it will be in place by Jan. 1 remains up in the air.
Rowe said he doesn't see how the agency can resolve its financial problems unless HUD forgives much of the debt or the city of North Las Vegas, which is suffering its own financial woes in a down economy, ponies up some funding. City officials balked at the latter idea.
"It's a debt we as a city don't have the capacity to pay," Robinson said.
"I don't see why the city should be on the hook for what the housing authority did," Mayor Shari Buck said.
Buck has long been critical of the housing authority, especially the make-up of its board, which until recently contained four out of five North Las Vegas City Council members, excluding Buck. The mayor has said sitting on both the board and the council presented a conflict of interest.
Currently, only Robinson sits on both.
Buck acknowledged a city bailout of the housing authority could become "a policy decision" the council would have to consider. Still, "the city doesn't have the money."
Contact reporter Lynnette Curtis at lcurtis@reviewjournal.com or 702-383-0285.