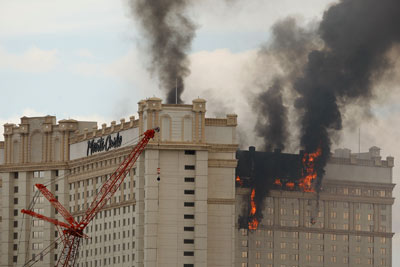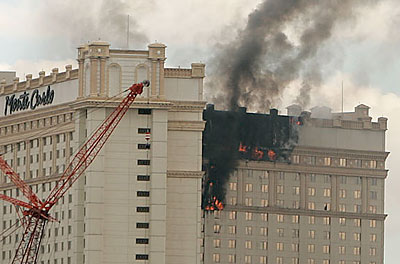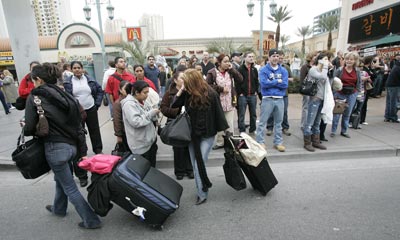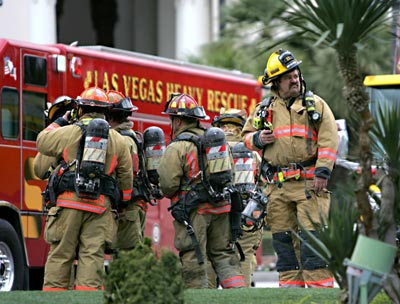 Fire crews are cleaning up after a three-alarm fire today at the Monte Carlo Hotel & Casino.
Clark County fire officials are reporting no major injuries and 17 people have minor injuries from the fire. A few people were treated for smoke inhalation. The fire was focused on the exterior of the building. Fire crews from Clark County, City of Las Vegas and Henderson were on the scene.
The entire resort has been cleared. Hotel guests are being placed at other MGM Mirage properties.
The fire was reported by passersby shortly before 11 a.m. Thick, black smoke was pouring from the top of the south tower on the west side of the structure. The cause of the fire has not been determined. There were welders on the roof before the fire broke out.
Las Vegas Boulevard has reopened. The only street still closed is Monte Carlo Drive, which runs next to the hotel-casino.
The Monte Carlo has 32 floors and about 3,000 rooms and 200 suites. It is owned by MGM Mirage. The hotel-casino opened on June 21, 1996.
MGM Mirage has set up phone lines for employees and guests with questions. Employees can call 693-7005. Guests can call 702-891-4411.
Monte Carlo three-alarm fire video Displaced Monte Carlo guests moved to MGM View the slideshow Associated Press story AP Video Send your photos of the Monte Carlo fire to the Review-Journal. Click here. Sign up for eRJ email alerts and mobile text alerts from Reviewjournal.com.