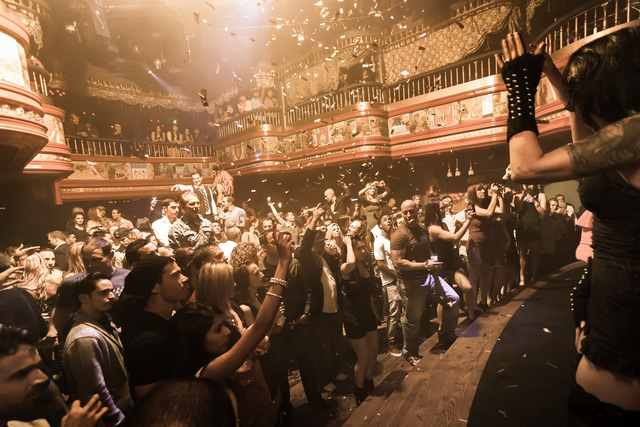 The curtain is falling on The Act nightclub, another case of what happens in Vegas better not cross the raunch line.
Hoping to claim the title of Sin City's most scandalous club, The Act didn't last a year.
Management and staff were informed of the closure Saturday, according to "Rock of Ages" star Mark Shunock, who had booked the club for a series of fundraisers starting next Monday.
Shunock said he hopes to know by today if he can keep The Act for his launch event. If not, he will postpone his "Mondays Dark" launch and find a new location for Nov. 18.
New York nightlife impresario Simon Hammerstein had hoped to duplicate the envelope-pushing success of his sister clubs in New York and London.
Instead, he quickly faced an eviction battle over alleged violations of obscenity laws.
Mindful that Planet Hollywood Resort was hit with a $750,000 fine in 2007, The Act's landlord, Las Vegas Sands, notified the club April 26 they had violated terms of the 10-year lease.
The Act is located in The Shoppes at The Palazzo, a mall that is managed by General Growth Properties Inc. and the financial services giant TIAA-CREF.
Shunock said he had booked three-time Emmy nominee Dot-Marie Jones and Jai Rodriguez of "Queer Eye for the Straight Guy" to appear in the debut of his yearlong series to raise more than $100,000 for a dozen Las Vegas-based charities.
All proceeds for the first show were to benefit Opportunity Village.
Shunock said he heard rumors about the closure and was informed when he went into The Act after performing in "Rock of Ages" Saturday. "I was shocked. Everyone was shocked."
"This project will go on," he vowed. "A lot of people are reaching out. If we can get the space for (today), great; if not, we'll move on."
It will be held the third Monday of every month.
THE SCENE AND HEARD
As you know from last week's item here, Clint Holmes is killing it in New York City with his new show at the Carlyle called "Stop This Train." It's based on a song written by John Mayer that Holmes has loved for a few years. After his Thursday performance, Holmes and his wife, Kelly, were having a drink in the lounge when Kelly noticed a cute couple standing next to them. It was Katy Perry and Mayer. Holmes introduced himself and filled them in about the show. "What are the odds?" Holmes asked. …
Las Vegas-based Chef Sam "Sammy D" DeMarco, formerly of First Food &Bar and later named Rattlecan (The Venetian), has had his "Chow Masters" reality show greenlit by the Travel Channel. …
Two of the funniest people ever crossed paths Wednesday night at Jim Caruso's "Cast Party" at Cabaret Jazz. Caruso happens to be one of them. He introduced comedian The Geechy Guy, who is getting so popular he had to cancel out of the recent Frank Marino roast to open for comedian Ron White in three cities. The "Cast Party" was a hoot and so was Geechy, who is playing at the M Resort on Oct. 26 and joins White at The Mirage on Nov. 15-16. Geechy is enjoying a burst of new popularity. He won "Star Search" in 1991, beating out a guy named Ray Romano.
SIGHTINGS
Grammy award-winning R&B singer Ashanti, celebrating her 33rd birthday with friends and family at Lavo (Palazzo)on Saturday. … Comedian Dane Cook, with friends at Tao Asian Bistro (The Venetian) on Saturday. … Quad headliner Marino, dining with friends Sunday at Echo &Rig Butcher and Steakhouse in Tivoli Village. … "Extra" host Mario Lopez, celebrating his 40th birthday on Saturday with his wife, Courtney, and 10 friends at the Wynn and Encore clubs and restaurants. … UFC president Dana White and fighter Matt Hughes, at the Fright Dome (Circus Circus) on Friday.
THE PUNCH LINE
"At what point do we politely ask Canada to govern us?'' — Jimmy Kimmel, on the U.S. government shutdown.
Norm's column appears Sunday, Monday, Wednesday and Friday. Reach him at 702-383-0244 or norm@reviewjournal.com. Find more at normclarke.com. Follow @Norm_Clarke on Twitter. "Norm Clarke's Vegas" airs Thursdays on "Morning Blend" on KTNV-TV, Channel 13.