Nonprofit recalls Kerkorian's generosity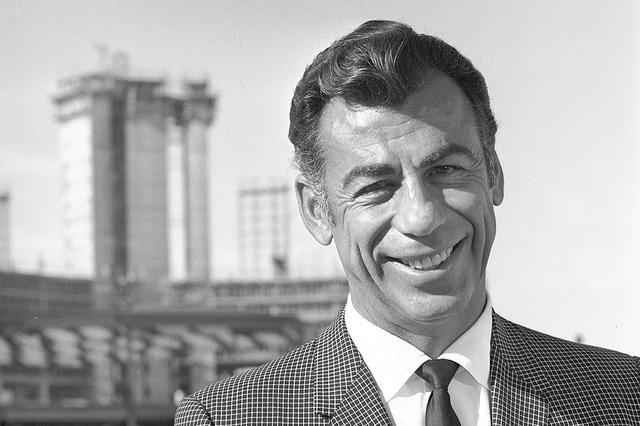 Gratitude never goes out of style.
Officials at Nevada Partners, Inc. are taking time this week to pay tribute to the quiet generosity of the late casino developer Kirk Kerkorian, who died Monday in Los Angeles at age 98.
Nevada Partners, a nonprofit job training program, was created following the civil unrest in the wake of the 1992 Rodney King verdict. It found a major benefactor in the lion of the MGM Grand.
"We are so grateful to Mr. Kerkorian for his significant contribution to our organization," Nevada Partners President and CEO Monica Ford said in a news release.
With Kerkorian's backing, she said, the program has trained many locals for the workforce and has administered more than $20 million in educational services.
"His legacy will live on as we continue to steadily expand our programming in response to community needs," Ford said.
Nevada Partners serves approximately 1,200 residents a year with 75 percent finding work following their training. The nonprofit has been recognized by the White House as a model for programs of its kind.
GIVING GIBBONS: Former Nevada First Lady Dawn Gibbons has just been named vice president of development for the Reno-based National Council of Juvenile and Family Court Judges. Long known for her charitable work, Gibbons will open the organization's Southern Nevada office.
GARNER RECALLED: Former Nevada Assemblyman Val Garner took great pride in fighting the good fight to improve public education at every level. Garner, who served in the Legislature from 1986-1994 and later ran unsuccessfully for a seat on the Clark County Commission, died Monday at his home in Hurricane, Utah. He was 89.
Clark County Commissioner Chris Giunchigliani, who spent two decades in the Assembly, recalls Garner as a fierce fighter for his district.
"He was tough," Giunchigliani said. "He loved North Las Vegas, and he did what he could there."
Garner was conservative by nature and a decidedly old-school legislator who sometimes locked horns with liberal members of his own caucus. He had many strengths, but Giunchigliani said he had to adjust to lawmaking with female colleagues.
"We had our issues from time to time," Giunchigliani said. "He didn't know quite how to work with strong-willed women. But I think Sandy Krenzer and Stephanie Smith and myself helped educate him on how to deal with a strong woman. I'll give him credit for that. He was educable."
HOFFA MYSTERY: The disappearance of Teamsters titan Jimmy Hoffa is one of the great mysteries in organized crime history, and Wednesday evening at The Mob Museum a panel of experts will present their considered views on the subject. They include Dan Moldea, author of the definitive "The Hoff Wars," former Organized Crime Strike Force prosecutor Stanley Hunterton and "Killing Jimmy Hoffa" documentary co-producer Scott Burnstein. UNLV history professor Michael "Don't Call Me Moe" Green will moderate. For ticket information: themobmuseum.org.
ON THE BOULEVARD: Former Aspen Mortgage boss Jeffrey Guinn is in bankruptcy, but that hasn't slowed the pursuit of a group of jilted investors who stand to lose millions in his debt reorganization. … If you ever had the pleasure of meeting energetic John Ponticello, you're unlikely to forget the experience. The former casino worker and longtime president of the Paradise Democratic Club was like a small-town mayor who never stopped meeting and greeting. Ponticello died Monday after a battle with cancer. … Las Vegas showed off its gay pride by placing a themed billboard along the LA PRIDE Parade route last Saturday in West Hollywood. The Strip has become known as a top destination for the LGBT community, representatives of the Las Vegas Convention and Visitors Authority say. Its LasVegas.com website features a Gay Travel page.
BOULEVARD II: In Macau, the government is in the process of banning smoking in casinos, and the gaming industry has produced a survey that claims a majority of employees is opposed to it. If given a secret ballot, would Las Vegas casino workers vote to ban smoking in their place of employment? … I see another honest cabby story in the newspaper. Good for him. But what became of Dave Hacker, the honest Las Vegas taxi driver whose story of returning a customer's lost bankroll got him a spot on David Letterman's show?
Have an item for the Bard of the Boulevard? Email comments and contributions to Smith@reviewjournal.com or call 702-383-0295. Find him on Twitter: @jlnevadasmith