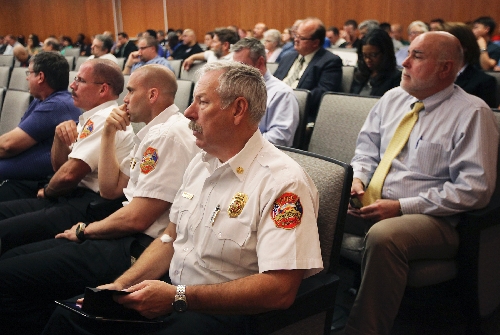 A January training accident that injured four firefighters was entirely avoidable, according to North Las Vegas Assistant Fire Chief Tim Sendelbach, who said he failed to speak up about unsafe conditions.
Shortly after the incident, Fire Chief Al Gillespie was out of a job. City officials won't say whether he was fired. Sendelbach, who did not return calls Monday, remains with the city but was disciplined.
State Fire Marshal Peter Mulvihill said Monday the investigation of the training accident remains open. The incident damaged the reputation of the North Las Vegas department and prompted Las Vegas officials to end a fire training agreement with the city.
"We would hope to share the facts and findings with the fire services in Nevada so other departments and fire districts would conduct training in a manner that's constructive and safe," Mulvihill said. "That's the goal of our office."
North Las Vegas hosted a Jan. 24 training exercise that was attended by 25 firefighters from Clark County, Las Vegas and Henderson. It involved setting a fire in a makeshift building to measure the potential effects on a victim trapped between a fire and a window or other exhaust port.
Sendelbach admitted oversights in a July 29 article penned for FireRescue Magazine, for which he serves as editor-in-chief.
Sendelbach noted students built fuel sets – hay and pallets in a pyramid – larger than allowed by national fire protection standards, which limit fuel loading for safety during live-fire training. He also noticed one of the fuel sets was placed in the center of a hallway, a location that was not previously discussed and had no protection.
"I said nothing," Sendelbach wrote.
The exercise became dangerous when fuel for use later in the training scenario spontaneously ignited.
"The net result: The drill was canceled, four fighters were injured and the credibility of the entire instructional program was compromised," Sendelbach wrote. "For what reason? A failure to speak up to stop an unsafe condition."
His silence was not because he worried about "resistance from the (rank and file) firefighters," he said. Rather, he assumed everything would "go as planned."
"I was wrong, and the unfortunate outcome was 100 percent preventable," wrote Sendelbach, who remains in charge of training for the North Las Vegas department.
No firefighters received medical treatment on the day of the incident, but two days later, a Las Vegas firefighter and a Henderson firefighter sought treatment and missed work. Two others suffered injuries that were not considered serious, according to a report summarizing the incident by retired Clark County Fire Chief Steve Smith.
That report, commissioned by the city of Las Vegas, cited a lack of communication and shoddy planning as possible causes of the incident.
"All of those involved in that incident in January, their roles were evaluated, and any discipline believed to be appropriate has been administered," said North Las Vegas City Manager Tim Hacker on Monday. "As far as Chief Gillespie, I've said as much as I can say about that."
After the accident, Las Vegas officials terminated a fire training agreement with North Las Vegas. In a May 30 letter, Las Vegas public safety chief Karen Coyne outlined that the city pulled the funding for Sendelbach's shared training coordinator position and that an operational plan was never drafted as required by the agreement.
Mulvihill, the state fire marshal, said he had not read Sendelbach's article regarding the accident.
"The incident is being studied by our office in hopes we can learn something from it so that it doesn't happen again," Mulvihill said.
Sendelbach, a 26-year veteran in fire services, also served as training chief for Savannah Fire and Emergency Services in Georgia. In 2007, while Sendelbach was in charge, a fire training facility burned down, probably as a result of the rekindling of a brush fire, according to news reports.
Sendelbach told media outlets at the time that pine needles and leaves were burned near the facility as part of ground maintenance and that high winds probably reignited the fire.
About a year later, Sendelbach was forced to resign by Savannah city officials, who kept quiet about why they wanted Sendelbach out. Calls to Savannah city officials weren't returned.
At the time of Sendelbach's departure from his Savannah job, personnel information for 60 Savannah firefighters was recovered from his office, according to news reports. The department had lost the employees' state-mandated fingerprint cards, which also include Social Security numbers and birth dates. Officials at the time said the information had been misplaced .
Artlcle by North Las Vegas Assistant Fire Chief Timothy E. Sendelbach
firefighternation.com