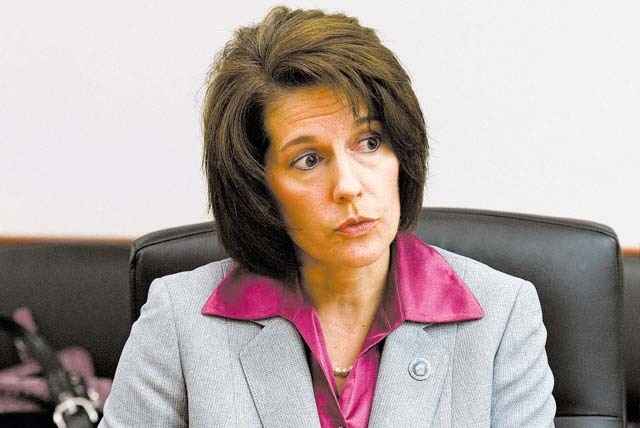 A North Las Vegas behavioral health services company pleaded guilty on Monday to felony Medicaid fraud, while the company's owners await trial on sexual assault and child abuse charges in separate cases.
Unity Family Services, as part of a plea deal, was ordered to pay $900,000 in restitution, including $100,000 for investigation and prosecution costs, by Judge Elissa Cadish.
State prosecutors said Unity Family Services, run by Marvie Hill and Eddie Wormwood, were billing for services that were never given. Unity Family Services submitted fraudulent claims using ID numbers of 79 different Medicaid recipients, according to the criminal complaint.
"Unconscionable," is what Nevada Attorney General Catherine Cortez Masto called the company's billing practices in a prepared statement. The "billing practices of this company highlight the damage caused to Medicaid by provider fraud. Corporations, like individuals, must be held to answer when their profits are derived by the theft of taxpayer dollars," Cortez Masto said.
The attorney general's Medicaid Fraud Control Unit began investigating Unity Family Services in August 2009, after the fraud unit received a tip that the company had used Medicaid funds to treat people other than the intended recipient.
Unity Family Services was contracted to provide mental health services, therapy and medication to people receiving Medicaid.
Medicaid budgets particular amounts of time and money for treatment to recipients, and Unity Family Services was billing Medicaid based on those allotments, rather than actual treatments, the attorney general's office said. Prosecutors said the fraud occurred from January 2010 through July 2012.
The company appeared to still have an active business license, according to the Nevada Secretary of State's website. However, the Unity Family Services website was no longer working and an active phone number could not be found.
The company's lawyer, David Otto, did not immediately return a call requesting comment.
Following a Medicaid fraud conviction, a company and its owners are excluded from Medicaid participation.
Meanwhile, Hill, 38, and Wormwood, 45, are set to stand trial Feb. 3 on charges they sexually assaulted one of Hill's foster children. Hill faces two felony counts each of sexual assault with a minor under 14 and sexual assault with a minor under 16 and five counts each of lewdness with a minor under 14, a felony, and open and gross lewdness, a gross misdemeanor.
Wormwood faces four counts of sexual assault with a minor under 14 and five counts of sexual assault with a minor under 16, both felonies.
Hill's defense lawyer, Bret Whipple, said the victim in the case was "very bitter" toward Hill and Wormwood following the victim's own arrest and conviction in a Medicaid fraud case. The victim blamed Hill and Wormwood for not saving him from his own criminal mistakes, Whipple said.
Wormwood is represented by Otto in the case.
Hill also faces charges in a separate case with one count of felony child abuse and 20 counts of open and gross lewdness, a gross misdemeanor. The victim in that case was also a foster child of Hill's, before Hill adopted him.
Hill is set to stand trial in that case March 17.
Both victims are now adults. The Review-Journal generally does not publish the names of sexual assault victims.
The Clark County Department of Family Services suspended Hill's foster care license and removed all children from his home following more than a dozen complaints about his care.
According to a July 29, 2011, letter from the department to Hill, the complaints involved allegations of physical abuse, threats of harm, sexual abuse and neglect and a lack of supervision from 2006 to 2011.
Hill filed a lawsuit against Department of Family Services to keep his license, but lost his bid when a judge dismissed the case in February.
Hill and Wormwood also once ran United Family Transitional Homes, a nonprofit that ran a group halfway home for sex offenders. That company's business license was permanently revoked, according to the Secretary of State's web site.
Contact reporter Francis McCabe at fmccabe@reviewjournal.com or 702-380-1039.