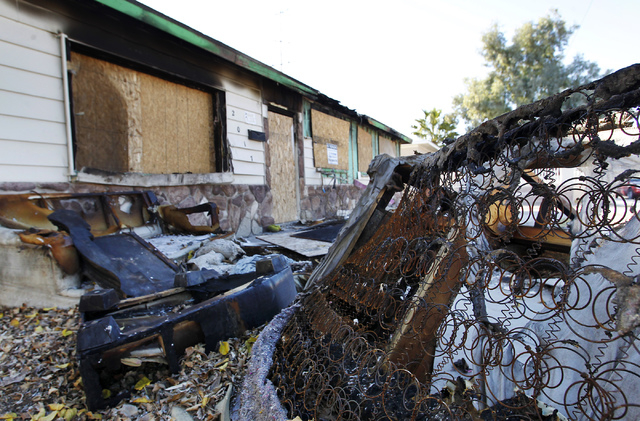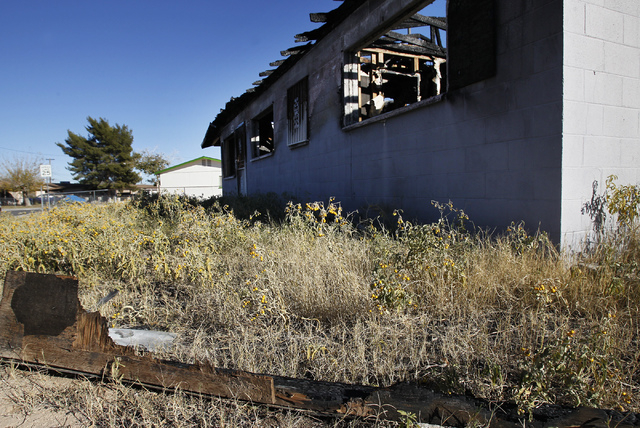 At least four abandoned homes burned within a block of Hassell Avenue last year.
Two of those homes have caught fire twice in the past six months, according to North Las Vegas code compliance department records.
One, an abandoned five-bedroom at 2017 Balzar Ave., has burned twice since the start of November, leaving a heap of torched mattresses and trash piled on the front lawn through Thanksgiving.
Another, the twice-burned, four-bedroom at the corner of Hassell and Carver Ave., has lost external beams to support charred deck roofs and half-collapsed living room ceilings.
At homes like these, where there is no fence in place to keep out squatters and neighborhood kids, longtime Hassell Avenue resident Gary Brown expects it's only a matter of time before someone is injured or killed in a roof collapse.
Meanwhile, he said, building abatement efforts along the city's most burnt residential block amount to about as much good as "a Band-Aid on a hemorrhage."
"I live in an area that is impoverished, downtrodden," Brown said. "It's full of families already living at the fringes and every time one of those houses burns, we all lose $5,000 of property value.
"I don't need that, because the way things are going, my car is already almost worth more than my house."
It isn't just the fires that worry Brown. It's the drugs, the crime, the checkerboard of abandoned and boarded up houses.
The North Las Vegas neighborhood he grew up in, where his parents first bought a house in 1963, was once part of West Las Vegas, home to hundreds of middle class black families redlined into what was then Las Vegas' westernmost frontier.
Today, he and longtime neighborhood friend Charlie Jackson count the half-mile of homes between Carey and West Lake Mead avenues — known to some residents as North Valley and others as the 40 Block — among the most blighted blocks in the city.
"I grew up on (Carver Avenue), it was lively, the most active block in the neighborhood," Jackson said. "It's been like this now for at least a year. In my opinion it's gone downhill since the Reagan Revolution in the 1980s, but its never been this bad."
Brown and Jackson — both musicians working on their fifth decade in North Las Vegas — said the neighborhood hasn't been the same since officials dismantled the oft-maligned Herbert Gerson Park housing projects in 1999.
The pair estimate around 30 to 40 percent of homes they visited as children now sit unoccupied, "at least five or six" for every block.
Both chided city officials' efforts to board up and abate those empty residences and bemoaned the recent emergence of make-shift halfway houses cropping up on several area blocks.
For Brown, the neighborhood's problems seemed to come to a head the night 2113 Hassell Ave. burned for a second time during the summer.
"The night it set on fire, the flames went up 60 feet in the air," he said. "That night the winds were blowing 30 mph. If they had shifted, who knows what would have happened to some of those houses across the street.
"It looked like Beirut, Lebanon or Detroit."
Detroit witnessed more than 5,000 suspected arsons in 2012, though it's hard to begrudge Brown the comparison along the blocks bracketing his home.
City building official Gregory Blackburn said he's familiar with seven vacant homes in the area, including five currently under arson investigation.
He couldn't put a dollar figure on the amount spent to abate those existing fire-related risks, but said code compliance visits in Brown's neighborhood have long accounted for a sizable chunk of the agency's call volume, leading to the hiring of the city's only area-specific code compliance officer in early 2012.
Blackburn chalked up recent six- and seven-month delays in housing demolitions to a lack of funding.
His department recently won City Council approval for some $200,000 in federal grant funds to demolish nine abandoned homes on the city's radar, including four in Brown's neck of the woods.
Blackburn said he could easily spend five times that amount.
"We're probably at a good time to see these (demolitions) go ahead," he said. "(Mayor John Lee) has made it a priority and that's really the way to do it, as opposed to going out and resecuring these homes multiple times or investigating them for arson. … I think it's what the community wants to see.
"I originally asked for $1 million (for demolitions) and I plan to ask for every additional dollar we can get, because I know we can use it."
Officials with the North Las Vegas Fire Department declined to comment on ongoing fire investigations.
Contact reporter James DeHaven at 702-477-3839 or jdehaven@viewnews.com.