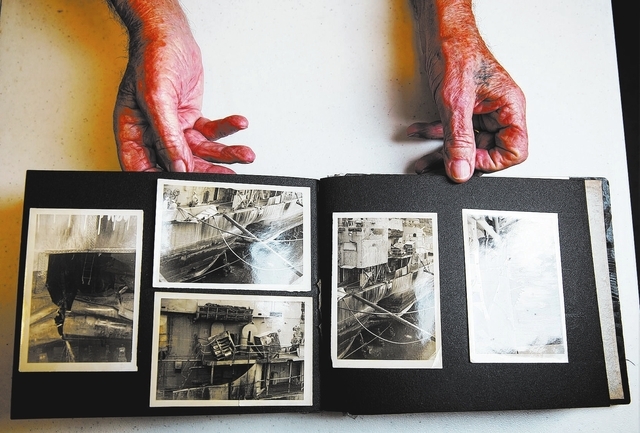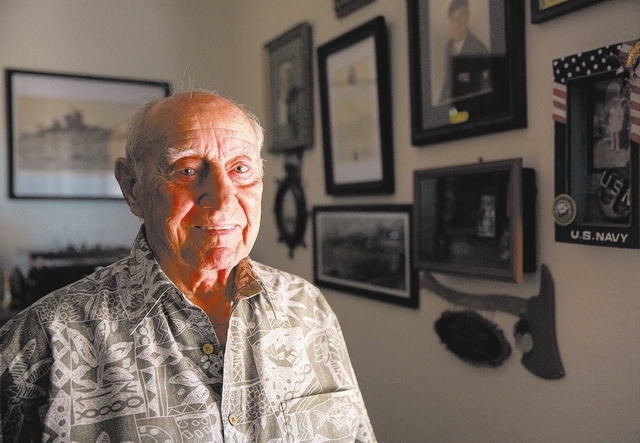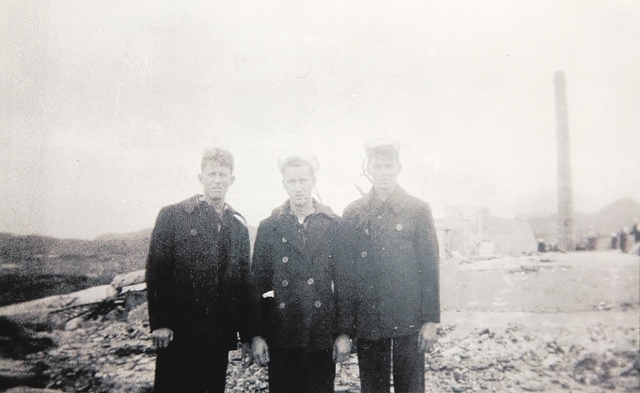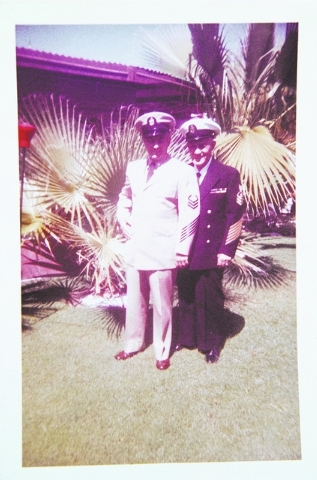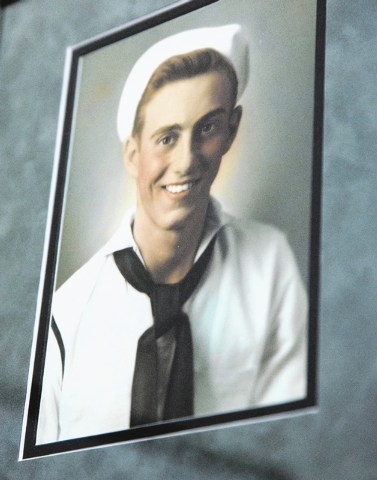 Of the 16 million U.S. veterans who survived World War II, only about 1 million are alive today.
That means in the next decade or two, as the youngest of the Greatest Generation vets approach the century mark, few if any will be left to recount their experiences, according to the National World War II Museum website.
And of those who remain, one can argue that a small fraction can say they served in two other conflicts that followed: the Korean War and the French Indochina war — the precursor to the Vietnam War. That's because most who fought in World War II opted instead for reserve duty or discharges to return to civilian life while keeping their war memories as visions of the past.
Calvin T. Pascetta, a retired Navy gunship sailor from North Las Vegas, is one of those few who can claim he dodged bullets or artillery fire in three wars. His 22-year Navy career began 41 days before Japanese warplanes attacked the U.S. fleet at Pearl Harbor on Dec. 7, 1941.
A native of Philadelphia, he was 17 when his ship, the USS New Mexico, sailed into Pearl Harbor after the attack. He was following the footsteps of his father, a career Navy man who had fought in World War I. In response to the attack, the Navy had beefed up the USS New Mexico with new guns and state-of-the-art radar.
"I wanted to get to the Pacific as quick as I could," he said, reflecting on the war on his 90th birthday, Feb. 3.
Pascetta and his wife, Joanne, moved to North Las Vegas in 2009 from Anaheim, Calif. They celebrated his birthday with family and friends and a cake trimmed with a Navy ensignia, much like the decor and memorabilia throughout their home. He's as fit as can be for a combat-hardened nonagenarian. But the aftermath of the Pearl Harbor attack is still fresh on his mind.
As his ship steamed through Hawaiian Territory waters at the onset of the war, and he saw the oil from sunken ships and bodies that had floated up from them, "It just made me sick," he said.
"I was devastated. What did I get myself into?" he asked. "The ships were all sunk. There was oil in the water. It looked like it was almost a foot thick."
During the war in the South Pacific, he also served on a landing craft — USS LST 589 — that made seven assault landings at Luzon and six other islands to invade and retake the Philippines. The tour involved evading torpedoes to deliver ammunition to Espiritu Santo and removing bodies, some that were booby traps, from beaches that U.S. troops had invaded.
"There were American soldiers, Marines and Japanese. The stench was overbearing. I can never forget it," he said.
In August 1945, about a week after the atomic bombing of Nagasaki, Japan, he witnessed the start of the surrender when some low-ranking Japanese generals landed their Betty bombers on Ie Shima, Okinawa, and gave themselves up.
"It was a relief," he said. "I was going to live longer because when we had loaded those troops to go to Japan, I knew we wouldn't make it back."
By the time he retired from active duty on Dec. 13, 1963 at Long Beach Naval Station, Calif., the ships he served on had fired salvos in crossfires at Wonsan Harbor on the Korean peninsula in 1952 and 1953 and encountered rifle fire sailing up the Saigon River when the Navy answered France's request to evacuate nearly 25,000 friendly Vietnamese, Chinese nationals and anti-communist troops in 1955.
Because of the rules of engagement, his destroyer, the USS Stoddard, couldn't fire its 5-inch guns. "The Vietnamese were shooting at us but we couldn't shoot back," he said.
His closest brushes with death came during the Korean War.
As a gunner's mate first class, he was awarded a Navy commendation for his actions on Aug. 10, 1952, when the USS Barton came under heavy enemy fire in Wonsan Harbor. North Korean troops fired 300 rounds at the ship, and the Barton fired back 388 rounds including many from Pascetta's twin-mount 5-inch guns.
"On his own initiative (he) quickly gathered the crew and … brought the guns into action promptly with telling effect on the enemy batteries. His prompt and decisive action with the ship under heavy fire was of material assistance in silencing the enemy's guns," the citation reads.
Pascetta said he remembers looking through binoculars after one of his guns hit the target on the third shot. "I could see bodies flying."
The Barton stayed engaged until it ran out of ammunition. Then as the ship was underway, an enemy round hit its stack.
Shrapnel from the blast killed one of his crew members and best friend, Dale Gray. "When I found him, he was still alive, but there was no way to save him."
The following year, 1953, on the USS Irwin, again in a crossfire at Wonsan Harbor, Pascetta's single-handed manning of the gun made headlines. While under fire, he bolted to the ammo room, grabbed a 5-inch shell and powder charge, loaded the gun and set it on automatic fire before his crew arrived.
"The rest of his 13-man crew were at their stations before it became necessary to load the gun for the second time — much to the relief of the sweating gunner's mate," the story reads.
So why did he stay in the Navy after World War II to risk his life in Korea?
"I was a lifer. This was my job."
Contact reporter Keith Rogers at krogers@reviewjournal.com or 702-383-0308. Follow him on Twitter @KeithRogers2.