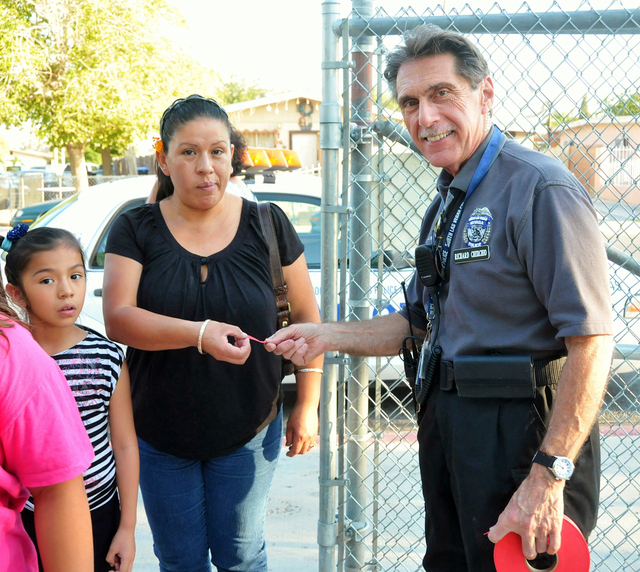 There are a lot of police volunteer groups in the Las Vegas Valley but none quite like North Las Vegas' Volunteers in Police Services Citizen's Patrol Program.
Founded in 2010, as Nevada's fourth-largest city approached the nadir of its ongoing budget crisis, the all-volunteer group was born with an eye toward patching holes in a suddenly threadbare public safety budget.
It's part of the reason North Las Vegas' volunteers — unlike citizen volunteers enlisted by Las Vegas' Metropolitan Police Department — drive department surplus Crown Victorias and wear hand-me-down jackets from the North Las Vegas Police Department.
They also carry department-issued cellphones and use the same radio wavelengths as the black and white, patrolling some of the same streets.
Apart from the gun and badge, the city's Citizen's Patrol count as cops in everything but name, according to longtime volunteer and current VIPS coordinator Joe Cavender.
"We're not armed; we call things in. We look out for graffiti or (broken) streetlights, and we report it," he said. "But when people see you out on the street, that is very effective. It gives people a different mentality because they know someone's paying attention.
"It didn't take me long to realize this is a great way to serve your community. In some of these areas where we started doing patrols, (crime rates) dropped by 50 percent."
Cavender, a musician from Seattle, is unlike many of the former military or law enforcement residents who make up the rest of the city's 31-member Citizen's Patrol.
He devotes between 65 and 90 hours a month to the job and said applicants need only to be 21, able to pass a background check and be free for roughly 12 hours a month to volunteer.
At 69, Cavender said he could do foot patrols, or "486s," all day, but what he really enjoys about the job is his citizens patrol car, a natural "visual deterrent" he suspects has earned the group many of its everyday accolades.
"We do drive through commercial centers, but I think where we're most appreciated is the neighborhoods," he said. "The really gratifying thing is when you see a mom who has noticed you on patrol, and she waves and says thank you. That's the best part (of the job)."
Group volunteers, some of whom are on call 24 hours a day, have helped NLVPD officers coordinate and staff everything from monthly DUI checkpoints to President Obama's 2012 campaign stop at the College of Southern Nevada's Cheyenne campus.
Later this month, they plan to help patrol the long-awaited grand opening of the city's 170-acre Craig Ranch Regional Park, though on a day-to-day basis, group volunteers are more likely to be spotted patrolling a shopping center parking lot or walking area neighborhoods.
The idea, according to group founder Richard Cherchio, is to pick up the type of neighborhood policing beats many municipal departments can no longer afford to staff.
With thousands in support pouring in from partners such as the Cannery, Medic West and Republic Services, Cherchio said it's clear the group's hyperlocal patrol efforts haven't gone unnoticed.
"I don't need to sell the program to them; it sells itself," the former Ward 4 city councilman said. "We've collected around $3,500 from these businesses in the last two or three months. … In some ways, that falls right in line with (Mayor John Lee's) vision of public-private partnerships because you're not going to get business investment if people are scared to move here."
Cherchio, who still walks the volunteer police beat, said the biggest advantage of a volunteer police force is the ability to free up time for police officers to focus on the stickier parts of their job.
Behind every volunteer acting as a traffic cop, he said, there is a city cop able to help make a domestic violence or burglary arrest.
In a city with a police force some see as dangerously understaffed, that counts as a good day's volunteer work.
"We haven't heard of a police officer who doesn't love the program," Cherchio said. "They work very closely with us, and that gives us a very good sense of what these police officers deal with.
"It's a fact that we've saved them a lot of hours directing traffic after a motorcycle accident. Stuff like that can make a big difference, especially when you're short-staffed."
For more information on North Las Vegas' Volunteers in Police Services Citizen's Patrol Program, contact Cherchio at 702-325-6708 or richardcherchio@yahoo.com.
Contact Centennial and North Las Vegas View reporter James DeHaven at 702-477-3839 or jdehaven@viewnews.com.