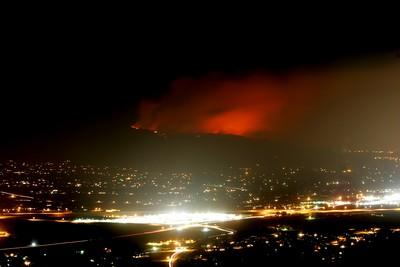 RENO — Crews battled more than two dozen large fires burning across nearly 200 square miles of rangeland and timber in Northern Nevada on Wednesday, including one on the edge of Reno where the threat to hundreds of homes was subsiding despite winds up to 40 mph.
"In a sense you feel like we're under assault from Mother Nature right now," said Jamie Thompson, a spokesman for the U.S. Bureau of Land Management in Winnemucca.
No injuries were reported, and no evacuations had been ordered in the Reno area.
About 400 homes remained on alert Wednesday afternoon because of gusty, erratic winds fanning the 2,900-acre fire burning in protected wilderness in a national forest northeast of Lake Tahoe. But fire officials said the threat to the homes had been reduced, and an evacuation center set up at a Reno high school was shut down.
"There has been no activity and the … fire is not posing a threat to homes. We remain on standby should things change," said Randi Thompson, spokeswoman for the American Red Cross of Northern Nevada.
Many of the fires were burning north and south of Interstate 80 in north central and northeast Nevada. The interstate was closed in several places because of heavy smoke between Winnemucca and Wells, as were parts of state Route 305 south of Battle Mountain and state Route 278 south of Carlin.
The biggest blaze in the state, the Kelly Creek fire, had burned nearly 80 square miles of mostly federal rangeland about 30 miles north of Winnemucca.
The pilot of a small airtanker escaped serious injury when his aircraft crashed Tuesday night while attacking a 3,000-acre fire about 15 miles south of Winnemucca.
The pilot, whose name was not released, was pulled from the wreckage by firefighters and taken to a local hospital, where he was treated and released, Thompson said.
"Other than being pretty well soaked with slurry and aviation fuel, he was OK," Thompson said. "They cleaned him up and sent him home."
In Reno, 400 firefighters were aided by five helicopters and six airtankers dropping water and retardant on the Hawken fire, which forced hundreds of evacuations when it broke out Monday afternoon, burning up to the backyards of numerous homes.
Fire managers reported progress and estimated the fire to be 5 percent contained.
"A couple of things are working in our favor so far," said Brandon Hampton, spokesman for a federal interagency fire team directing firefighting efforts.
"The winds are blowing the fire back up into itself, which is great for the firefighters on the line," he said.
Fire engines were positioned to protect homes in southwest Reno on the northern and eastern fronts of the fire while hand crews dug fire lines on the fire's western and southern flanks in the Humboldt Toiyabe National Forest, which is between the city and Lake Tahoe.
"At this point, I'd say as long as the fire stays on the hill, the homes are OK. But if the wind shifts, it could threaten homes," Hampton said.
The cause of the fire remained under investigation.