Not all health care careers require a medical degree
October 22, 2013 - 12:25 pm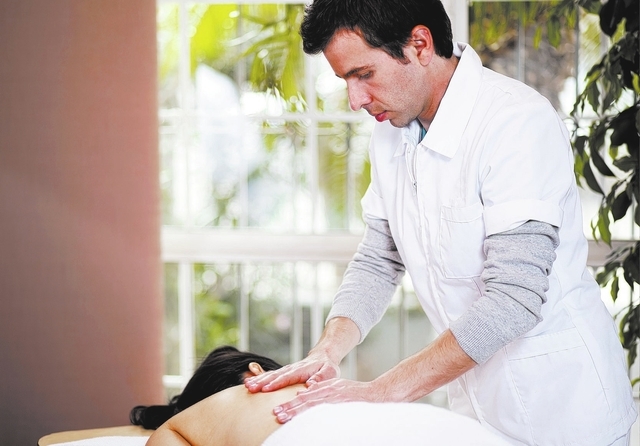 When you ask a child what medical career he or she wants to enter, you will hear, "I want to grow up and be a doctor," or, "I'm going to be a nurse." Have you ever heard, "I'm going to be a cardiovascular technologist," or, "I want to grow up and be a diagnostic medical sonographer"?
For years, the standard mantra was that to provide for a family you had to have a good job, and to get a good job you needed a college education. However, while the recession took a shark-sized bite out of many incomes because of job loss, reduction in job level or loss of investment nest egg, the cost of a college education increased unabated.
The prospect of becoming saddled with student loan debt has turned many to search for alternatives to the four-year plus degree. If you're interested in a health care career but don't want to go down the traditional path, consider the many health care jobs that don't require a medical degree.
According to the Bureau of Labor Statistics, the health care profession will be the fastest-growing segment of the workforce from 2010 to 2020. Jobs in health care are projected to grow by an average of 29 percent.
These projections came before Obamacare changed the way the health care system will operate. The Congressional Budget Office estimates 39 million more people will be covered by medical insurance once the Affordable Care Act becomes fully operational.
Think about your visit to the doctor's office. Before you see the doctor you're handled by at least two or three people from the front desk to the exam room. If the doctor orders procedures such as X-rays, blood draws, urinalysis, ultrasounds, electrocardiograms, etc., you will see additional people who specialize in these procedures. We spend much more time with medical professionals who do not possess a college degree than we do with our doctors.
Diagnostic Medical Sonographer
If you've ever had an ultrasound, you were most likely in the hands of a sonographer. A sonographer is a highly skilled professional who operates specialized equipment that sends a stream of high frequency sound waves into the human body to create images to be diagnosed by a physician.
Sonography has grown significantly during the past 20 years. The number of specialized areas of expertise continues to grow and sonographers can work in physician offices, hospitals, clinics, laboratories and other medical settings. Diagnostic medical sonography programs vary from one to four years and the median salary for a sonographer is $78,520 in 2013, according to the Society of Diagnostic Medical Sonography.
Medical Assistant
No doctor's office is complete without a medical assistant or two for each doctor on staff. A medical assistant might be the first and the last person you see during your appointment
If you're looking for hands-on work with patients, plus a variety of important tasks to make the office run smoothly, being a medical assistant might be the career for you. You could be responsible for the front desk, filing insurance forms as well as tasks like taking vitals, drawing blood, sterilizing equipment and recording medical histories. Although training is frequently provided on-the-job, there are one-year certificates and two-year associate degrees offered by quality schools.
The Bureau of Labor Statistics projects medical assistant opportunities will grow more than 30 percent from 2010 to 2020. That's a respectable 162,000 positions that will open up.
The median annual wage in 2011 was $29,100 with the top 10 percent earning over $40,000. With entry level requiring just a high school diploma, the competition may be fierce.
Make yourself stand out by getting to know the people who hire medical assistants. For example, do volunteer work such as blood drives and free clinics for the poor.
Registered Health Information Technician or Medical Records Specialist
With medical records going electronic, a skilled registered health information technician is a vital part of a medical team. The registered health information technician ensures the quality and accuracy of electronic health records and stores them appropriately. Coding diagnoses and procedures is an important part of their daily activities.
A credentialed, registered health information technician performs the following functions:
n Ensures the quality of medical records by verifying their completeness, accuracy and proper entry into computer systems.
n Uses computer applications to assemble and analyze patient data for the purpose of improving patient care or controlling costs.
n Often specializes in coding diagnoses and procedures in patient records for reimbursement and research.
An example of an additional role for registered health information technicians is cancer registrars — compiling and maintaining data on cancer patients.
Most registered health information technicians work in hospitals and physician offices, but you will find them in pharmaceutical companies as well. The projected growth rate for health information technicians is 21 percent and their median salary is $32,350.
Dental Assistant
When was the last time you looked forward to going to the dentist's office? If you work in one, the answer might be just yesterday.
Dental assistants perform a variety of patient care, laboratory and office duties. They greet you at the front desk, keep your dental records accurate, send you a bill or take your payment, sterilize dental equipment, prepare dental trays for the dentist and work with patients to assure they understand post-operative procedures.
That person handing the dentist the tools he needs to work on your teeth or putting that suction device in your mouth could very well be a dental assistant.
On-the-job training with a high school education is where some dental assistants start out. To further enhance their career prospects, many attend community and junior colleges, trade schools and technical institutes which offer certificated programs. Job growth for dental assistants is well above average and median annual salaries are in the mid $30,000s.
Physical Therapy Assistants and Aides
With an associate degree in physical therapy assistance, or a high school diploma and on-the-job training as a physical therapy aide, you will help patients recover from injury or illness. You'll help patients improve mobility, relieve pain and overcome the effect of disabilities.
Physical therapy assistants do hands-on work with patients as they exercise and recover. Physical therapy aides also provide support services around the office. If you like helping people, this could be your ticket.
Job prospects for physical therapy assistants and aides are excellent, with the Bureau of Labor Statistics projecting a 45 percent increase from 2010 to 2020. The average pay for a physical therapy assistant is more than $49,000 a year, and pay for a physical therapy aide is nearly $24,000 a year as of 2010.
Occupational Therapy Assistants and Aides
An occupational therapy assistant is similar to a physical therapy assistant in that you need a two-year associate degree. As an occupational therapy aide, a high school diploma should be sufficient.
Occupational therapy assistants and aides work with a wide range of patients who must cope with long-term disabilities or illnesses. Assistants work more closely with patients, providing therapy under the direction of the occupational therapist. An aide will usually provide a support role to the therapist and the assistant.
An occupational therapy assistant typically will work with occupational therapists to develop a patient's treatment plan while the assistant carries out the plan with the patient.
The plan could be as simple as helping a patient learn how to move into a wheelchair from a bed or stationary chair, or it could be more complex, such as teaching a patient how to cope with re-entry into the workforce with the loss of some motor skills. You might help one patient learn how to use his wheelchair, while another will need assistance with a daily stretching and exercise regimen.
Occupational therapy aides have less direct patient contact and are primarily responsible for preparing equipment and materials, filling out insurance forms and other paperwork and other office tasks. Growth for occupational therapy assistants and aides is projected at 43 percent and pay is slightly higher than the physical therapy equivalents.
Veterinary Technician
If you love animals, a career in a veterinary office might be for you. With a two-year associate degree, you'll work alongside a veterinarian to help treat and diagnose the illnesses or injuries of animals.
Job outlook is excellent, with the Bureau of Labor Statistics projecting a 52 percent increase in this field between 2010 and 2020. If you like large animals and a country atmosphere, there's likely a rural clinic looking for you. Expect an average annual pay around $29,000.
Massage Therapist
If you don't have time for that two-year associate degree, but you want a satisfying career working with people to ease their stress and pain, then consider becoming a massage therapist. Massage therapists treat clients by touch to relieve pain, reduce stress, rehabilitate injuries and provide relaxation.
It will take as little as eight months to receive your training and certification, then you can work with a massage therapy clinic or strike out on your own. In addition to a massage center, massage therapists are employed in doctor and chiropractic offices, spas, resorts, on cruise ships and in vacation destinations. Most resorts and salons in Las Vegas employ massage therapists.
Median pay for a massage therapist is about $35,000 a year. Massage therapists working on their own typically charge $50 to $75 an hour.
Home Health Aide
The home health aide provides personalized, in-home care directly with a patient. Patients are usually recovering from surgery or injury, but can also need long-term care for disabilities or impairments.
Duties include personal care ranging from household chores to basic health care services like checking pulse rates and other vital signs and making sure proper medication is taken as prescribed by a physician. The increase in number of elderly patients needing home care, brought on by aging baby boomers, is primarily responsible for a projected growth rate of 70 percent through 2020 for this discipline.
The median income is about $10 an hour. Training can be accomplished online or on-the-job.
Pharmacy Technician
Pharmacy technicians work under the supervision of a pharmacist in retail pharmacies, hospitals and other clinics where medication is dispensed. They take calls from physicians that order prescriptions, prepare documentation, record medication histories and work directly with pharmacists counting and dispensing medication. Attention to detail is a major requirement of this occupation.
A 32 percent growth rate is the highest projected average growth rate of all listed occupations. A pharmacy technician should expect an average annual pay of around $29,000.
Other opportunities
The list of possible health care jobs that do not require a medical degree is long. Serious consideration and online research should disclose opportunities in the following additional careers as well as others:
n Radiologic technologist and technician
n Cardiovascular technologists and technicians
n Phlebotomy technician
n Certified nurse assistant
n Dental hygienist
Las Vegas is not only a great place to live and work, but a popular place to retire. It is not surprising that it is also home to a number of excellent schools and technical institutes that provide health care training and certifications. Many of the same student aid benefits available to college students are available to those who attend an accredited training school.
The following list is representative of schools and institutes in Las Vegas that provide health care training or certifications:
n Carrington College: Respiratory Care
n Everest College: Massage therapy, medical assisting, medical administration assistant
n Kaplan College: Medical assistant, medical insurance billing and coding, pharmacy technician
n Milan Institute of Las Vegas: Medical assistant, dental assistant, massage therapy, nursing assistant, pharmacy technician
n National University: Health care administration
n Northwest Career College: Dental assisting, massage therapy, medical insurance specialist, phlebotomy
n Nevada School of Massage Therapy: Massage therapy
n Pima Medical Institute: Dental assistant, medical administrative assistant, medical assistant, pharmacy technician, respiratory therapy, veterinary assistant, veterinary technician
Explore these and others that you find online and advertised in this newspaper and you could be well on your way to a satisfying career in health care that doesn't require a full medical degree.