Not-so-famous five in spotlight as they hold key to budget
November 30, 2010 - 7:50 pm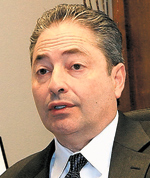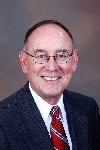 CARSON CITY — John Restrepo. Michael Alastuey. Matthew Maddox. Andrew Martin. Linda Rosenthal.
Recognize any of these names?
Probably not.
But today , these five people will gather as members of Nevada's Economic Forum and for the moment have more power over future state government spending than Gov.-elect Brian Sandoval or any legislator.
Under a law passed in 1993, the Economic Forum determines how much tax and fee revenue will be available for state government to spend during each two-year budget cycle.
Sandoval and departing Gov. Jim Gibbons must use the forum's figure — expected to be about $5.4 billion — in creating the budget that they will submit to the Legislature on Jan. 24.
The Legislature cannot change the figures — at least not until May 1. On that date, the Economic Forum will meet again and estimate the final figures that must be used in the budget for the July 1, 2011, through June 30, 2013, period. The final estimate also will be binding on the governor and Legislature.
"I take it very seriously," said Martin, a Las Vegas certified public accountant. "All the forum members are talented people. We review data, question people. But we don't accept everything they say."
Restrepo said their job has been made more difficult because of the global recession.
"That is something in the past you didn't have to pay attention to," he said. "You just assumed ongoing revenue growth. Well, Nevada wasn't recession-proof."
Before making their projections, forum members will listen as state agency directors, the governor's budget advisers and legislative fiscal analysts offer their own estimates of how much revenue the state's primary taxes will generate.
The private economic research firm Moody's Analytics also will offer a forecast.
Forum members, who do not have to accept any of the projections, will bring into the meeting their own knowledge of the state's economy and whether they think good or bad times are ahead.
Maddox and Rosenthal work in the gaming industry. Restrepo and Alastuey are employed by firms that do economic forecasting.
For their efforts, forum members each are paid the sum of $80.
Martin said that he did not even know the pay and that the pay is immaterial. They are voluntarily taking time off their jobs to perform a public service for the state. Restrepo said he never has filled out the paperwork for the pay.
The Economic Forum was created because legislators could not say no to increased spending when they passed budgets. They built budgets based on the hope that the necessary money to fund them would materialize.
This way of building budgets in Nevada worked as long as the economy was growing. But legislators approved record spending at the 1991 session, only to find revenue came in far short when a recession hit in 1992.
So they decided that a more objective way of projecting state revenue was needed. The Economic Forum was their solution.
Three of the forum members are appointed by the governor, the others by the Assembly speaker and Senate majority leader. Members serve two-year terms and can be reappointed. None of the current members served before 2008.
A Legislative Counsel Bureau analysis in 2005 found the forum's projections made every other May 1 since 1995 underestimated revenue receipts by an average of 2.6 percent, or $110 million for each two-year budget period.
The forum's best forecast, made in 1997, was off by only 1 percent from actual tax collections.
But in May 2001, forum members projected state revenue during the 2001-03 period at $3.577 billion. It came in 4 percent less than that largely because of the recession that followed the Sept. 11, 2001, terrorist attacks.
Then the economy boomed beyond forum expectations. In the 2003-05 budget period, the forum predicted tax revenue of $5.147 billion. That was 8.3 percent short of actual tax receipts.
Because of that boom, Gov. Kenny Guinn and legislators had a surplus of $707 million. They returned $300 million of it to taxpayers after the 2005 session.
Since mid-2007, Nevada has been in a deep recession, now called by many the great recession. Forum members didn't see how bad it would become.
Because their projections were overly optimistic, legislators met in two special sessions in 2008 to deal with a $1.5 billion shortfall.
With the recession lingering on and tax dollars falling even more, legislators met in another special session in February of this year to handle an $805 million shortfall.
Legislators in the 2010 special session came up with a patchwork of solutions.
Money was taken from state agency reserves, federal stimulus and local government funds, and fees were increased, so that state government could keep operating at close to its existing spending levels.
Actual state spending was reduced by $300 million. If the forum forecast Wednesday sees tax and fee revenue reaching $5.4 billion over the next two years, that would be $1 billion less than current spending.
Forum members will arrive in Carson City knowing that Nevada has had three straight months of increases in sales tax revenue and that the unemployment rate dropped last month for the first time in five years.
But is recovery looming?
"It is just hard," said Rosenthal about the task of projecting tax revenues more than two years into the future. "You can't just rely on historical trends. There has been nothing consistent. We listen and apply logic."
Contact Capital Bureau Chief Ed Vogel at evogel@reviewjournal.com or 775-687-3901.