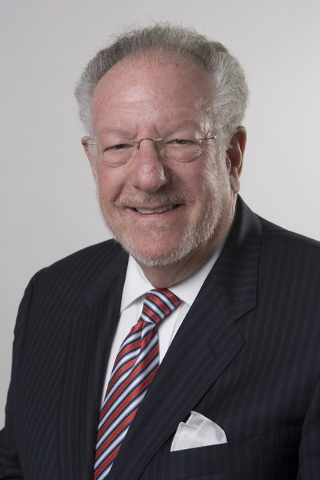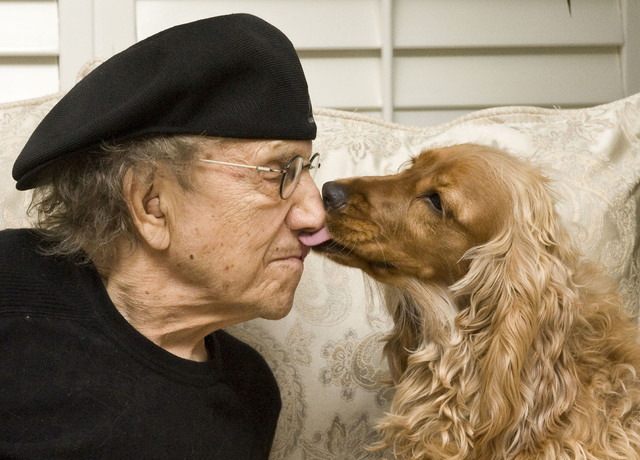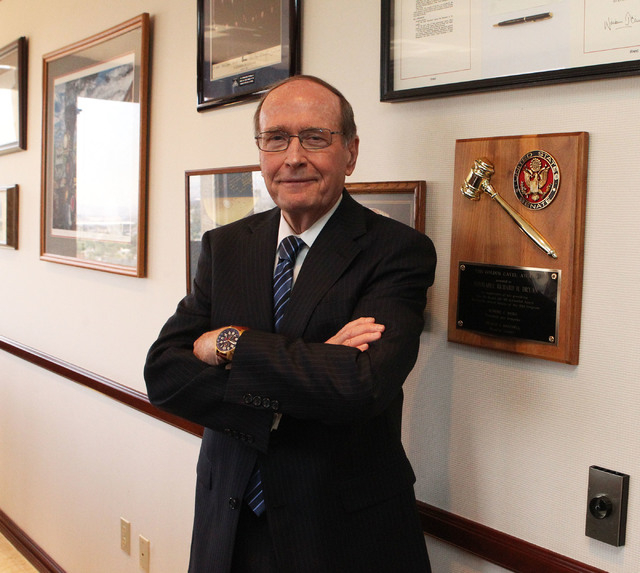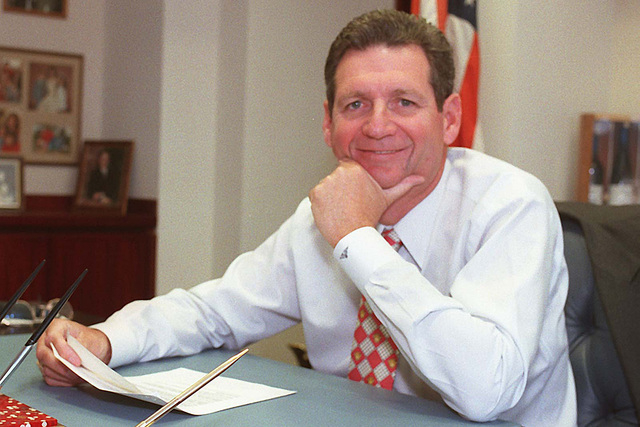 It's been 50 years since President John F. Kennedy was assassinated. Review-Journal columnist Norm Clarke asked some notable Nevada residents to recall their memories of that tragic day.
HARRY REID, U.S. SENATE MAJORITY LEADER
"I was a law student at George Washington University. I went to school all day. I was a full-time student and worked at the Capitol at nighttime. I was studying prior to coming to work.
"Someone walked in – I was hanging around studying – I was alone, and someone walked in and said the president's been shot. I said, 'What?!"
"The president's been shot.'
"By the time I got to the Capitol, all the news said he's going to die. "
Postscript: After Reid was elected to the U.S. Senate in 1987, Sen. Ted Kennedy, D-Mass., would stop inside the entry to Reid's office and read a framed letter from JFK.
"I got that letter between the time he had been elected president and when he was inaugurated." The letter is signed Jan. 13, 1961, a week before JFK's inauguration.
"He sent me the letter," said Reid, "because at Utah State University I formed the first Young Democrats club there and he wrote me this kind of a long letter telling me thank you.
"And Ted Kennedy used to come in here and look at that letter and he said, 'That's really his signature. That's my brother's signature.' I have that as one of my prized possessions. It survived all my five kids and all the stuff they ruined for me."
I asked Reid if he had any questions in his mind about the assassination. Has he ruled out mob involvement?
"As far as I know, he was killed by Lee Harvey Oswald," he said.
A strong friendship developed between Ted Kennedy and Reid.
A few years after the death of Ted Kennedy in 2009, U.S. Sen. Chris Dodd, D-Conn., and Reid decided to visit the grave of their former Senate colleague.
"Chris was closer to him than me, but Ted Kennedy was so good to me.
"So one day, just him and I, no one was with us, we had our suit and ties on, we wanted to show proper respect, and we went to Arlington Cemetery, and of course John Kennedy is there and the eternal flame burning.
"We go to the grave and stand in front of Teddy's grave and I read a wonderful poem that's alleged to be his mother's favorite poem called The Mother, written by an Irish revolutionary.
"It's a wonderful poem. I read that poem and Chris reached in his coat pocket, and pulled out one of those little whiskey bottles like you'd get on an airplane and put it on his grave and said, 'Teddy, we love you.'
"That's the last time I went out there."
OSCAR GOODMAN, MOB ATTORNEY, EX-MAYOR
"I was attending the University of Pennsylvania law school. I had a job as a clerk in the district attorney's office in Philadelphia.
"I was working under the mentorship of Arlen Specter, who subsequently became a member of the Warren Commission (which was charged by President Lyndon Johnson to investigate the assassination).
Goodman was on his way up to the office on the elevator when he heard the president had been shot and that it was fatal.
" I thought the world was going to come to an end, to be honest with you," Goodman said. "He was a dynamic personality and represented all the good things that were happening in our country at the time and I didn't know how we'd be able to recover."
But it was "a life lesson," he said, "because a couple days later, Jackie, his wife, and two children (accompanied the horsedrawn casket) down a thoroughfare in Washington. We didn't miss a heartbeat and America recovered because of her stalwart, outward appearance."
I asked Goodman how he answers the still-lingering question: Was the mob involved in the assassination?
His response: "It would be pure speculation on my part."
Goodman was pulled into the vortex of the Warren Commission three weeks after arriving in Las Vegas in late August 1964.
Three weeks earlier, Breck Wall, a co-producer and performer in the burlesque revue "Bottom's Up" at the Castaways, was called to testify by the Warren Commission. Wall was a friend of Jack Ruby, the Dallas strip club operator who gunned down Lee Harvey Oswald two days after JFK was assassinated.
Wall hired Goodman after being deposed in the U.S. Post Office building, now known as the Mob Museum, by Goodman's former boss, Arlen Specter, assistant counsel of the commission.
Nothing came of the grilling. The only thing Wall was guilty of was befriending the eccentric Ruby.
Postscript: Years later, JFK's brother, Sen. Ted Kennedy would attend political parties at the Goodman residence. He invited the Goodmans to his compound in Hyannisport, Mass.
"I couldn't go but my son, Ross, and his wife, Emily, took my place. He was in the Marine Corps and they went up there and went boating and played touch football with 'em.
"We were also in Teddy's office the day he was heading home for a wedding and that was the day Jack Jr. died in the plane crash on his way that wedding.
"It's a small world."
COMEDIAN SAMMY SHORE
"Jack Ruby was a dear friend of mine," said Shore, who toured the country when he wasn't opening for Elvis, Liberace and too many big-name entertainers to list.
Every time he worked Dallas, usually at the Baker Hotel, he would meet Ruby at the latter's nearby Carousel club.
"Jack Ruby was not involved with the mob. He was a real patriot," said Shore. "He told me when I was able to get a minute with him that he shot Lee Harvey Oswald because he did not want Jackie to go through the pain of a long trial. Take it for what it's worth."
Shore was opening for Liberace at the Holiday House in Pittsburgh on the day JFK was killed.
"Lee was so upset he could not go on that night," said Shore, 86.
TEMPEST STORM, BURLESQUE ICON
Exotic dancer and JFK mistress Tempest Storm was backstage putting on her makeup in a dressing room at Honolulu's infamous Forbidden City strip club.
She had a 1 p.m. show coming up.
Seedy strip clubs didn't have TVs backstage in those days.
She turned on a radio and stiffened in shock at the horrifying news.
"I stood there and cried," said Storm, a frail, flame-haired icon in her 80s.
When she took the stage, she burst into tears again. "I wasn't sure I could finish the show."
"That was the toughest night in my entire show business career," said Storm, who first performed in the Las Vegas area in 1951 and moved back here a decade ago.
Her JFK connection had started six years earlier in a Washington nightclub, said Storm, whose many nicknames included "Tempest in a D-cup."
"He was a senator then. His entourage came into the club, a legit nightclub. Not burlesque.
"Somebody came up to me after I performed and asked if I'd like to meet Kennedy.
"I said, 'Why?' "
" 'That doesn't matter,' he said."
She agreed to an introduction.
A meeting was arranged and the stunning flame-haired Southern belle showed up for dinner with Kennedy at the Mayflower Hotel
"He was a very charming man," she said.
Following dinner, they went upstairs to a room, said Storm. It was the start of a multiyear affair with the dashing senator. She wasn't precise on how long the relationship last it lasted, but she recalls calling him when he was in the White House.
Did she use a fake name?
"No," she said.
There were many rendezvous, she said, "strictly at the Mayflower," where it has been reported FBI director J. Edgar Hoover had lunch almost every day for 20 years.
According to the Washington Post, Kennedy had a number of trysts there. A Kennedy biographer reported one of his mistresses was Judith Exner, a mob associate who had met Kennedy at the Sands Hotel in February 1960.
Kennedy regularly courted scandal, said Storm.
"We'd take a run down by the river, arms around each other," she said. "It was like 'Barefoot in the Park,'" Storm said, referring to the 1967 film starring Robert Redford and Jane Fonda.
"The bodyguards would follow us," she said.
Postscript: The affair didn't surface until years later when Storm said she was blindsided during a "Johnny Carson-like television show" in Detroit.
The host turned to her and said, "I understand you slept with President Kennedy." Storm attempted to deflect the question by saying "all these women said they were sleeping with him."
The host persisted, asking "What did you talk about?"
Storm blurted, "It certainly wasn't politics."
Storm lamented, "I was trying to be a lady about the whole situation and I really put my foot in it."
But, she added, "Absolutely no regrets. I feel very honored I had a chance to meet one of the greatest presidents in the history of our country."
STEVE LAWRENCE, ENTERTAINER
"I was rehearsing for my first Broadway show, 'What Makes Sammy Run' at the 54th St. Theater. I called Eydie and said how about we meet at Al and Dick's steakhouse when rehearsal broke. Arthur Storch, the director of 'Sammy' joined us. It was a busy place. Noisy. Forks banging on tables. Suddenly someone came in and yelled 'Turn on the television, the president's been shot.' The place fell quiet. It was a breathtaking moment and a horrible time in the history of this country. I think a piece of this country died as well. The world had gone crazy."
Postscript: The rehearsals were canceled until after the president's funeral, said Lawrence, who received a Tony nomination for his lead role in 'What Makes Sammy Run.'
"We had gone to his inauguration," he said. "I was just getting out of the service.
"It was a cold day. We had warmers in our coats, scarves and gloves. We sat across from the platform where he spoke. He gave hope to our country. He brought Camelot to this country. Hope and clarity. I hope and pray to God this country never has to go through that again."
Lawrence and Gorme, who were married at the El Rancho Hotel in Las Vegas on Dec. 29, 1959, went on to become of the most popular husband-wife teams in show business.
For years, they were the opening act for Frank Sinatra.
RALPH LAMB, FORMER SHERIFF
"I was sheriff at the time. I was with a couple of my brothers in a little coffee shop in Twin Lakes, on the road to Tonopah. I was just in shock because I loved the guy.
"I knew him when he was a senator. I met him before I was sheriff. I was sheriff from 1960 on. Somebody at the Sands introduced him to me. I never dreamed he would be president. He never forgot who you were."
Postscript: One of Lamb's most famous run-ins was his 1966 altercation with high-ranked mobster Johnny Roselli at the Desert Inn.
Lamb had sent word for Roselli, a member of the Chicago outfit, to appear at the sheriff's office. When he failed to show, Lamb sent a rookie cop into the Desert Inn to remind Roselli of his date with the sheriff.
When Roselli, who was seated in a booth with Desert Inn operator Moe Dalitz, dismissed the rookie cop, Lamb, who was waiting nearby, took over.
"I presented myself. He wanted to scuffle," Lamb said in a telephone interview last week.
"He wasn't scared of nothing. I grabbed him by his tie and shirt and pulled him over the table. That's when things got violent. We busted a couch and I bent him over the desk where you checked in. I was young and fearless. But he needed it, and I wanted them to see what kind of treatment they got when they got out of line.
"He had been shaking everybody down," said Lamb, including the U.S. government.
According to CIA documents released in 2007, the agency hired Roselli to eliminate Cuban leader Fidel Castro for $150,000.
Chicago mob boss Sam Giancana, who was involved in plans to kill Castro, was assassinated June 19, 1975, at his home, less than a week before Roselli was called to testify before the U.S. Senate Select Committee on Intelligence about the CIA plan to whack Castro. The committee had also called Giancana to testify.
Roselli testified before the select committee about a conspiracy to kill Kennedy later that month and also in September. Three months after his first round of testimony, Roselli disappeared after being recalled by the commission. His dismembered body was discovered in an oil drum floating in a bay near Miami in August 1976.
WAYNE NEWTON, ENTERTAINER
"I was in New York City when it happened. I had done two or three Jackie Gleason shows and they were holding a dinner for Mr. Gleason at the Americana Hotel. Mr. Gleason had asked that I be the entertainment. We had flown back to New York and were staying at the Park Sheraton, and I kept trying to get the operator for something. Finally after about four or five minutes of getting a busy signal, when she answered I said, 'Jeezus, is there a problem, because I was trying to get you for about five minutes.' She said, 'Sir, you evidently haven't turned on your television.'"
After watching the TV coverage for a while, he left for the rehearsals at the Americana Hotel.
Newton recalls walking down a street, "it may have been Broadway, and it was absolutely surreal. Everybody was absolutely weeping and it was the strangest thing I've ever seen. Of course I was a lot younger than I am now, and did not understand the true significance of that assassination. It was strange because the weeping and sadness wasn't a political thing. It was the realization, I think, that that kind of terrible thing could happen in this country."
Postscript: The Gleason dinner was canceled. After the assassination, Newton received a package in the mail.
"I was very close with the White House photographer who came with him from Boston. He sent me pictures, to my knowledge, that have never been published. It was John and Jackie Kennedy's wedding, and who's sitting at the side of him, of course, was Robert Kennedy. Bobby Darin, who was like brother to me, was a close friend of Bobby Kennedy. His assassination is really what put Bobby (Darin) over the edge and caused him to go into that seclusion period, the two or three years when he stayed in in Big Sur in a trailer. He quit talking to everybody, sold everything, stopped wearing his toupee and lived in a trailer. No one other than his son, Dodd, even knew where he was."
RICHARD BRYAN, FORMER NEVADA GOVERNOR, U.S. SENATOR
"I had just been admitted to the Nevada Bar two days before, on Nov. 20. I was working as an associate of the Foley brothers. All five of the brothers were lawyers, the oldest brother at the time was a federal district court judge.
"Three of the brothers were in the firm called the Foley brothers. That would be Tom, who later became a district court judge; Joe, who later became a regent; and John, who later served with the state Senate with me.
"The reason why I think this is important, all three of them were Irish Catholic, only John survived today. So they were big Kennedy fans. In September (1963), Kennedy came to the Convention Center to speak to some gathering. Gov. Grant Sawyer and Sen. Alan Bible, Sen. Howard Cannon and at least one or more of the Foleys were there. This was a big thing in 1963, an Irish Catholic being elected president.
"And in our office hung a photograph that was taken that day at the Convention Center. It was a very stylized photo, where he is at the lectern speaking to the audience and these lights are streaming down from the ceiling.
"The Foleys had just built a new office building, it's still there at 228 S. Fourth St., literally a half a block from where I am speaking to you today.
"It was mid-morning, maybe 10 o'clock, and Tom Foley had a radio in his office and all of a sudden these reports began to come through that the president's motorcade has been fired upon. So all of us kind of huddled around the radio in Tom's office, near this picture of Kennedy addressing the Convention Center a couple months before."
Postscript: The reaction to the grim news of Kennedy's death, said Bryan, was immediate.
"We closed the office, some of the resorts turned off their lights, downtown, which was still the core of the retail business, wreaths hung in the windows. The Strip shut down for a period of time."
Bryan, who served as U.S. senator from 1988 to 2001, works for the law firm for Lionel, Sawyer and Collins.
BOB MILLER, NEVADA GOVERNOR, 1989-99
"I was a freshman economic major at Santa Clara University. I walked out of the classroom into a common area and people were all abuzz.
"I heard someone say 'They killed the president.' I went to my room to watch TV."
That evening he had a blind date and "we were both so dazed by the Kennedy situation we couldn't remember anything about that night."
Postscript: In the summer of 1968, Miller was in the Army reserves between college and law school. He was in Los Angeles taking a speed-reading class. Late one night he was in the lounge at the Ambassador Hotel when he ran into a fellow reservist.
"I started talking to him. He was a professional photographer," said Miller.
"He was there to hear Bobby Kennedy's speech and take some photos. He said, 'Do you want to come with me?' Miller declined.
Twenty minutes later, the reservist found Miller in the jammed, noisy lounge.
He leaned in and told Miller, "They shot him" and pulled Miller outside the lounge.
Kennedy, then a U.S. senator from New York after serving as U.S. Attorney General for his brother, JFK, was mortally wounded shortly after midnight on June 5, after scoring a major victory in the California presidential primary.
"Hearing about JFK's death was one thing. With RFK, being there in a horrible situation was an overwhelming feeling. You could have cut the air with a knife. I went from a noisy crowded bar to dead silence."
SHECKY GREEN, COMEDY LEGEND
Shecky Greene has no memory of JFK's assassination.
"I don't know where I was," he says from his home near Los Angeles.
No joke.
"I can't imagine how I could forget that. I know where I was with Bobby Kennedy. I know I was on stage because I announced he got shot. I was friends with the father, Joe Kennedy, and we'd walk around Lake Tahoe when he was staying at the Cal-Neva," a Sinatra hangout.
Greene, who made his stand-up debut in Las Vegas in 1953, was a spectacular comedian and his benders were even more spectacular.
Crashing his speeding car into the fountains at Caesars Palace merely added to his legend.
"I don't remember the year, but I know when they towed my car over to Washington Street, my football from the Green Bay Packers' first Super Bowl (1967) was missing. It had all the guys' names on it."
Postscript: "This is strange," Greene said Wednesday, during the last of several telephone conversations over a week. "I'm in Dallas right now. Jack Ruby was a friend of mine."
I was calling to clear up a question about his salary. By 1975 he was one of the highest-paid headliners in Las Vegas, at more than $100,000 a week, he said. "Most of it went to my bookie. I didn't know his name, just his number."
After a long absence, Greene returned to Las Vegas stages about five years ago. He retired, for good, about a year and a half ago, he said.
In the 1960s he was such a draw that two hotels — the Tropicana and Riviera — offered him points (percentage).
"I was getting $6,500 a week at the Trop and two points and the Riviera offered $8,500 and two points. "Where ever I went, the crowd came with me. I saved the Trop. That's a true story."
But, he said, "As good as that town was for me it was bad for me."
STEVE WYNN, HOTEL DEVELOPER
"I was a freshman in the law school at Georgetown in Washington. At 11 a.m. on Fridays, they had guest lectures.
"Congressman James Roosevelt, one of the main authors of the Civil Rights Bill. Elaine was a senior at George Washington University in D.C. I had the car, a Buick Riviera. It was parked in the next to the Hecht Building.
"I would finish law classes and pick her up. Her last class was at 1. I got in the car to go pick her up and I had the radio on WMAL. The news came on that the President was shot and taken to Parkland Hospital.
"As I was pulling out of the parking lot, it came over the radio that he was shot and murdered. I closed the bingo operation in Maryland – my father had died – and I was running it. We sat in our $170 month apartment and watched the TV coverage all weekend."
Postscript: "Twenty six years later on Nov. 22 I stood in front of The Mirage with Gov. Bob Miller and opened The Mirage. All I could think of was would anyone show up — and the Kennedy assassination.
LAS VEGAS MAYOR CAROLYN GOODMAN
"I was working at Sun Oil Company in Philadelphia to support Oscar while he was going through law school. As I got in the elevator on my way to work, someone said 'Have you heard the President was shot?' I immediately got on the phone to Oscar to see if he knew. We watched TV with great sadness over the next three days. They replayed the ride, the aftermath, the funeral. We were just flabbergasted. Very tragic. And, of course, there was all the speculation: Did the Mafia cause it? Was it a crazy person? Russia? A year before that was the missile crisis and we thought that was the end of our lives, with all those missiles in Cuba pointed at the U.S."
Postscript: The Goodmans, who were married in 1962, moved to Las Vegas in August 1964. Carolyn Goodman founded Meadows School in 1984 and became mayor in 2011.
BURTON COHEN, GAMING INDUSTRY EXECUTIVE
"I was still practicing law in Miami," said Cohen, 90, who retired in 1995 after career as a top executive at the Desert Inn, Dunes, Frontier and Thunderbird hotels.
"My office (in Miami) was on the same floor with a real estate executive by the name of Grant Stockdale. He was very close to the President and another guy that ran with the president, Florida Sen. George Smathers."
Postscript: "After JFK was shot, Mr. Stockdale jumped from the Dupont Building on Flagler Street," recalled Cohen.
Stockdale, a longtime JFK supporter and high-ranking Democratic operative, had been appointed U.S. ambassador to Ireland in 1961.
According to reports, he either jumped or was pushed from his 13th floor office 10 days after the death of JFK.