Nothing beats the friendliest poker game in Las Vegas
October 13, 2013 - 9:45 am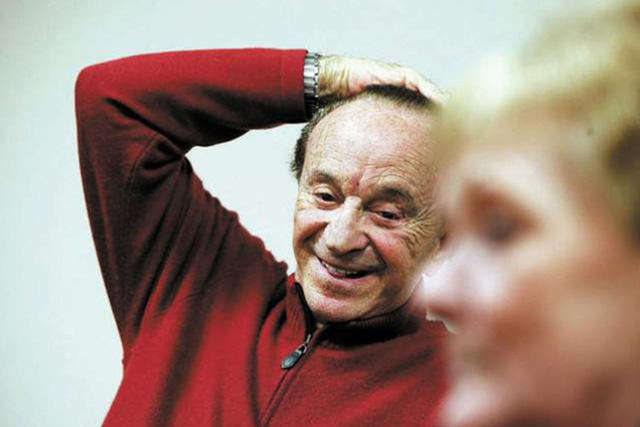 It's officially called the East Las Vegas Community Center, but today it's the friendliest poker room on the planet.Players at three tables cut up as they shuffle up for an afternoon of fiercely amiable no-stakes Texas hold 'em. Most of these sharpies are gray-haired regulars who are old enough to remember when Wayne Newton worked the Fremont's lounge and the "Rat Pack" wasn't a tribute show.
One of the dealers looks particularly comfortable peddling a deck of Bicycles. And he should. He's none other than Bernie Sindler, the former part owner of the Silver Slipper, Frontier, and Circus Circus.
At 89, Bernie has outlasted two of the three casinos in which he once held points. He laughs and adds that he's survived most of his old friends, too. Remind him that he was once considered an associate of Meyer Lansky, and the Vegas cat turns Cheshire Cat.
So what's a hall-of-fame casino guy who's known most of the celebrated and notorious characters in the history of the racket doing pitching cards five days a week to a group of mostly square senior citizens?
Having the time of his life.
"I feel like I've been reborn," says Sindler, who as a casino host handled high-rolling millionaire customers. "I love it. It's for no money. They pay $2 a year. I'm one of the dealers, and I'm pretty good at it. I look forward to it and have come to dislike the weekends because they're not open."
In his prime, Sindler was known as a wicked gin player at the Las Vegas Country Club, where he regularly scalped dangerous Johnny Rosselli and enjoyed the company of well-connected casino men such as Charlie Resnick, Ross Miller, Peanuts Danolfo, and Yale Cohen.
Now he's a dealer at the East Las Vegas Community Center and feeling like a kid again.
If the sparsely decorated card room doesn't exactly resemble the rejuvenating pool from the movie "Cocoon," don't tell that to Liborio "Libby" Maceli. Just deal in the 84-year-old retired milkman from New York.
"We enjoy ourselves," Maceli says. "The camaraderie is very good. The people are very nice. It's Texas hold 'em, and it's not for any money. It's just to have fun. And the motto of the thing is, 'If you don't want to have fun, don't come.' "
Deal yourself in a moment, and you'll meet a variety of interesting people who bring a long life of experience into every conversation. There's Nancy and Raymond Morrow, who moved to Southern Nevada from Pennsylvania and found new friends across a friendly poker table. There's retired aerial photographer Jerry Jost, and former casino cage worker Darlene Gnagy, whose afternoons are filled with the simple joy of raking in a pot of chips on a lucky river card.
Then there's former Southern Utah resident Robert Thorne, Sr., who introduces himself by volunteering he has had 12 wives, but never more than three at any one time. The 84-year-old uses a walker ­— so would you after a dozen wives.
But nothing beats the friendliest poker room in Las Vegas.
"It's wonderful," Thorne says, adjusting his Sam's Town cap. "It's survival. It's absolutely senior survival. If you've got any sense at all, you learn how to play cards and you end up here. They serve a wonderful lunch. Everyone is so nice here. I don't know what we would do if we didn't have this."
The friendly banter often revolves around the latest store bargains, restaurant food specials, and legal services for seniors. Then there's the most popular subject. You know, the one every man and woman thinks about, but are sometimes too shy to discuss.
"We're all experts in medicine," Sindler says during a break. "You name it, we can tell you everything about it."
The passage of time being what it is, each player generally has one or more ongoing medical issues. It's aces and aches at every table. As they say around this poker room, old age isn't for sissies.
Neither was the old Las Vegas, where Sindler once had the run of the House.
"I took a lot of liberties with those guys," he says of the rough customers who also had pieces of the Slipper, Frontier, and Circus Circus. "It's a wonder they didn't kill me, to tell you the truth. As I reflect today, as I've really learned about everybody who was involved, to this day I wonder how in the hell I didn't get killed."
But the time for reminiscing is over. The game has begun.
"I feel like I'm a young man again," Sindler says, pitching cards. "Everyone here is so kind and nice. It's wonderful. They're really glad to see you. Who in the hell in your life is glad to see you?"
He laughs and gets back to the hand. After all these years, he's rediscovered a sense of community in this tough desert town, where good friends can be as rare as free money on Fremont Street.
The action inside the friendliest poker room reminds you to laugh often, make a friend when you can, plead the Fifth when necessary, and always play the cards that are dealt.
John L. Smith's column appears Sunday, Tuesday, Wednesday and Friday. Email him at Smith@reviewjournal.com or call 702-383-0295. Follow him on Twitter @jlnevadasmith.