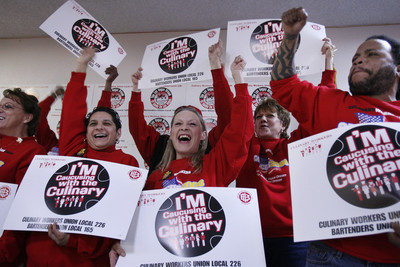 A battle royal for Nevada kicked off Wednesday between the two leading Democratic candidates for president.
With the long-awaited announcement that the powerful Culinary union will back Illinois Sen. Barack Obama, the Jan. 19 caucuses stand to pit the state's biggest engine of organized labor against its Democratic establishment.
Most of the state's political elite — now including Rep. Shelley Berkley, D-Nev. — are backing New York Sen. Hillary Clinton.
D. Taylor, secretary-treasurer of the Culinary Local 226, who combines a rabble-rousing zeal with rare political savvy, said Nevada, more than Iowa and New Hampshire, will be the true test of candidates' appeal to real Americans.
Referring to the diversity that was a major reason Nevada was selected for the first time as an early nominating contest, Taylor said, "I have a lot of respect for all those folks in Iowa and in New Hampshire. But we're not just Wonder Bread. We've got pumpernickel. We've got whole wheat. We've got rye. That's America."
He acknowledged what the union would be up against in a Wednesday morning news conference announcing the 60,000-member Strip workers union's endorsement.
The event was just as much a raucous rally in the union hall downtown.
"We understand that we're going against the entire Democratic power structure," Taylor said. "We understand that. But the last time I looked, it was the people who voted, not them."
The more than 100 red-shirted workers surrounding Taylor cheered wildly.
Taylor said the union chose Obama because of his unifying message, his background as a community organizer and his support for the union in its recent contract negotiations with several major casino companies.
For her part, Berkley, the five-term congresswoman who represents urban Las Vegas, said she broke with her earlier stance of staying neutral because she owed it to her constituents to tell them who she supported, and she believed Clinton was the best candidate on issues important to Nevadans.
Berkley joins such prominent Nevada Democrats as Rory Reid and Chris Giunchigliani, both Clark County commissioners; state Senate Minority Leader and former gubernatorial nominee Dina Titus; Assembly Majority Leader John Oceguera, and dozens more legislators, city officials and community leaders who are supporting Clinton.
Clinton surprised herself, Obama, the pollsters and the conventional wisdom with a narrow win in New Hampshire after losing to Obama in Iowa.
She was wasting no time moving on to the Silver State, announcing Wednesday that she will host events in Las Vegas today.
With Clinton and Obama looking for a best-two-out-of-three win, it's now guaranteed that there will be a vigorous fight for Nevada over the next nine days.
Obama is scheduled to hit Las Vegas on Friday for a rally with the Culinary union and a town hall at Del Sol High School. The latter event is free and open to the public, but tickets are required; call (702) 253-2008 for information on the 5 p.m. meeting.
The campaign of former North Carolina Sen. John Edwards is not giving up, despite a distant third-place finish in New Hampshire. But Edwards appears to be focusing more on South Carolina, where Democrats vote after Nevada.
Still, Edwards' campaign here continues to be active on the ground and has the support of labor unions with nearly 30,000 members, whom it claims will be better prepared than Obama's union supporters because they have already spent weeks or months learning why they should support Edwards and how the complicated caucus process works.
One campaign that won't make it back to Nevada is that of New Mexico Gov. Bill Richardson, who is expected to announce today that he is quitting the race, according to media reports.
Richardson spent the most time of any candidate in Nevada and had hoped to tap regional and Hispanic appeal here, but he couldn't pull more than 5 percent of the vote in Iowa or New Hampshire.
The push for Nevada also is to include a Democratic debate broadcast on MSNBC, moderated by Brian Williams and Tim Russert, scheduled for Tuesday.
Also on Wednesday, Sen. Harry Reid, D-Nev., rolled out a new spot that is to run on local radio and television, encouraging Democrats and Republicans alike to get out and caucus.
In the ad, a casually dressed Reid urges Nevadans "to let them hear your voice and be part of the change America needs."
In stark contrast to the Democratic frenzy now descending on Nevada, the Republicans are focused on Michigan, South Carolina and Florida.
Unlike the Democrats, the GOP candidates are participating in Tuesday's Michigan primary, and their South Carolina primary is on the same day as the Nevada caucuses.
Democrats have their South Carolina caucus a week later, Jan. 26, before both parties move on to the Jan. 29 Florida primaries and the avalanche of states that vote on Feb. 5.
David Damore, a political scientist at the University of Nevada, Las Vegas, said the Democratic race here will come down to which political machine, Culinary's or Clinton's, can turn out more voters to participate in a new and mystifying process.
Voter turnout estimates for the caucuses have ranged from 30,000 to 100,000, which would represent about a quarter of the state's registered Democrats.
Damore said there is no doubt that Culinary is exceptionally well organized politically, and the union will be adding its efforts to the Obama campaign's already robust grass-roots work.
"But Culinary's influence thus far has been limited to local races," he said. "They haven't played kingmaker really statewide, let alone in a presidential race."
In addition, Damore said, union members, having met all the candidates, may have their own preferences that contradict their leadership's. Edwards spouts the most pro-union rhetoric, while Clinton is popular among Hispanics, who make up 60 percent of union membership.
On the other hand, Damore said, "the Democratic establishment hasn't delivered an important race in this state in a long time."
Clinton's campaign claims each of its endorsers comes with a loyal and organized constituency and isn't just a name; the caucus will test that claim.
All the major Democratic candidates, including those now gone from the race, had addressed Culinary members multiple times, in gatherings large and small.
Taylor on Wednesday wouldn't say how many union members were eligible to vote, were registered to vote or were Democrats.
"A lot, and a lot, and you'll see them on the 19th," he said.
In addition to Culinary, which endorsed in tandem with its parent international union, Unite Here, Obama on Tuesday got the nod of the 17,500-member Service Employees International Union in Nevada.
Clinton is not without her own union support. Her biggest labor ally nationally is the American Federation of State, County and Municipal Employees, which deployed more than 300 workers and bought large amounts of television, radio and mail advertising on Clinton's behalf in Iowa.
The union's national political director, Larry Scanlon, said he is arriving in Nevada on Friday and plans to add staff gradually to the 35 already here, reaching 100 workers by caucus time.
He is prohibited by law from coordinating with the advertising buyers but said they could be expected to be active here as well.
Polls have shown Clinton with big leads in Nevada, but none have been done for a month and a half.
National political analyst Jennifer Duffy of the nonpartisan Cook Political Report said Nevada's importance to the Democratic race will be borne out by how much time the candidates spend in the state.
It's pretty clear the Republicans will spend little to none, but their caucus will still happen and somebody must win it, she noted.
Duffy pointed to Wyoming, whose Jan. 5 Republican nominating convention snuck up on even very tuned-in politicos nationally.
Former Massachusetts Gov. Mitt Romney, whose second-place finishes in Iowa and New Hampshire were seen as a cumulative severe blow, scored a landslide win, allowing him to claim a single "gold" alongside his two "silvers."
So, even though it wasn't hotly contested and no candidates were there, Wyoming is significant in retrospect, she said.
"I went to his debate party Saturday night in Manchester," Duffy said. "He'd just had this debate where he really got kicked around, but did he talk about that? No, he talked about Wyoming."
Romney's supporters, she said, "were really excited about Wyoming. It was a great motivator for him, and it will be a great motivator for whoever wins Nevada."
Review-Journal writer Lynnette Curtis contributed to this report. Contact reporter Molly Ball at mball@reviewjournal.com or (702) 387-2919.
HOW TO PARTICIPATE• Nevada Republican caucuses: Jan. 19, 9 a.m. Find your caucus location: nvgopcaucus.com • Nevada Democratic caucuses: Jan. 19, 11 a.m. Find your caucus location: nvdemscaucus.com • MSNBC Democratic debate: Jan. 15, 6 p.m. Submit questions or enter ticket lottery: januarydebate.com • Full candidate and caucus coverage