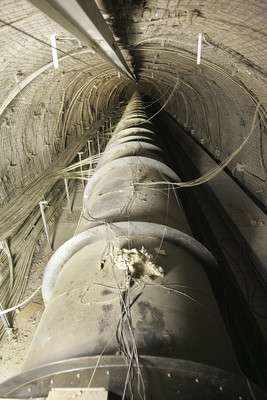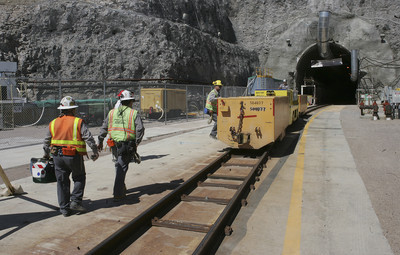 WASHINGTON — The once-stumbling Department of Energy reached another milestone Monday when the Nuclear Regulatory Commission announced it will conduct in-depth studies and have safety hearings on plans to build a nuclear waste repository at Yucca Mountain.
The nuclear safety agency's decision to accept a Yucca Mountain application onto its licensing docket represents the latest step forward for the project over the objections of Nevada's elected leaders.
An 8,600-page license application DOE filed on June 3 "contains sufficient information" for the agency to move ahead to the next stage of formal review, according to Michael Weber, director of the NRC Office of Nuclear Material Safety and Safeguards.
The move opens the way for detailed safety studies that will be performed by NRC technical staff over the next year and for legal hearings starting next spring before panels of administrative judges where lawyers for Nevada and other parties will be able to raise challenges to the application.
The entire licensing process is envisioned by law to take three to four years. Many believe it could take years longer for the NRC to sort through a complex, first-of-its-kind project with weighty health and safety implications.
Weber said budget shortfalls also could cause delays in the agency's work. The agency's budget for Yucca work this year was cut by $8 million, while Weber said a proposed budget for next year also is about $30 million less than what would be needed.
The fate of the Yucca project also could hinge on the presidential election in November. Democrat Barack Obama has said he will halt the project if he is elected.
"The Bush administration is continuing to pursue the Yucca Mountain nuclear waste dump, despite the mounting scientific evidence that it is not safe for the people of Nevada," Kirsten Searer, Nevada communications director for the Obama campaign in Nevada, said Monday.
Republican John McCain has voted for the repository in the past. Campaign spokesman Rick Gorka said Monday that McCain "is supportive of Yucca as long as it meets environmental and safety concerns." NRC docketing "is one step in the process."
The NRC's docketing decision came at the end of a 90-day screening period. Roughly 40 NRC staffers and consultants reviewed the DOE's license application, said Lawrence Kokajko, director of the division of high-level waste repository safety.
Weber stressed the license application was not reviewed for merit, but to ensure it was complete enough to proceed.
The docketing decision was announced after the NRC notified members of Congress.
Those from Nevada were not happy although they were not altogether surprised. The NRC last month rejected a call by Nevada Attorney General Catherine Cortez Masto for the DOE license application to be set aside immediately as flawed and incomplete.
"The latest development was a formality we expected," said Sen. Harry Reid, D-Nev.
Sen. John Ensign, R-Nev., said safety reviews are sure to turn up red flags "and will result in NRC's rejection of the DOE proposal."
Rep. Shelley Berkley, D-Nev., indicated that the battle against the repository is not over.
"The NRC's decision puts nuclear politics over the health and safety of Nevada families and you can bet that we will continue fighting the Bush-McCain Yucca Mountain plan," she said.
But Energy Secretary Samuel Bodman said he was confident the NRC's "rigorous review process will validate that the Yucca Mountain repository will safely store this waste in a manner that is most protective of human health and the environment."
The agency's docketing decision "is a significant step forward in solving the nation's problem of disposing of spent nuclear fuel and high-level nuclear waste," Bodman said.
Besides docketing the license application, the NRC also accepted DOE environmental impact studies for the repository, with one exception. It called for DOE to bolster analyses of how the repository operations would affect groundwater.
"There appeared to be a gap in some of their analyses," Weber said. "It is not an extensive gap but will require at least several months of effort and analysis to close."
The Energy Department proposes to build a warren of tunnels beneath Yucca Mountain, 100 miles northwest of Las Vegas, where 77,000 tons of used nuclear fuel and highly radioactive material from U.S. weapons manufacturing would be stored and eventually sealed within the mountain.
An above-ground waste handling complex also would be constructed where canisters of waste would arrive, mostly by rail, from sites in 39 states.
The department had missed a series of deadlines and was buffeted by budget cuts and bad headlines until new managers in recent years appeared to get the program on track.
But even as the project makes headway at the Nuclear Regulatory Commission, a number of other barricades lie ahead.
DOE needs Congress to pass special legislation to clear away regulatory obstacles and to make larger sums of money available for construction, and lawmakers have shown little interest to date.
Reid, the Senate majority leader, has said pro-Yucca bills will never pass during his tenure. The repository plan is opposed by a majority of Nevadans. State leaders have committed millions of dollars to fight at the NRC and in courts.
Contact Stephens Washington Bureau Chief Steve Tetreault at stetreault@ stephensmedia.com or 202-783-1760.