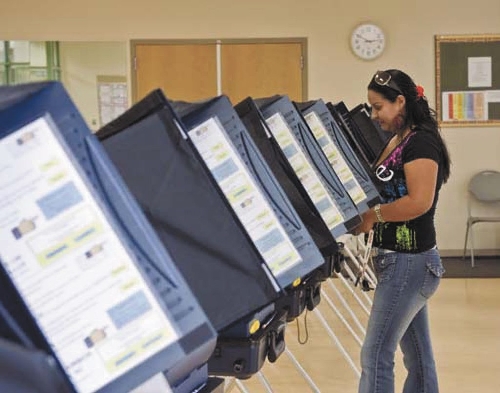 CARSON CITY — A hot U.S. Senate race and public disenchantment with incumbents haven't translated into higher numbers of people registering to vote in Nevada.
Quite the opposite.
"If you are using voter registration to show voter interest, then there isn't any," said Clark County Registrar of Voters Larry Lomax. "It surprises me. I thought it would be the busiest primary since I came here 12 years ago."
A decline in voter registration might be a result of a drop in the state population and registered voters moving to other states, as well as Nevada's high home foreclosure rate, Lomax and political experts said.
Democrats statewide at the end of April had 452,267 active registered voters, down 41,686 from January. Republicans — who virtually every political commentator predicts will make big gains this year — had 389,866, down 19,651 voters.
They have narrowed the gap, but only because they are not losing as many voters as the Democrats.
Nonpartisans aren't picking up voters either. Their registrations at the end of April were 161,615, down 13,211 in three months. Experts suggest their numbers would increase if people were disgusted with both major parties.
Fred Lokken, a political science professor at Truckee Meadows Community College in Reno, does not buy the theory that registration is down because of a population drop.
"There is cynicism toward both parties," he said. "You would think that if people were angry, they would want to do something to make changes. But it has turned them off to politics."
Among his students, Lokken finds a malaise about politics.
"They say, 'Whatever I do won't make any difference.' They aren't going to vote," Lokken said.
Since the end of January, the number of active registered voters in Nevada has fallen by almost 79,000. The decline since the presidential election in November 2008 has been about 147,000, or 8 percent of voters.
"I think there is a lack of interest in the election," said Alan Glover, clerk-recorder in Carson City. "I thought the governor's race and the U.S. Senate race might get a lot of Republicans to register, but it hasn't. We aren't seeing a large number of young people coming in to register like two years ago. It is falling back to the usual pattern. Kids who like politics register; the rest don't."
Lokken said young people are disillusioned with President Barack Obama and not happy with politicians in general.
Many registered two years ago for the sole purpose of voting for Obama, and now they believe that he and other politicians do not keep their promises, Lokken said.
State Republican Party Chairman Mark Amodei said "absolutely" the reason for the registration drop is the declining population.
Having a more exciting primary than the Democrats gives the party momentum going into the general election, he said, referring to the U.S. Senate and gubernatorial races.
"I am hoping to close the gap with Democrats by a point or two before November and reach out to independents," Amodei said.
Of every 100 registered voters, 43 are Democrat, while 37 are Republican.
Sam Lieberman, the state Democratic Party chairman, said Nevada's population drop won't have any effect on the election. When he goes to places such as Fallon, in Northern Nevada, he said 60 to 70 people show up for Democrat meetings, compared with 10 or 12 in the past.
"We aren't seeing people indifferent about the election," Lieberman said. "The people we see are energized. Nevada is a bird of its own color."
After the big turnout in 2008, Nevada might be returning to its usual pattern, and that is ranking near the bottom in its rate of people voting, according to Matt Griffin, the deputy secretary of state for elections.
But he also believes many voters might have lost their homes to foreclosure and now live with friends or relatives. Others might have moved out of state to look for work because of the state's 13.7 percent unemployment rate.
"I can't think of anything else that would explain what is happening," Griffin said.
The state demographer's office last year estimated the state population dropped by 27,677 between July 2008 and July 2009, the first decline in nearly 100 years. But the U.S. Census Bureau won't have an official population figure for 2010 available until the end of the year. The Census Bureau estimated Nevada's population grew by 42,800 between 2008 and 2009.
Another reason for the drop in registered voters is purging by voter registrars, who periodically remove the names of voters who have changed addresses. Before every election, they mail information to the addresses of registered voters. The post office returns undeliverable mail when the registered voters move. These people's names then are placed on the inactive voter list.
They can vote, but must give their current addresses when they show up at the polls. People on the inactive voter list seldom vote, officials have said.
At the end of April, 276,565 people had been placed in the inactive voter rolls, up 84,000 in three months.
Voters who skip two consecutive elections with federal candidates — including those on the inactive voting list — are removed from the voter rolls. They must register again before they can vote.
Griffin anticipates little more than 20 percent of voters will cast ballots on election day. The Republican turnout likely will be higher than the Democrat turnout because of the Senate and governor primaries, he added.
Danny Thompson, state secretary-treasurer of the AFL-CIO, said he is not surprised by the drop in voter registration.
"There is no work," said Thompson, a former Democrat assemblyman. "If there is no work in your field now or in the foreseeable future, you have to leave."
Contact Capital Bureau Chief Ed Vogel at evogel@reviewjournal.com or 775-687-3901.