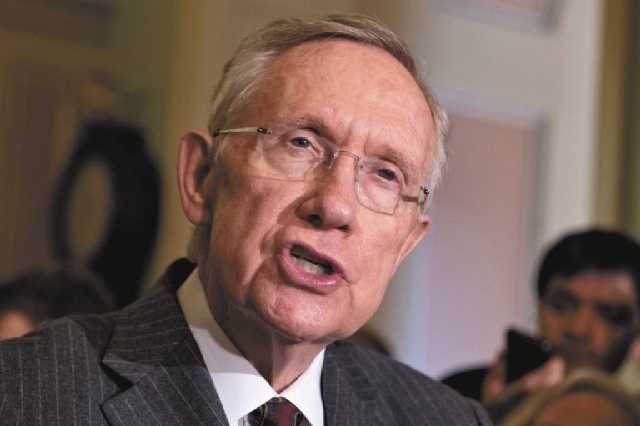 Sen. Harry Reid's stance that it's alright to bury a ton of uranium-tainted waste from Oak Ridge National Laboratory at the Nevada National Security Site is hypocritical, a Nye County commissioner says.
"What we're concerned with is the sheer hypocrisy of Sen. Reid, who said Yucca Mountain isn't safe but is OK with putting this fissile material 40 feet underground. The hypocrisy stinks," Commissioner Dan Schinhofen told the security site's community advisory panel Wednesday night.
Schinhofen was referring to Reid's approval of disposing 403 canisters containing long-lived and potentially deadly enriched uranium from the Tennessee lab in a landfill despite the senator's long-standing opposition to entombing the nation's highly radioactive, spent reactor fuel in Yucca Mountain, 100 miles northwest of Las Vegas.
The low-level nuclear waste landfill, in Area 5 at the security site, is 65 miles northwest of Las Vegas. The planned Yucca Mountain repository has been quashed by the Obama administration at Reid's urging.
The security site intends to accept the Oak Ridge waste as low-level waste even though most of it, uranium-235, the atom-splitting material used in the first U.S. nuclear bomb, has a 704 million-year half-life.
Some of it, uranium-233, requires heavy shielding because it decays into "radiotoxic" stuff that could be used to make a so-called dirty bomb.
Reid reacted Thursday to Schinhofen's public comment, saying through his spokeswoman, "This is not bomb grade material. The (Nye) County Commission should understand the difference between 403 canisters and 70,000 tons."
DOE officials note that about 660 pounds of waste containing uranium-233 from the Idaho National Laboratory is already in the Area 5 landfill.
They say waste from the Oak Ridge lab couldn't be readily used for nuclear bombs because it has been baked with compounds that prevent it from reaching a sustained, atom-splitting chain reaction.
Critics note that what DOE defines as low-level waste is still enriched uranium and must be transported to the site under tight security.
Robert Alvarez, a senior scholar for the Institute for Policy Studies and a former DOE senior adviser, has said the Oak Ridge waste should be kept at the security site's Device Assembly Facility until it can be diluted into a form that can be stored at New Mexico's Waste Isolation Pilot Plant.
Alvarez contends DOE "moves the goalposts" for even more material like this to be buried in shallow landfills, and sends the wrong message to other countries that could mimic the practice despite U.S. objections to such disposal methods.
Contact reporter Keith Rogers at
krogers@reviewjournal.com or 702-383-0308.