February 7, 1999 - 1:38 am
Updated February 7, 1999 - 2:00 am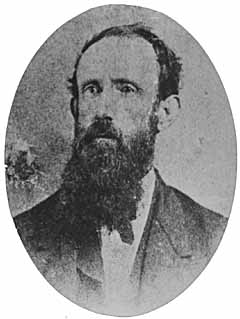 Octavius Decatur Gass was a month too late to qualify as a Forty-Niner when he arrived in San Francisco Bay in early 1850.
It was to be the story of his life. Almost at the right place at the right time, but never exactly. Opportunity knocked at his door regularly, but he was always in the bathtub.
Gass, born in Richland County, Ohio, in 1827, of Scotch-Irish descent, was driven by the same urges that had sent other young men swarming around Cape Horn to the wild Sierra Nevada foothills of California. He wanted to dig up a fortune, perhaps dabble in politics, and live luxuriously ever after.
He arrived in San Francisco already employed. His boss was a clever entrepreneur named Gilman who had filled the ship's holds with portable two-room houses. He reasoned if men were streaming into California by thousands, there was sure to be a housing shortage. He was right. His prefab shacks sold like beer at a horse race. And Gass was hired to unload the houses at a generous wage of $10 per day. Before long, he was headed for the gold fields of El Dorado County, grubstaked, his financial future all but assured.
Frustrated in mining, Gass forsook El Dorado County, Calif., for Eldorado Canyon, in what was then the newly-created territory of Arizona. The canyon, about 65 miles from Las Vegas on today's roads, was worked periodically for gold, silver and other minerals, reportedly by Spaniards and Mexicans as early as the 18th century. By 1863, Gass was staking claims there. One of 90 or so other miners who worked the area mentioned Gass' zeal to a reporter for the Los Angeles Star, saying "O.D. Gass is … the worst struck man with the prospects here I ever saw."
His enthusiasm waned as the blisters on his hands grew and his fortune didn't. He wandered to San Bernardino, Calif., then headed northeast again for St. Thomas on the Muddy River. On his way, he had a look at the recently abandoned Mormon Fort at Las Vegas.
The original settlement had been developed in 1855 by 30 missionaries dispatched from Salt Lake City by Brigham Young. With ample water, reasonably friendly Indians and soil that could support agriculture, the colony survived until 1857, when political infighting among the mission leadership ended the venture.
By 1865, O.D. Gass finally learned the lesson that he should have learned from the man who shipped prefabricated houses to San Francisco. Supplying boomers and travelers can be as lucrative as wandering around the desert with a pack mule and a pickax. With the help of Nathaniel Lewis and Lewis Cole, mining comrades turned ranching partners, he set about restoring and improving the Mormon Fort. His idea was that it could become a way station for travelers on the Old Spanish Trail, and supply fresh food to settlements like those in Eldorado Canyon and along the Muddy River. The ranch was 640 acres, with Gass holding 160 acres. By 1872, he had bought out his partners and owned it outright.
The ranch produced grain, vegetables and Mexican pink beans, which Gass used to pay his Indian ranch hands. Local Indians were accustomed to a diet heavy with mesquite beans, and regarded the plump pink beans as a rare delicacy. Gass' orchards produced apples, peaches, figs and apricots and his vineyard produced the raw material for wine, which was one of the ranch's main attractions for thirsty travelers. He also raised horses and cattle, which were driven to Eldorado Canyon where fresh beef fetched a good price. And, as he had hoped, the ranch became a way station on the road from Southern California to Salt Lake City. Here travelers could rest, bathe, repair wagons at the ranch's blacksmith shop and socialize around the 20-foot table over the culinary creations of the ranch cook, a Chinese man named Lee.
Gass was still on the lookout for The Big Opportunity, though, and thought he saw it in the embryonic Colorado River town of Callville, in which he invested heavily. He was convinced that steamboats would one day be the chief means of transport to Utah, traveling up from the Gulf of California to the new river port of Callville, where their cargo and passengers would be transferred to wagons. Speaking to the Arizona Miner newspaper, Gass said, "Since it has been fully demonstrated that the Colorado is navigable to Callville, the rapid accumulation of steamers for this trade will astonish the most sanguine."
But it was another bad call. The transcontinental railroad provided Utah with easier shipping. Gass served as postmaster for Callville from 1867 until 1869, when even he had to concede that the idea had failed.
In 1864, the federal government halved New Mexico Territory and created Arizona Territory. During its first territorial legislature, the new solons created four counties, including Mohave County, the territory's northwest corner. Gass stood for election to the assembly from Callville District. Being one of the few prosperous landowners in the region, he was elected. In 1865, he convinced the legislature to create Pah-Ute County, which included much of Nevada's present Clark County. Callville, still considered an up-and-coming settlement, was named county seat.
Gass excelled at politics, and was regarded as a competent fellow. He had presence and personality, too, a tall handsome man with a wavy 10-inch beard and a gentle manner. The Arizona Miner commented, "He is an active intelligent man and the people of the new county are much his debtor for the consideration given them by the legislature."
His popularity also was because of the fact that he was one of the few territorial legislators who took their duties seriously enough to make the grueling trip to the sessions at Prescott. In 1867, the Arizona capital became Tucson. Gass, surprisingly, had voted in favor of the move. He would doubtless have voted nay had he known how much trouble it would be to make it there for the 1867 session.
There had been Indian trouble along the overland route, so Gass and another legislator, Andrew Smith Gibbons, decided to take a 14-foot boat down the Colorado for 300 miles to Yuma, then go overland to Tucson. When they arrived in Yuma, they discovered that Apaches had killed the regular stage driver, and they were unable to get another coach for a week. But they made it to the session, albeit late, and many others did not. In fact, he and Gibbons were the only legislators from either Mohave or Pah-Ute counties.
In his second session, Gass, was elevated to the upper house of the legislature, the council, elected Spanish-language translator and interpreter, and chaired a joint committee on military and Indian affairs.
But his freak luck intervened. He was not to be a politician, either.
On May 5, 1866, at the urging of Nevada Sens. James W. Nye and William M. Stewart and Rep. Delos R. Ashley, Congress made Pah-Ute County part of Lincoln County, Nevada.
Gass was as upset as the rest of the Arizona legislature, and blasted the bill as "the Nevada project of stealing us from Arizona." In fact, he ignored the legislation, and continued to represent Pah-Ute County in the Arizona Territorial Legislature until 1869.
Gass and his Las Vegas Valley neighbors even asked the Nevada legislature to clip off the point of Lincoln County and create a Las Vegas County. No action was taken.
It was at this point that Gass began to experience real financial trouble. Nevada was demanding two years' back taxes from him. Many Mormons in the Muddy River country — some of his best customers — refused to pay Nevada taxes and moved back to Utah. And, with about 600 constituents gone, and a government centered in the north, Gass lost his political power, although he did serve as a Lincoln County justice of the peace.
Love finally came to the Gass Ranch in 1872, when Gass married Mary Virginia Simpson, a niece of Ulysses S. Grant. Simpson had come West in 1871 with her sister and brother-in-law and settled in St. Thomas. Gass courted her for the better part of a year, making trips by buckboard 60 miles through the desert, before she gave her consent. Mary Gass settled into the ranch life well, and produced six children.
Gass generally regarded the indigenous Paiutes as a nuisance — except, of course for those he hired to work for him. However, he and his wife did take the trouble to learn their language, and there were few instances of outright hostility, owing to Gass' reputation for fairness. The Paiutes called him "Pe-No-Kab" meaning "long back", referring to his broad shoulders.
But there were occasional incidents. One of the more terrifying came in 1878, when word came to the ranch that a war party of Mojaves were coming into the valley to engage their old foes, the Paiutes. Gass immediately loaded his family, which included two children with whooping cough and a pregnant wife, into a wagon and made a 40-mile dash for Ivanpah, Calif., where the family lodged with friends.
As a Lincoln County justice of the peace, he was called upon to preside over a case in which one Paiute shot another. The suspect was brought before Gass, along with witnesses. Gass, knowing that any judgment would bring trouble from one Paiute faction or the other, announced that everyone should adjourn to the ranch house for dinner. He left one Indian to guard the prisoner. As they dined, a gunshot was heard. Everyone ran outside, to discover the defendant dead, and the guard standing with a smoking gun. He had tried to escape, the guard explained. Gass was surprisingly calm about the incident.
He was even less concerned with the Indians' threatened insurrection. A half-breed had managed to convince a few of his colleagues that Gass was cheating them, and owed them better compensation. He and two armed warriors went to the ranch house to demand their due. Gass, however, had heard of the potential problem, and had piled all his firearms on the big kitchen table. When the delegation arrived, he invited them to come in. That was the cue for Lee, the cook, to ring the big triangle that normally summoned the hands to dinner.
"You hear that?" he asked the leader. "There will be men to get these guns and you won't be able to get anywhere."
Just as the Indians were about to explain that they came to talk, not fight, Mary Gass, whom the Indians knew as "long eye" for her shooting prowess, wrested a rifle from one of the men, and quickly reversed the direction of its business end.
The confrontation ended with Gass giving the leader a couple of head of livestock. The Paiutes themselves were more embarrassed and more annoyed by the incident than was Gass. They forced the ringleader to wear a dress and work in the fields, with the women, as punishment.
By the age of 50, Gass had all the trappings of a successful rancher. He owned 960 acres, employed more than 30 hired men, including a veterinarian, blacksmith, barnkeeper, carpenter, several Indian women to handle laundry, and Lee the cook.
But he was heavily in debt, and had been attempting to sell "The Las Vegas Rancho" since 1868. Unable to do so, he had mortgaged it in 1874 to a neighbor, William Knapp, for $3,000. He went to California in 1876 to obtain bullion to pay Knapp off. In 1879, he borrowed $5,000 in gold at 2.5 percent interest from Archibald Stewart, a prosperous rancher who operated a place north of Pioche. Gass had expected a bumper crop to pay off the debt, but bad weather destroyed much of it, and Gass found himself in default. Stewart foreclosed, and Gass was out of the ranching business.
It may be that Gass' financial plight was contrived. After all, he had been unable to sell the ranch, but had been able to hock it. He may have never intended to pay Stewart back.
Another concern, one he shared with his wife, was the lack of education for their children. He left the ranch in 1881 with his family, personal possessions, and 1,500 head of cattle. They stopped first in Pomona, Calif., then tried unsuccessfully to raise grapes in the Yucaipa Valley. His mining fever never cooled, though, and he continued to prospect, going as far south as Baja California.
In 1900 and in his 70s, Gass finally joined his son, Fenton, in Bryn Mawr, near Redlands, Calif., where he tended a small garden and helped in the orange groves. He died after a fall on Dec. 10, 1924, and was buried in the Masonic Plot at the Hillside Cemetery in Redlands.
Ironically, the man who first settled Las Vegas is memorialized only in a downtown street that bears his name. And it is probably just as well. He really never cared very much for Nevada, anyway.
---
Part I: The Early Years
Part II: Resort Rising
Part III: A City In Full