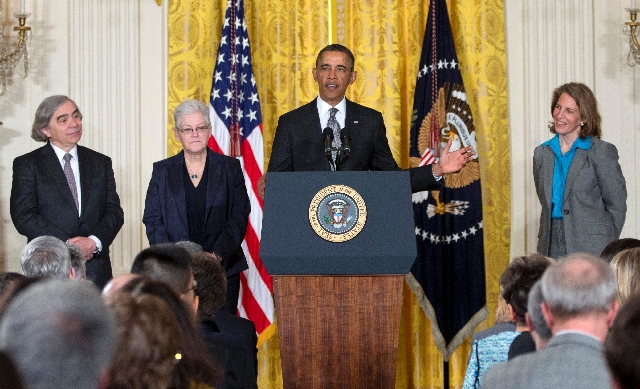 WASHINGTON — President Barack Obama on Monday nominated MIT professor Ernest Moniz to head the Department of Energy, tapping a nuclear physicist whose resume includes more than a passing familiarity with radioactive waste.
An authority on nuclear reactors and fuel reprocessing, Moniz served on the commission that recommended a new strategy last year for disposing of used nuclear assemblies after Obama's termination of the Yucca Mountain program in Nevada.
In 2006, Moniz contributed to an influential National Academy of Sciences report that concluded nuclear waste can be transported safely around the country but that canisters containing highly radioactive material would be sure to generate anxiety along the routes.
If Moniz, 68, is confirmed by the Senate, "he would be the most knowledgeable secretary of energy on nuclear waste matters," said Bob Halstead, director of the Nevada Agency for Nuclear Projects.
On Yucca Mountain, Moniz appears to have shifted with the times as problems mounted at the Nevada site and the project was rejected by the Obama administration.
In 2006, as the Energy Department was struggling with science and legal challenges, he helped write a Washington Post article saying "Yucca Mountain should not be abandoned" but should be re-evaluated and its schedule adjusted.
"Yucca Mountain is not dead, but on its current path, it is close to it," he wrote with former CIA Director John Deutch.
Five years later, in a 2011 article in Foreign Policy, Moniz wrote the Yucca program "is in shambles" and Washington "must find an alternative to Yucca Mountain for storing nuclear waste in the long run."
Nevada's senators said they planned to meet with Moniz. Democratic Sen. Harry Reid said he is confident Moniz will carry out Obama policies to encourage renewable energy and avoid Nevada for nuclear waste. Republican Sen. Dean Heller, who sits on the Senate's Energy Committee, said he was hopeful Moniz "agrees with me that Yucca Mountain should remain a closed issue."
Moniz was one of three high-profile nominees Obama announced Monday. He signaled his willingness to tackle climate change with his pick of Gina McCarthy to lead the Environmental Protection Agency.
A 25-year veteran of environmental policy and politics, McCarthy has worked for Republicans and Democrats, including Obama's presidential rival, Mitt Romney, who tapped her to help draft state plans for curbing the pollution linked to global warming.
Obama also nominated Wal-Mart's Sylvia Mathews Burwell to head the Office of Management and Budget.
Moniz, as head of MIT's Energy Initiative, has worked on developing ways to produce power while curbing greenhouse gas emissions.
Moniz was a former Energy Department undersecretary under President Bill Clinton. He has advised Obama on energy topics, including how to handle the natural gas produced by the controversial technique of hydraulic fracturing.
Environmental groups are wary of Moniz because of his support of natural gas and nuclear power. His MIT Energy Initiative has received funding from oil companies such as BP, Shell and Chevron.
McCarthy, 58, a Boston native, has led the EPA's air pollution division since 2009, ushering in new rules targeting air pollution from power plants, automobiles, and oil and gas production.
In nominating McCarthy as the nation's top environmental official, Obama is promoting a climate change champion at a time when he has renewed his commitment to address global warming and the agency is contemplating new rules that could help achieve that.
But McCarthy will have to balance the administration's ambitions with a dwindling budget: Congress has cut EPA's budget by 18 percent over the past two years, and the automatic budget cuts that went into effect Friday will hinder the agency's energy efficiency programs and climate research.
"They're going to be making sure we're investing in American energy, that we're doing everything we can to combat the threat of climate change, that we're going to be creating jobs and economic opportunity," Obama said of Moniz and McCarthy.
McCarthy also brings a distinctive pronunciation of carbon dioxide, the chief pollutant blamed for climate change. McCarthy, in her thick accent, pronounces carbon as "cahbon."
"You wouldn't know by talking to her, but Gina's from Boston," Obama said.
Her nomination is all but guaranteed to spark criticism from Republicans, who charge that the agency is killing jobs and undermining the coal industry.
Burwell is Washington veteran, having served in several posts during the Clinton administration, including deputy OMB director. She heads the philanthropic Wal-Mart Foundation .
The Associated Press contributed to this report