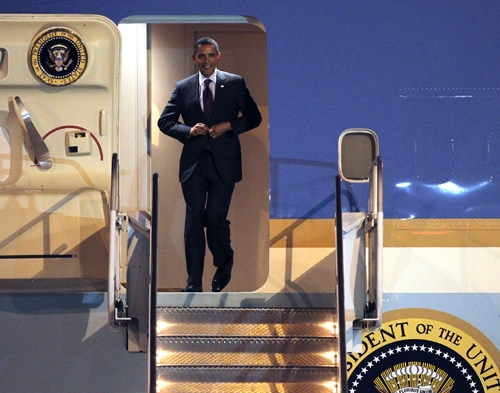 Air Force One touched down at McCarran International Airport at 6:32 p.m. Wednesday, marking the beginning of President Barack Obama's three-day tour to reinforce messages from his Tuesday State of the Union speech.
Las Vegas Mayor Carolyn Goodman was the only elected official present to greet the president.
"I think everyone is trying to protect their positions," Goodman said of the absence of other prominent Nevada politicians.
Her reason for acting as a local ambassador to Obama was simple.
"He's president of the United States and we need his help," said Goodman, who plans not to endorse anyone in the upcoming presidential election. "Let's get the show on the road."
The president lingered on the plane for about 20 minutes and could be seen through the windows with his head down, appearing as though he was reading something. When he caught a glimpse of the media taking photos of him, he smiled and waved.
According to a White House press release, the president lingered on the plane so that a commercial flight with a medical emergency could land. The motorcade needed to drive across the tarmac on its way out.
Goodman didn't know where Obama planned to stay while in Las Vegas, but said it wouldn't be on the Strip because he didn't wish to obstruct traffic. The White House press release said Obama will spend the night at a hotel far from the bright lights. His motorcade traveled for about 15 minutes to a very un-Vegas hotel in a suburban office park.
Obama landed at McCarran after making appearances in Cedar Rapids, Iowa, and Chandler, Ariz. Following Las Vegas, he heads to Denver and Ann Arbor, Mich.
The trip to five states that figure into his re-election landscape is designed to underscore Obama's calls in his nationally televised speech for economic fairness, affordable education and growth in both traditional and forward-looking manufacturing industries.
After what appears to be an open night in Las Vegas, Obama is scheduled to speak Thursday morning at the United Parcel Service hub on East Arby Lane near the airport.
In Las Vegas, Obama will talk about "the enormous opportunities that exist for American energy," a White House official said.
While Obama officials have not specifically explained the choice of the UPS plant for his appearance, the Las Vegas hub is where the freight company last year deployed a "green fleet" of 38 transports powered by natural gas, a fuel that the president promoted in his nationally televised speech as part of an "all of the above" energy strategy.
According to a White House aide who briefed reporters this week, Obama on this week's trip will put flesh on a plan "to help ensure that we take advantage of (natural gas) and that we do it in a safe, responsible and sustainable way."
The private sector has been the engine behind the tapping of vast reserves of natural gas in shale formations in Appalachia and elsewhere, using a method of hydraulic fracturing that injects chemically laced water at high pressures to splinter formations and create paths for gases and oil to be extracted.
Critics of "fracking," as its called, fear it contaminates aquifers and poses other environmental risks. According to a White House official, Obama will offer federal expertise for states and local regulators "to balance the need for safety and security as well as the opportunities for production."
The promise of natural gas is vast, Obama said Tuesday.
"We have a supply of natural gas that can last America nearly 100 years, and my administration will take every possible action to safely develop this energy," Obama said. "Experts believe this will support more than 600,000 jobs by the end of the decade."
"The development of natural gas will create jobs and power trucks and factories that are cleaner and cheaper, proving that we don't have to choose between our environment and our economy," Obama said.
At the same time this week, officials said, Obama will declare a recommitment to providing tax credits for development of solar, wind and other forms of renewable energy — as he did in his speech Tuesday.
"With respect to renewable energy it means not giving up on the prospect of competing and winning against Germany and China in this race for the clean energy jobs and the clean energy production of the future," one official said.
Officials with Obama's re-election campaign said he was not planning to hold any fundraisers while in Las Vegas, unusual for a politician on a Southern Nevada stop. The White House has not disclosed what the president might be doing in town after his evening arrival.
Obama plans to depart from McCarran late Thursday morning for Denver, where he will also talk about energy, and then to Ann Arbor, where he will talk about college affordability, another pillar of his 2012 agenda.
On Wednesday, Obama was appearing at factories that manufacture conventional machinery and the most modern computer chips.
His first stop was at Conveyor Engineering and Manufacturing in Cedar Rapids, Iowa. The private company employs 65 workers to make custom machinery that processes farm products. Later in the day, Obama was set to tour Intel's semiconductor plant in Chandler.
Meanwhile, back in Washington, D.C., Senate Democrats signaled they will make Republican presidential candidate Mitt Romney the poster child for legislation to make the wealthy pay more in taxes. Obama on Tuesday called for anyone with income of more than $1 million to pay at least 30 percent to Uncle Sam.
It is unlikely that Obama will be talking about Romney on his travels, but there was nothing to stop Senate Majority Leader Harry Reid, D-Nev., from tying Romney to the president's call for income fairness.
"Nothing is more important in Congress than reducing income inequality," Reid said. "The issue is going to be at the forefront of the debate all year.
"The Republican presidential frontrunner is the perfect example of what's wrong with the tax code," Reid said, referring to Romney's income tax returns made public this week. "An individual who makes in a two-year period $43 million and pays a tax rate of less than 15 percent suggests that maybe things need to be changed a little bit."
Democrats indicated Romney will be made the new face of the "Buffett Rule," named after billionaire Warren Buffett who wrote in the New York Times last year that the rich should not be "coddled" by Congress, and should not pay less in taxes than the middle class.
"It makes no sense that a millionaire should pay a lower tax rate than a secretary, so it is a priority for us to act on some kind of Romney — I mean Buffett Rule this year," said Sen. Charles Schumer, D-N.Y.
Contact Stephens Washington Bureau Chief Steve Tetreault at stetreault@stephensmedia.com or 202-783-1760.