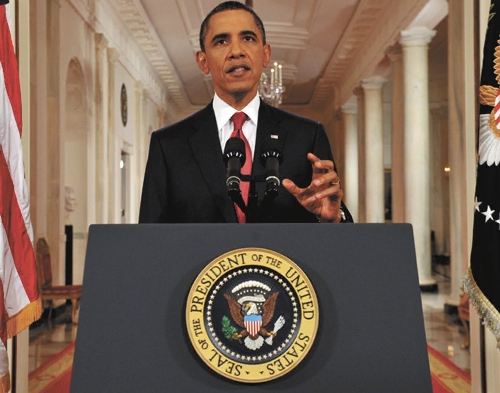 WASHINGTON — Decrying a "partisan three-ring circus" in the nation's capital, President Barack Obama criticized a newly minted Republican plan to avert an unprecedented government default Monday night and said congressional leaders must produce a compromise that can reach his desk before the Aug. 2 deadline.
"The American people may have voted for divided government, but they didn't vote for a dysfunctional government," the president said in a hastily arranged prime-time speech. He appealed to the public to contact lawmakers and demand "a balanced approach" to reducing federal deficits.
Obama stepped to the microphones a few hours after first Republicans, then Democrats drafted rival fallback legislation Monday to avert a potentially devastating government default in little more than a week.
Obama said the approach unveiled earlier in the day by House Speaker John Boehner would raise the nation's debt limit only long enough to push off the threat of default for six months. "In other words, it doesn't solve the problem," he said.
The president had scarcely completed his remarks when Boehner made an extraordinary rebuttal carried live on the nation's networks.
"The president has often said we need a 'balanced' approach, which in Washington means we spend more, you pay more," the Ohio Republican said, speaking from a room just off the House floor.
"The sad truth is that the president wanted a blank check six months ago, and he wants a blank check today. That is just not going to happen."
'No stalemate'
Directly challenging the president, Boehner said there "is no stalemate in Congress."
He said the Republicans' newest legislation would clear the House, could clear the Senate and then would be sent to Obama for his signature.
The back-to-back televised speeches did little to suggest that a compromise was in the offing, and the next steps appeared to be votes in the House and Senate on the rival plans by midweek.
Despite warnings to the contrary, U.S. financial markets have appeared to take the political maneuvering in stride . Wall Street posted losses Monday but with no indication of panic among investors.
Without signed legislation by day's end on Aug. 2, the Treasury will be unable to pay all its bills, possibly triggering an unprecedented default that officials warn could harm a national economy struggling to recover from the worst recession in decades.
A proposal by Senate Majority Leader Harry Reid, D-Nev., would raise the $14.3 trillion debt ceiling by another $2.4 trillion, enough to enable the government to continue borrowing through 2012. It would offset the new borrowing through $2.7 trillion in spending cuts and other savings.
At least four other proposals that had raised hopes for a breakthrough over the past two weeks have fallen by the wayside, including the collapse on Friday of talks on a $3 trillion deal between Obama and Boehner.
Obama backs the Reid legislation, which will raise the nation's debt limit in one vote, enough to avoid a recurrence of the acrimonious current struggle until after the 2012 elections.
Republicans want a two-step process that would require a second vote in the midst of a campaign for control of the White House and both houses of Congress.
There were concessions from both sides embedded in the competing legislation, but they were largely obscured by partisan rhetoric .
Senate Republican leader Mitch McConnell of Kentucky urged Obama to shift his position rather than "veto the country into default."
And Reid jabbed at tea party-backed Republicans who make up a significant portion of the House GOP rank and file. The Nevada Democrat warned against allowing "these extremists" to dictate the country's course.
Reid's plan
Reid said he planned to bring his bill to the Senate floor and would work toward its passage, although it was not clear whether he has 60 votes to ensure passage.
Reid's bill draws $2.7 trillion in savings from several sources, including $1.2 trillion in cuts to federal programs, including defense, and $1 trillion from counting the money that will be saved by winding down U.S. participation in the Iraq and Afghanistan wars.
Another $40 billion would come from "reducing fraud and abuse," including crackdowns on health care fraud, improper unemployment insurance payments and stepped-up IRS tax enforcement.
Farm subsidies would be cut by
$10 billion to $15 billion, while another $30 billion would come from changes to Fannie Mae and Freddie Mac, the government-backed housing corporations.
At a news conference Monday, Reid argued it should be easy for Republicans to agree to the plan because it contains no tax increases and it more than matches new borrowing with savings and cuts in spending. The proposal also does not target Social Security and Medicare for cuts, important core principles for Democrats.
"All the Republicans have to do is say yes," Reid said, noting the GOP has agreed to individual elements in previous negotiations.
The Reid legislation drew praise from House Democratic leader Nancy Pelosi — and some criticism.
Critics of Reid's plan questioned whether $1 trillion from the troop drawdowns in Iraq and Afghanistan should be counted as true savings.
"I don't think it is a real cut," Sen. Joe Lieberman, an independent from Connecticut, told Politico.com. "It's like a bookkeeping cut."
But Reid and Sen. Charles Schumer, D-N.Y., said that Republicans counted the same cut in the budget blueprint the House passed earlier this year.
Boehner's legislation would allow a
$1 trillion increase in the debt ceiling, to be offset by $1.2 trillion in spending cuts. The GOP plan also calls for a second round of $1.8 trillion in spending cuts next year, which would allow the debt limit to be raised by another $1.6 trillion.
Rhetoric overshadows concessions
By design or not, the two sides' harsh remarks obscured concessions that narrowed the differences among the nation's political leaders as they groped for a way to resolve the economic crisis.
With their revised plan, House Republicans backed off an earlier insistence on $6 trillion in spending cuts to raise the debt limit.
And Obama dropped his long-standing call for increased government revenues as part of any deficit reduction plan.
Pending the president's televised speech, White House officials also declined repeatedly to say whether Obama would veto the revised House measure.
White House communications director Dan Pfeiffer called the proposal "not a serious attempt to avert default because it has no chance of passing the Senate."
Constituent concerns
Two rank-and-file Republicans said their constituents were voicing concerns other than the rising federal debt.
Rep. Tom Rooney of Florida said his office is getting calls from constituents saying, "If I don't get my Social Security check, it's your fault."
Rep. Tom Reed, a New York freshman, said many of his constituents are telling him to stand firm in his drive to cut spending.
"But I will admit there's some anxiety in the district" about Social Security and other programs, he added.
Neither Boehner's measure nor the one Reid was drafting included additional revenue, according to officials in both parties.
In addition to a two-step approach to raising the debt limit, the House measure would require both houses to vote later this year on a constitutional amendment requiring a balanced federal budget.
Each side offered accounts of secret maneuvering designed to put the other side in a poor light.
Democratic officials said Obama called Boehner on Saturday night, one day after the collapse of compromise talks, and offered to reduce his demand for new tax revenue by $400 billion.
In return, Obama said that he wanted Republicans to abandon their demand to cancel parts of the year-old health care law if future deficit cuts did not materialize.
This official said Boehner rejected the proposal on Sunday.
Republicans disputed that account — and offered one of their own. In their version of events, Reid agreed on Sunday night to a two-step approach to raising the debt limit that Obama has rejected.
Democrats denied it.
None of the officials involved would agree to be quoted by name.
Stephens Washington Bureau Chief Steve Tetreault contributed to this report.